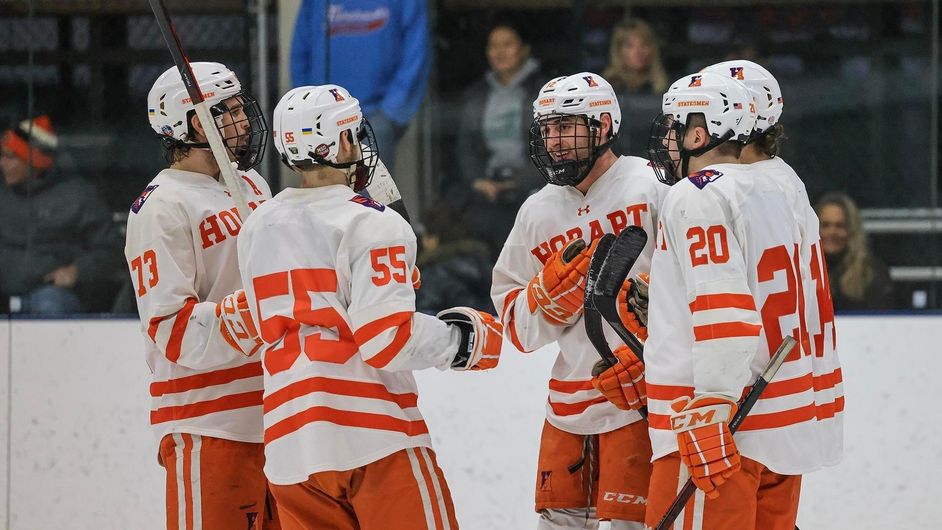 HWS News
6 December 2022 • Athletics Alexander nets 2, #1 Hobart blanks #15 Skidmore 4-0 By Mackenzie Larsen '12
GENEVA, N.Y.—The top-ranked Hobart College hockey team erupted for three goals in the second period as it knocked off 15th-ranked Skidmore 4-0 in a New England Hockey Conference contest at The Cooler this afternoon. With the win, the Statesmen extended their season-opening winning streak to 10 games. The 10 consecutive wins match Hobart's record for a winning streak set back in 2014-15.

Jonah Alexander (2g) and Luke Aquaro (2a) led the way for the Statesmen (10-0-0, 6-0-0) with two points each. Damon Beaver stopped all 17 shots he faced as he posted his third consecutive shutout. He is the first Hobart goalie to record three consecutive shutouts. Blaine Moore played just over 56 minutes in goal for Skidmore. He made 43 saves.

KEY STATS:
Hobart finished the game with a 47-17 edge in shots on goal.
The Statesmen were 1-for-5 on the power play and the Thoroughbreds (8-4-1, 2-3-1) were 0-for-2 with the extra skater.

FIRST PERIOD:
Hobart dominated the opening 20 minutes, finishing the stanza with a 13-3 edge in shots on goal.
The Statesmen kept the pressure on throughout the period but Moore was up to the task, stopping everything that came his way.

SECOND PERIOD:
Alexander opened the scoring at the 2:07 mark of the middle frame. He slipped a shot from the left faceoff circle past Moore for his sixth tally of the season. Aquaro and

Cooper Swift

were awarded assists on the power-play goal.
Four minutes later,

Wil Crane

doubled the Hobart lead. He wristed home a shot from the slot for his first goal of the season.

Tanner Daniels

was credited with an assist on the goal.
With less than three minutes remaining in the frame, Alexander pocketed his sixth goal of the year. He snapped a one-timer past Moore.

Shane Shell

and Aquaro were awarded assists on the goal.
Despite allowing the three goals, Skidmore's defense was able to keep the Thoroughbreds in the game, killing off a nearly seven-minute power play. After killing off a five-minute major, a Skidmore player exited the bench a second too early and the Thoroughbreds were called for too many men. Skidmore successfully killed off that minor penalty as well.

THIRD PERIOD:
Hobart iced the game at the 16:36 mark of the final stanza.

Zach Tyson

tucked a shot into the empty net. His fourth goal of the year was assisted by

Austin Mourar.

COACH'S CORNER:
"I was very happy with the guys' effort tonight," Head Coach Mark Taylor said. 'It was a total team effort from top to bottom."

UP NEXT:
Hobart will be back in action on Saturday, Dec. 10, when they welcome Trinity to The Cooler for a non-conference contest. Faceoff against the Bantams is scheduled for 4 p.m