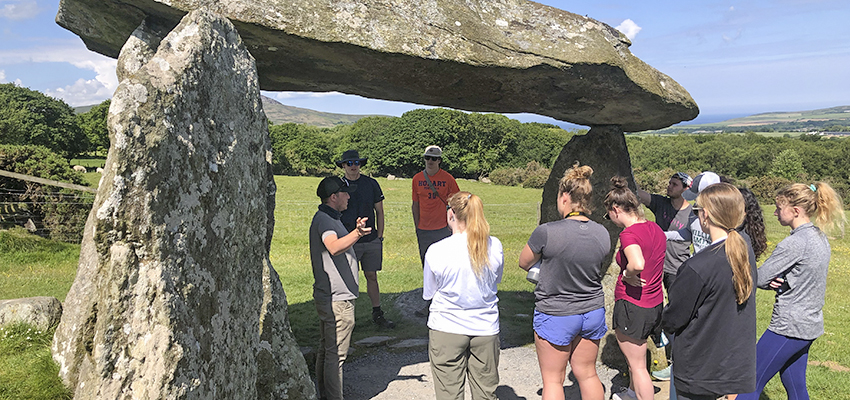 HWS News
18 July 2022

When All of Wales is Your Classroom

This June, HWS students traveled to Wales as part of an HWS summer abroad program focused on outdoor education.

Over the course of three weeks, HWS students hiked, kayaked and rock climbed through Cymru, the nation of Wales. Led by Associate Dean of Hobart College Dean David Mapstone '93, P'21 in partnership with the University of Wales Trinity Saint David, students' adventures were filled with opportunities to study Welsh culture, history and geography.

In addition to Mapstone, the 11 HWS students were accompanied by instructors from the University of Wales, who specialize in experiential learning. All over the Welsh countryside, geographic and historic landmarks became the site of classroom instruction.

Outside the walls of Carreg Cennen Castle, a history lesson about the War of the Roses was made visceral by the structure's ruins. The structure, built by Welsh lords, predates the Norman invasion in the 12th century.

In Blaenavon, Torfaen, students learned about Welsh labor history and the coal mining industry at the Big Pit National Coal Museum. With a former coalminer as their tour guide, students traveled 880 meters underground, where they learned about the coal miner's strike of the 1920s.

On the same day, students hiked up Pen y Fan, the highest peak in South Wales, in the Brecon Beacons National Park. Other adventures into the natural landscape included a weeklong stay in Snowdonia National Park.

"For me, getting outside of the classroom is such an important part of my learning experience because it allows for a much deeper reflection and understanding of the world around us," Sydney Schultz '23 says. "This time in Wales has been full of opportunities to try new things outside of my comfort zone."

Throughout the three-week program, students kept vlogs to reflect on their daily adventures. Students even took a crash course in filmmaking with an instructor from University of Wales who previously worked on the British television series Dr. Who.

While the students vlogged, Mapstone kept a written journal about the group's experiences. Every few days, he shared their experiences with alums of the program.

During the hike to Pen y Fan, Mapstone shared highlights from the eight-mile trek, "After a bit of hiking across rolling hills and valleys, we finally came to the base of Pen y Fan. We all hiked our own pace up the relentless pitch of the mountain. Our heart rates were racing, and our legs were numb, as we stepped up onto rock ledge after ledge after ledge."

After rock-climbing along Paviland Cave, a steep limestone face set with climbing robes by able guides, Mapstone reflected on how close the HWS students had become over the course of the program. "They support one another, laugh with one another, learn from one another, and really respect one another. This is a great group."

Prior to embarking on their study abroad program, students took a semester-long predeparture course with Mapstone, which included some Welsh language instruction. A cornerstone of the Colleges' top-rated study abroad programs is an emphasis on predeparture programming. Depending on the abroad program, students often enroll in language courses and travel writing and photography workshops.