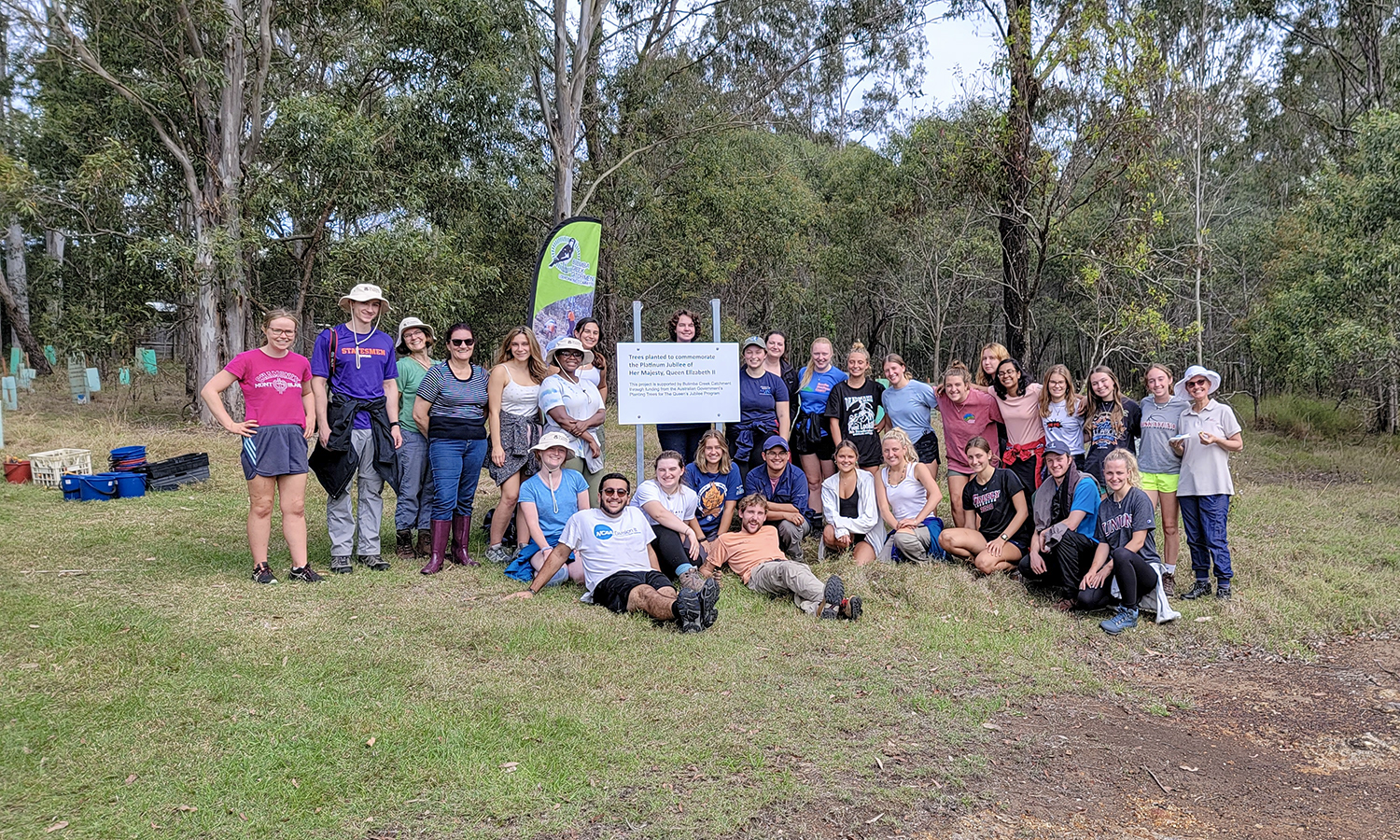 HWS News
2 December 2022

Revitalizing Australia's Ecology


While studying abroad this fall, students planted 250 native trees in Queensland, Australia to aid habitat restoration. Program led by Associate Professor of Biology Shannon Straub and Associate Professor of Environmental Studies Beth Kinne.

HWS students and their peers from Union and Skidmore Colleges planted scores of trees in an urban watershed to restore native habitat and mitigate the impacts of urbanization on the Australian city of Brisbane. The project was a service-learning component of an urban ecology course taught by Associate Professor of Biology Shannon Straub and Associate Professor of Environmental Studies Beth Kinne, who are co-directing the Queensland program this year.

Bulimba Creek is a major tributary to the Brisbane River and drains 10% of the area of the City of Brisbane. An important wildlife corridor linking areas of remnant native bushland, it is threatened by "urban development, tree clearing, damaging land uses and weeds," according to the Bulimba Creek Catchment Coordinating Committee (B4C).

HWS students planted eucalyptus, acacia and other native trees at Eight Mile Plains. They dug and planted alongside several B4C volunteers and Kim Marx, a Brisbane City Council representative, who pitched in on the project "and thanked us for our efforts to help restore bushland habitat," Straub says.

In addition to the "hands-on experience in habitat restoration," Straub says students "were also able to see the partnership between government, conservation organizations and citizen volunteers needed for caring for native bushland habitats that occur in urban areas." The 250 trees planted were also part of a global tree planting initiative across Commonwealth countries to celebrate the Platinum Jubilee of Queen Elizabeth II, engaging the students in an international restoration effort. Kinne said that "From a cultural perspective, this was particularly poignant given that the planting was just a few weeks after the Queen's passing in September."

While in Australia, the HWS students are also taking three other courses: "Terrestrial Ecology of Australia," "Australian Studies" and "Marine Biology and Ecology." Experiential components of these courses include fieldwork in Girraween and Lamington National Parks and University of Queensland marine research stations on N. Stradbroke/Minjerribah Island in Moreton Bay and Heron Island on the Great Barrier Reef.

According to Kinne, "The courses in the program are designed to maximize student exposure to ecological systems and the environmental issues that threaten them, and also get them thinking about the complex nature of designing and implementing solutions." Further, Straub notes that "Students put in long hours in the field, often 12 or more hours per day on field excursions," but the impact on student learning is substantial.