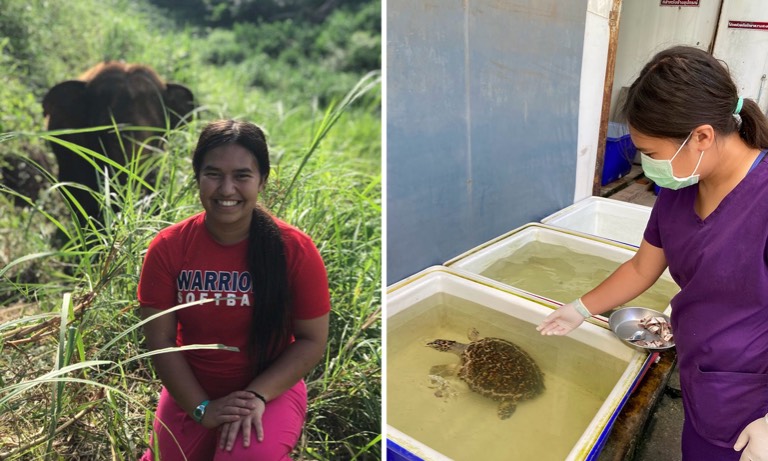 HWS News
7 December 2022 • Alums An International Perspective of Veterinary Medicine
McCarthy '22 gains vet experience in Thailand
During the fall, Natalie McCarthy '22 spent three months in Thailand learning up-close what life as a veterinarian is like as part of the selective Thailand Veterinary Seminar Abroad.
McCarthy, a Biology major, was part of a small team learning alongside veterinarians from around the globe while volunteering with elephants, sea turtles and other animals.
"Working in another country exposed me to different perspectives on many aspects of veterinary medicine," says McCarthy. "These new perspectives have made me more considerate of the different perspectives I may encounter both in the veterinary field and in my life."
McCarthy and other students were based in Chiang Mai but traveled through the country to see various shelters and sanctuaries, learn from local vets and scientists and volunteer with a variety of species in need.
While they learned about veterinary medicine, conservation and life in Thailand, McCarthy and her team also volunteered. From hauling elephant food to monitoring anesthesia in dog surgeries, they helped to support and care for animals while improving their own skills.
McCarthy's projects included providing medical care at an elephant sanctuary, creating enrichment projects for zoo animals, living on the island of Koh Tao for three weeks studying marine biology and helping to restore coral reefs and protect sea turtles. She also participated in an externship at a small animal hospital and helped care for dogs and cats in need at an animal shelter and clinic on an elephant sanctuary outside of Chiang Mai.
The students also participated in a spay and neuter clinic for dogs in the rural villages in the mountains of northern Thailand.
Thailand Veterinary Seminar Abroad is run by Loop Abroad, the largest pre-veterinary study abroad program in the United States and hosts undergraduate students from the U.S. and Canada in nine countries throughout six continents.