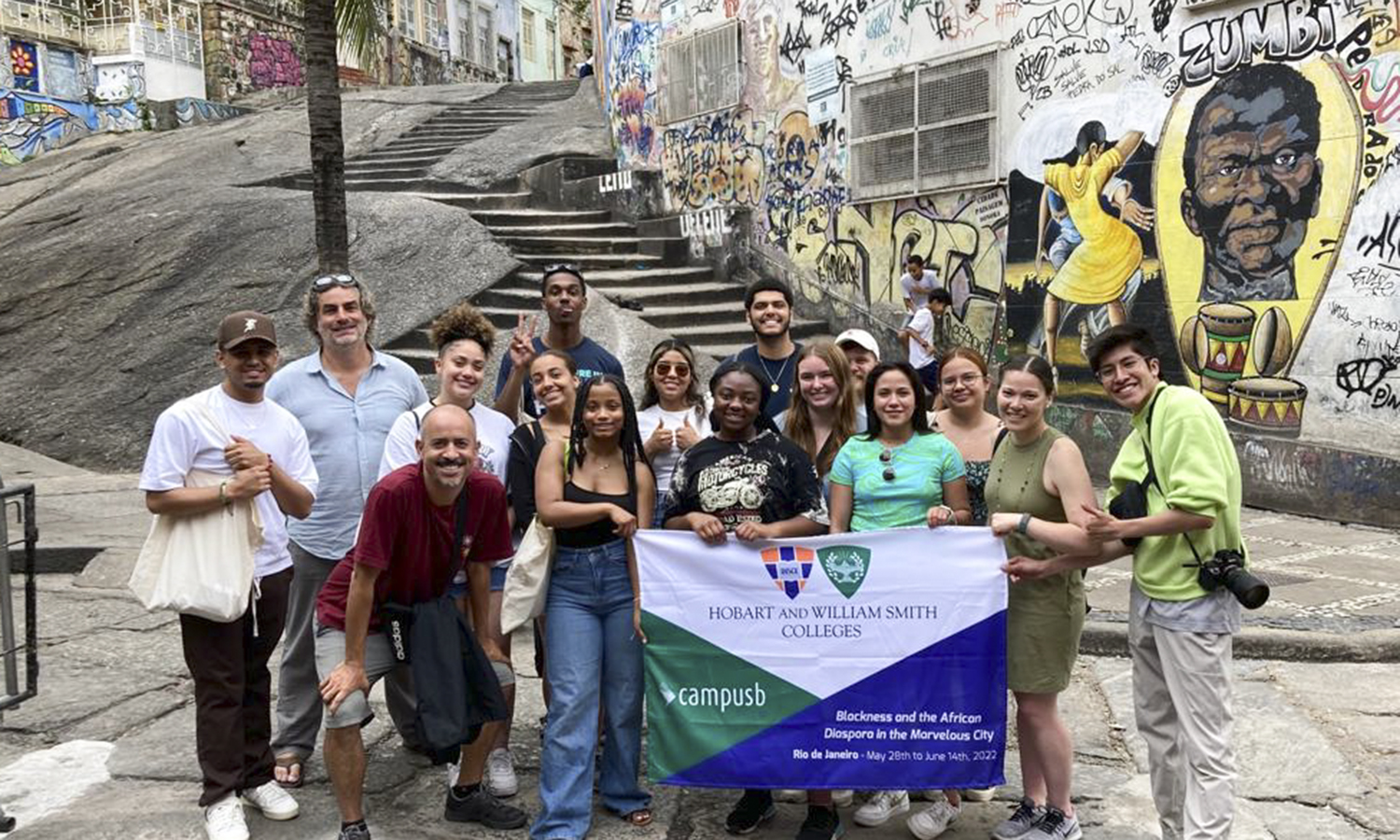 HWS News
1 September 2022

Students, Faculty Reflect on Brazil Program

HWS students, led by Associate Professor of History and Latin American Studies Colby Ristow, explored Afro-Brazilian culture in Rio de Janeiro this summer.

Led by Associate Professor of History and Latin American Studies Colby Ristow, students in the abroad program to Brazil spent the summer studying the influence of the African diaspora on everyday life in Rio de Janeiro, how Afro-Brazilian culture became synonymous with Brazilian National Culture and whether the state's embrace of Black culture has produced a better quality of life for Brazil's Black population. Additionally, the students compared the country's history of racial identity to that of the United States.

"By seeing firsthand the different ways that race is imagined, felt and lived in Rio – the overwhelming centrality of Africa in Afro-Brazilian culture – I wanted students to reflect on the social construction of race. I wanted to challenge their "common knowledge" of how race works in any society," says Ristow.

The summer program was segmented with class sessions in the mornings and activities in the afternoon. The activities corresponded to that day's lessons and included visiting Rio's Little Africa, learning the Brazilian art form capoeira and visiting a quilombo, a former community of fugitive enslaved people.

"What I took away from this program was how large of an African influence there was in Brazil," says Ericka Matos '23, an international relations and anthropology double major. "There were African elements in many parts of the culture. I was able to see this in the food, music, art and dancing."

With a concentration in International Relations in Latin America, Matos says she enjoyed learning about the similarities and differences in the Black Lives Matter movement in the U.S. and Brazil.

"These experiences will help translate back to my studies because now I can apply everything I learned about Latin America to my regional focus in IR," Matos says. "I hope since I learned so much about Rio and the people, it'll help bridge the connection of what I'm learning at HWS to what I experienced."

For Kisean Jones '25, who intends to major in classical studies, going to Brazil "meant being able to interact more intimately and personally with African culture."

"Though Brazilian culture is neither distinctly African nor Portuguese, one can still observe quite easily that many aspects of the country's national culture find their roots in the customs practiced by those original Africans who were kidnapped and forced to endure the trip across the Atlantic," says Jones.

Jones says returning to campus has brought a renewed sense of humanitarianism that comes through action. "To see change, we must ourselves be committed and help to commit others to a common cause," says Jones.