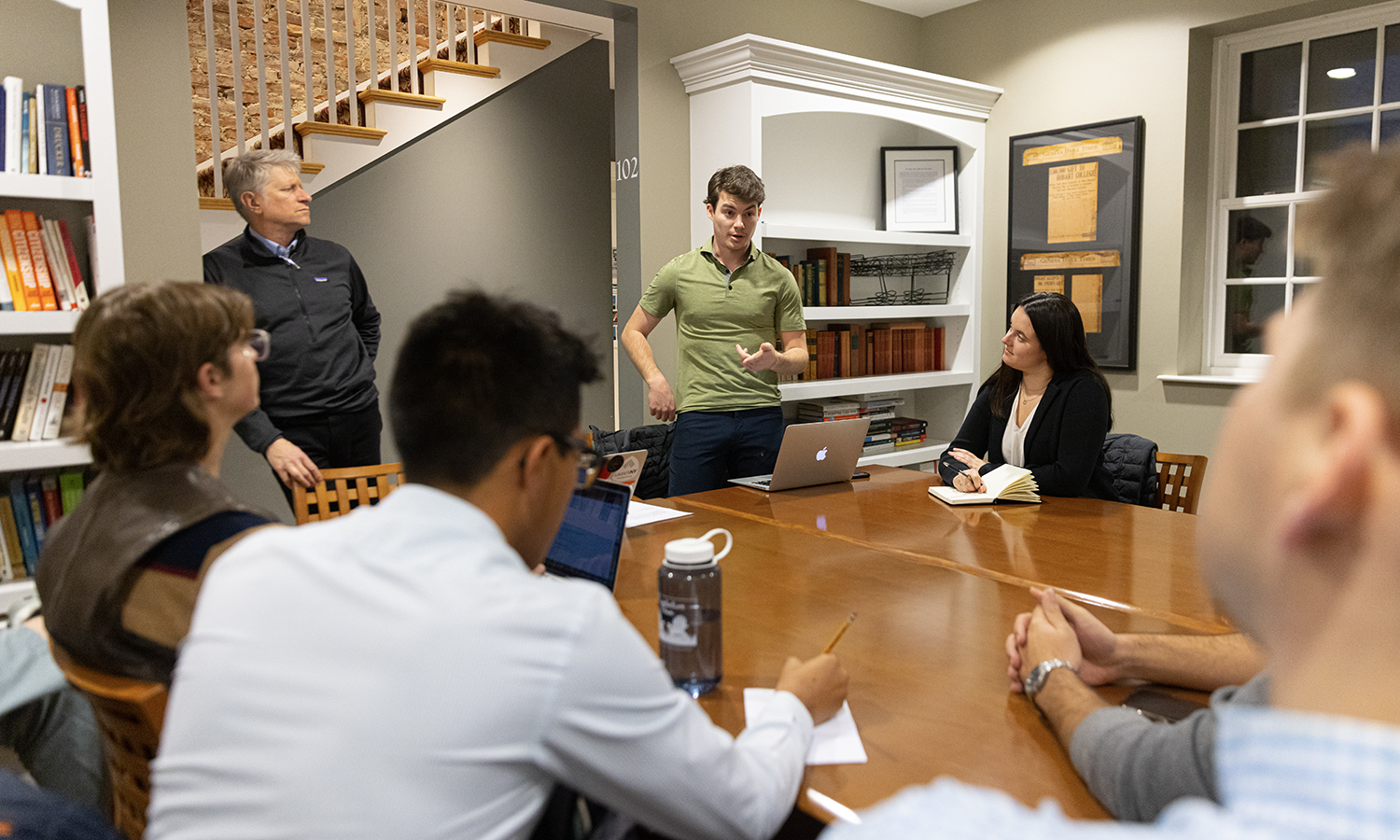 HWS News
8 December 2022

Meet the 2023 Pitch Semifinalists

Ten student ventures have advanced to the semifinals in the Todd Feldman '89 and Family Pitch Contest.

On campus, the Todd Feldman '89 and Family Pitch Contest is legendary. Modeled after Shark Tank, the entrepreneurial leadership competition helps students launch an idea for a product or service. Students who advance to the final compete for a $10,000 investment in their startup.

After a competitive selection process, 10 student ventures have advanced to the semi-final round. Before the final pitch on March 2, 2023, each group will be partnered with an alum mentor. An instrumental stage in the pitch process, students learn from their mentors' experience in the field and refine their ideas.

This year's semifinalists are tackling important questions. Several students have aimed their products and services at the climate crisis. Other proposals are uniquely tied to place and consider how to improve college campuses, rural communities and waterside locales.

Todd Feldman '89 and his family generously sponsor the prize money every year. Founder of The Feldman Co., Todd has more than 30 years of experience developing and building businesses.

"The Pitch Contest is an exciting time for me and my family," Feldman says. "I truly believe that everyone has at least one great idea in their lives and that programs like The Pitch can often be the difference maker between those ideas coming to life and possibly changing the world. We're thrilled to once again be a part of helping make the HWS student entrepreneurs' visions come alive." Read more about Feldman here.

This year's semifinalists are:

FLX Flame
Christopher Bass '23
FLX Flame creates gourmet, limited-production hot sauces incorporating local Finger Lakes produce and global ingredients to capture the unique flavors of international cuisines.

Future Farms
Calix Boldt '25
Future Farms is a student-run, on-campus hydroponic farming operation that provides a reliable, healthy and fresh source of vegetables to students, faculty and staff.

Geneva Kitchens
Zaheer Bowen '23
Geneva Kitchens is a new "cloud kitchen" restaurant model that utilizes commercial kitchens for late-night availability.

Mobile Active Recovery Service
Tiffany Foster '24, Jonathan Garcia '23 and Mohammad Yassin '25
The Mobile Active Recovery Service aids athletes at sports tournaments and endurance events with top-of-the-line recovery equipment and nutritional supplements to enhance their performance, minimize injuries, and get them back into competition more quickly.

BoatVentures
Isabel Lunken '23
BoatVentures offers educational recreation by combining the opportunity to rent campus-owned manually operated watercrafts with courses to gain competency and safety awareness in open water situations.

Campus Verde
Jackson Mischler '23
Campus Verde is an eco-friendly real estate investment and property management firm that provides sustainable housing options to students through direct partnerships with higher education institutions.

BLU
Hagen Morris '23
BLU is a transportation service specially designed for individuals in remote towns and locations where larger hailing services and taxis do not exist.

IHNTW (I Have Nothing to Wear)
Brooke Prochniak '25
I Have Nothing To Wear is a commerce service that gives students on college campuses the opportunity to buy, sell, trade and rent clothes from fellow students.

Water Watts
Connor Quinn '23
Water Watts uses running water and simple turbines inside pipes to generate energy to be rerouted to a storage battery for future use.

Poly Pocket
Jake Wright '23
Poly pocket is a sustainable design company that repurposes discarded poly bags by reshaping them into pockets for everyday apparel like pants, jackets and handbags.