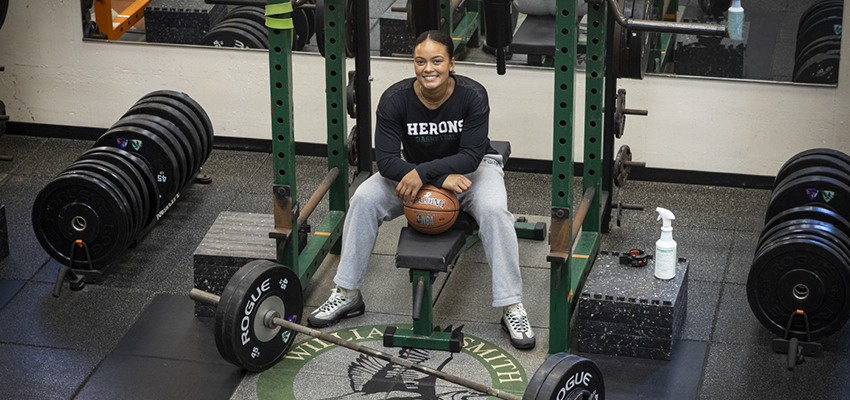 HWS News
25 August 2022 • Athletics DeVaney '23 Secured Internship with Raymond Design Builders
Lauren DeVaney '23 completed an internship with Senior Partner and Lead Designer Jason Raymond '16 at Raymond Design Builders this summer.
An architectural studies and mathematics double major, DeVaney says she was exposed to a broad range of projects from concept to completion. As an intern to the senior partner, she worked on the design of new residential projects and updates to existing architectural drawings as well as the scheduling, packaging and delivery for those projects.
Last summer, DeVaney served as an Architectural Studies Research Intern on campus. "The Architectural Studies program has provided me with opportunities to build my resume, such as working as a Woodshop Teaching Assistant and developing my creativity and design abilities," says DeVaney.
DeVaney, a member of the William Smith Basketball and Volleyball teams, says she secured the internship by first connecting with former Heron Gabrielle Eure '17, a senior architectural designer at C&S Companies in Syracuse and assistant women's basketball coach at Oswego, who has been an invaluable mentor and put her in touch with her former classmate Jason Raymond.
"A big part of the interview process was discussing how the Architecture Program at HWS set Jason up for his career," DeVaney says. "I was intrigued to get his perspective. I knew whether I received the internship or not that I was leaving with valuable information about my future."
Before serving as senior partner and lead designer, Raymond was an architectural draftsman at Raymond Design Builders. He graduated with a B.A. in architectural studies from HWS and went on to earn a M.S. in finance from the University of Rochester.
Raymond gave a Career Journeys talk on campus last year and will host another recruiting talk on campus this spring.
Through the Center for Career, Professional and Experiential Education, DeVaney received Guaranteed Internship Funding, and assistance with her cover letter and resume and interview preparation.
The Guaranteed Internship Program promises that students of good academic and social standing will be able to participate in at least one internship or research opportunity. In most cases, the experience will take place during the summer after the junior year. The Salisbury Center provides funding of up to $3,000 for students pursuing a non-competitive unpaid or underpaid internships during the summer, fall and spring semesters.
On campus, DeVaney has worked as an animal and plant care technician. She previously held an internship with the Geneva Neighborhood Resource Center, and worked as a student teller for Finger Lakes Credit Union. DeVaney is a two-year starter for the Heron basketball team. The two-time U.S. Basketball Writers Association All-Rochester Area selection averaged a double-double in 2021-22, producing 11.8 points and 10.8 rebounds per game. A complete player, DeVaney led the team on the glass, was second in assists and ranked third in scoring. She earned the 2022 Hazel Nettleship Hardy '65 Award for her contributions to the growth of William Smith Athletics.