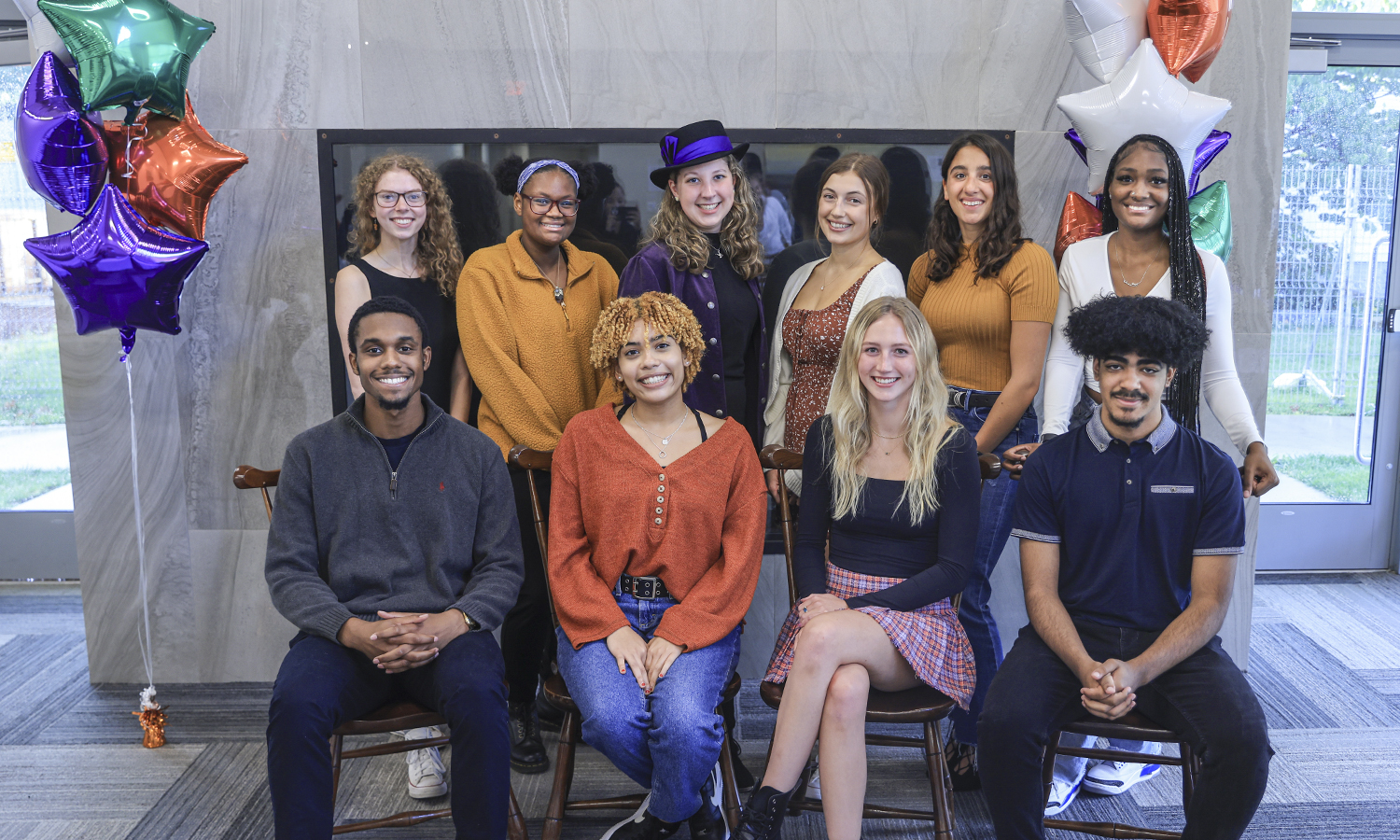 HWS News
15 December 2022

Writing and Thinking Partners Develop

The newest cohort of 12 peer tutors join the Writing Colleagues Program.

This semester, the newest cohort of Writing Colleagues completed the Writing Colleagues Seminar course where they strengthened their critical thinking and reflection abilities while developing their own writing skills. The seminar focused heavily on the writing and revision process, along with strategies for student support and mentorship in order to make the students qualified writing facilitators.

The Writing Colleagues include Hannah Angelico '25, Ava Cornforth '24, Derrielle Faulkner '25, Leah Foster '25, Lucy Howe '25, Kisean Jones '25, Ksenia Lowry-Neufeld '25, Rachel Mahoney '24, Elizabeth Palumbo '25, Emilyn Reed '23, Justin Rosa '25 and Paulina Tejada Cabreja '25.
Writing Colleagues Reception
Founded in 1994 by Professor of Writing and Rhetoric Cheryl Forbes, the Writing Colleagues Program trains students to become writing and thinking partners. Writing Colleagues are peer tutors and mentors who are embedded in courses across academic disciplines to provide writing support to students.
Rather than serving as a proofreader or editor, Writing Colleagues utilize facilitative questions and revision strategies to help students deepen their thinking and develop their writing skills. In their embedded field placements, Writing Colleagues serve as a bridge between students and professors by helping to develop course materials, providing feedback related to student writing, and helping students with their writing process.
After completing the seminar, the new Writing Colleagues will work with students in a series of field placements in various disciplines. Writing Colleagues' work is focused especially on First Year Seminar support, assisting first year writers in transitioning to college-level writing. After completing multiple field placements, some Writing Colleagues go on to work as Writing Fellows at the Center for Teaching and Learning.
"We are so proud to welcome a cohort of 12 talented HWS students into the Writing Colleagues Program," says Associate Professor of Writing and Rhetoric Hannah Dickinson, the current director of the program. "With their diverse backgrounds, unique abilities and enthusiasm for learning and sharing ideas, we know these students will make great partners in learning through writing!"
The HWS Writing Colleagues Program held a welcome reception for the newest members of the peer tutoring program at the beginning of the semester.