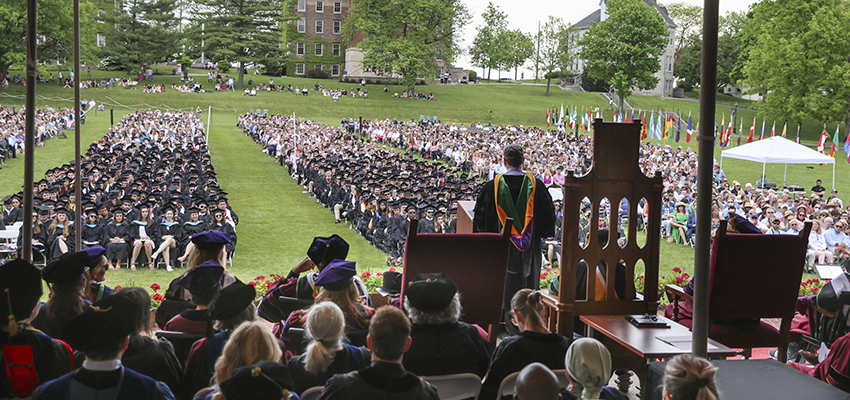 HWS News
22 May 2022 • Alums Commencement 2022: "Your Education Matters More than Ever"
During his Commencement address to graduates, Dr. Christopher Beyrer '81, Sc.D. '22 emphasized the vital role of education and critical thinking in fostering democracy, validating truth and combatting disinformation.
An epidemiologist and HIV/AIDS expert recently named Director of the Duke University Global Health Institute, Beyrer noted "the stark inequalities in health care access and the many inequities in our society that COVID-19 so rapidly exploited and uncovered." He highlighted "the terrible power of…social determinants of health… [that] lead to higher losses of life among minority communities, the working poor, those essential workers who couldn't work from home, the undocumented."
The pandemic also underscored another social ill, Beyrer said. "Disinformation led millions of Americans to believe falsehoods, choose unproven (and in several cases dangerous) therapies over clinically tested and effective ones, and led millions to refuse vaccination with some of the safest and most potent vaccines we've ever had," he said.
"And this is why dealing with disinformation and misinformation, unpacking false narratives and recognizing the politicization of evidence are already a signature challenge for your generation," Beryer continued. "Critical thinking is going to matter more than ever. Your education matters more than ever."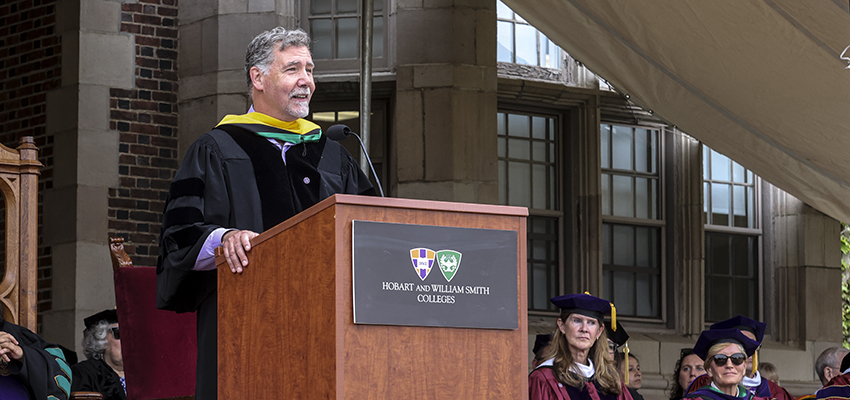 As he concluded, Beyer advised graduates that as they "go forward from this marvelous place…and take your turns at making history, it will be essential to protect the truth, to protect integrity for yourself and for others, to use your critical thinking to interrogate false narratives. Democracy cannot thrive in a post-truth world. Neither can nature. And neither can we.… Don't be fooled. Don't be had. Unpack those false narratives, in whatever field of endeavor you choose, and as the saying goes, speak truth to power and defend that truth. It's your responsibility and it's your right."
During the Commencement ceremony, Beyrer was awarded an honorary doctorate in recognition of his career as a physician and public health advocate, during which he "formed alliances with the leaders of nations and movements, and in so doing…built a globalcompassion for the suffering of others," as President Joyce P. Jacobsen said while conferring the degree.
Sunday's ceremony marked the 197th graduating class of Hobart College and the 111th of William Smith College. In this Bicentennial year, the Colleges celebrated 506 undergraduates, 10 Master of Arts in Teaching candidates, the first cohort of 14 Master of Science in Management candidates, and one College Experience Certificate candidate through the HWS and ARC partnership program.
Alongside Beyrer, HWS also awarded honorary degrees to William Smith Head Soccer Coach Aliceann Wilber P'13, L.H.D. '22, the winningest coach in Division III Women's Soccer; celebrated singer, songwriter and musician Eric Andersen '65 , L.H.D. '22; and President of Ukraine Volodymyr Zelenskyy L.H.D. '22, in absentia.
In her valedictory address, President Jacobsen reflected on the meaning of "consequence," the ways in which this year's honorary degree recipients have led consequential lives and careers, and the bravery each has shown in their "willingness to engage with life fully, to live in the moments that we are given, and to share their gifts and their lives with others." Looking to their examples, Jacobsen implored graduates to practice acts of bravery every day, to be prepared to "be the actor rather than the observer" and "to rise to that occasion with the necessary bravery."
Student speakers Mary Mazzarella '22 and Caleb Austin '22 emphasized the importance of slowing down amid the chaos of the world and drawing inspiration from the people, lessons and experiences that have defined their time at HWS.
Mazzarella encouraged her fellow graduates to "take a mental snapshot of right now. Sense the grandeur of the moment. Feel the satisfaction of achievement. Notice the joy, pride and great expectation. Simply be present.… As we depart from our home on the lake and Coxe Hall recedes into the distance…take a moment to remember that we lived, learned and laughed together. Take a mental picture of it all and carry it with you. Focus on who you aspire to be and pursue truth using the skills we have learned here."
"As we leave the days of COVID and isolation behind us, and we've already begun readjusting to a remarkably different world…there is always a better future ahead of us so long as we merely remember to imagine one," Austin said. "As we go out into the world, we need to remember our potential and we need to always remember to imagine a better future ahead. We must never forget to hope."
During the Commencement ceremony, Craig R. Stine '81, P'17, chair of the Board of Trustees, presented the annual Touching the Future awards, which celebrate and honor educators from elementary, middle and high school who have had an impact on current HWS graduates. This year, the Colleges recognized: Tammie Borland, New Visions Medical Program Instructor at St. Peters Health Partners in West Sand Lake, N.Y., nominated by Madison Hasbrouck '22; and Parvin Taraz Ed.D., Director of Curriculum at Wooster School in Danbury, Conn., nominated by Student Trustee Gib Shea '22.