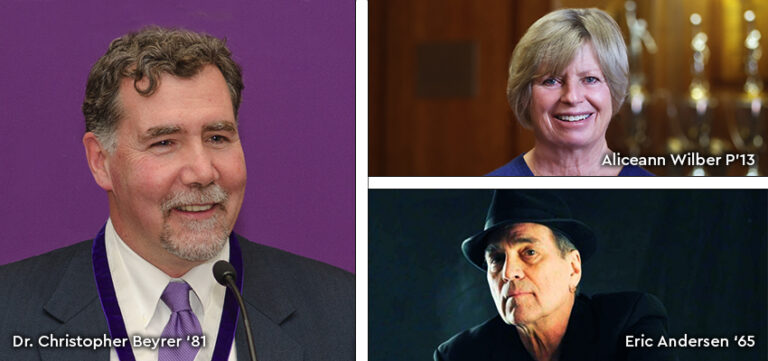 HWS News
3 March 2022

Dr. Christopher Beyrer '81 to Deliver 2022 Commencement Address

The epidemiologist, recently named Director of the Duke University Global Health Institute and HIV/AIDS expert, will also be awarded an honorary degree at this year's graduation ceremony.

Dr. Christopher Beyrer '81, recently named Director of the Duke University Global Health Institute, the inaugural Desmond M. Tutu Professor of Public Health and Human Rights at the Johns Hopkins Bloomberg School of Public Health, a past president of the International AIDS Society and a world-renowned epidemiologist who has worked on the frontlines of HIV/AIDS and COVID-19, will deliver the keynote address during the 2022 Commencement on Sunday, May 22.

"I am very excited to welcome Dr. Beyrer back to campus as our Commencement speaker. As a leading expert on public health and human rights, he has unique insights on the effects of the pandemic, seen and unseen, and during Hobart's Bicentennial, he brings an important perspective as an educator, a Hobart alumnus and son of a Hobart alumnus. I'm very much looking forward to his address in May," says President Joyce P. Jacobsen.

The HWS Board of Trustees unanimously voted to recognize the achievements of Beyrer and two other members of the community with honorary degrees during Commencement exercises: the winningest coach in Division III Women's Soccer, William Smith Head Soccer Coach Aliceann Wilber P'13 and celebrated singer, songwriter and musician Eric Andersen '65. After the invasion of Ukraine, President Jacobsen joined with a number of colleges and universities across the nation, and the Colleges will also award Ukraine President Volodymyr Zelenskyy an honorary degree in absentia.

"Together," says Jacobsen, "these individuals embody the very best of Hobart and William Smith and represent the Colleges' commitment to the sciences, social sciences, athletics and the arts. Aliceann Wilber's lifelong leadership of the Herons Soccer Team has been celebrated around the nation, and it's our turn to celebrate her and welcome her in perpetuity into the HWS family. Eric Andersen is the voice of a generation, writing songs that touched the lives of millions and that reflected the cultural transformation of the 1960s and '70s, and who is today a globally acclaimed musician and songwriter."

"In awarding this degree to President Zelenskyy, Hobart and William Smith honors not only his courage but also the bravery of all Ukrainians including those under attack in their country or recently exiled, and those who call Upstate New York home," Jacobsen says.

About the 2021 Honorary Degree Recipients

The summer after his first year at Hobart College, Eric Andersen '65 headed to Boston to write songs and play music on the street and in coffee houses. He was "discovered" quickly and invited to play high profile festivals and concerts. He returned to Hobart for another academic year, but the following summer he left college for good, hitchhiking to San Francisco where he fell in with the Beat poets and writers who famously congregated at the City Lights Bookstore. He later moved back East to become an integral part of the emerging Greenwich Village cultural scene. In the decades since, his renown as a songwriter and musician has only grown.

Andersen's songs have been recorded and performed by artists including Johnny Cash, The Grateful Dead, Linda Ronstadt, Judy Collins, Rick Nelson, Bob Dylan, Rick Danko, and Peter, Paul and Mary, among many others. "Thirsty Boots," Andersen's 1960s song about a civil rights worker returning home, has been covered by Dylan, Collins, and John Denver; Joni Mitchell and Joan Baez contributed harmony vocals on songs on his albums. Other songs of his from that era, such as "Violets of Dawn" and "Blue River," have also become classics. Andersen plays guitar, piano and harmonica. Early on he taught Joni Mitchell her first open tunings, which became her signature style of playing. During his long career, Andersen has recorded dozens of albums, performed with the likes of Dylan, Elton John and The Doors, and toured internationally with other acclaimed artists. He is in Andy Warhol's movie "Space" and featured in music documentaries. He has won awards for his songwriting and albums. He has written for "The Rolling Stone Book of the Beats," "National Geographic Traveler" and on writer William Burroughs in the book "Naked Lunch @ 50." He currently is writing his memoir and an episodic novel called "Bastardo." New York Times' music critic Robert Palmer called him an American master.

Perhaps the most accomplished artist ever to drop out of Hobart College, Andersen is now in the midst of an explosion of creativity that has been adding to his extraordinary corpus of musical work. A recent full-length documentary film, "The Songpoet," tracks his career and explores his dedication to his art, a commitment pursued with an integrity that has sometimes been in conflict with what might have been even more popular recognition, as a recent article in Rolling Stone magazine describes.

Christopher C. Beyrer '81 was recently named Director of the Duke University Global Health Institute, a position he will begin in August. He is currently a professor of medicine and the inaugural Desmond M. Tutu Professor of Public Health and Human Rights at the Johns Hopkins Bloomberg School of Public Health. With appointments in the departments of Epidemiology; International Health; Health, Behavior and Society; and Nursing, Beyrer also serves as director of Johns Hopkins' Training Program in HIV Epidemiology and Prevention Science. He is the founding director of the school's Center for Public Health and Human Rights, and is associate director of both the Johns Hopkins Center for AIDS Research and the university's Center for Global Health. He currently serves as Senior Scientific Liaison to the COVID-19 Vaccine Prevention Network, and has been working on COVID-19 vaccine trials since 2020.

A past president of the International AIDS Society, the world's largest body of HIV professionals, Beyrer has testified before the U.S. Senate and House of Representatives and served on the Scientific Advisory Board for the U.S. President's Emergency Plan for AIDS Relief. He has also advised organizations including the National Institutes of Health, the World Bank, the World Health Organization, the Open Society Foundations and many others. He was elected to membership in the U.S. National Academy of Medicine in 2014.

At HWS, he majored in history, graduated cum laude and was elected Phi Beta Kappa. He graduated from medical school at SUNY Downstate in Brooklyn, N.Y., and later earned a Master of Public Health at Johns Hopkins School of Public Health. Beyrer is the 2013 recipient of the Hobart Medal of Excellence. His father, Dr. Charles R. Beyrer, is a member of the Hobart Class of 1956.

The only soccer coach William Smith has ever known, Aliceann Wilber P'13 built the Herons team from the ground up into one of the most successful and widely respected programs in the nation. Through more than 40 years of leadership, she has solidified her place among the legendary names of collegiate soccer coaches. Including the 1988 and 2013 national championships, Wilber's career record with the Herons stands at 612-140-60. She is the first woman in collegiate soccer history to earn 600 career wins, and her 612 wins put her in first place on the NCAA Division III Women's Soccer all-time list and second among coaches in all divisions of women's soccer. Among her many accolades, Wilber has been named National Coach of the Year five times by United Soccer Coaches. She was inducted into the Heron Hall of Honor in 2002 and the United Soccer Coaches Hall of Fame in 2018.

An exceptional mentor, Wilber has coached 27 Division III first-team All-Americans. William Smith is one of only 11 Division III schools to have two players named first-team All-Americans in the same season. Just three schools have accomplished the feat more than once, while only the Herons have had two first-team All-Americans in five different seasons (1988, 1991, 2001, 2015 and 2016). Since advancing to the national championship game in its first NCAA tournament appearance, William Smith has reached championship weekend 11 times (1987, 1988, 1993, 1995, 1997, 2002, 2008, 2010, 2011, 2013 and 2019).

In addition to her contributions on campus, Wilber is engaged with the Geneva and surrounding community in a variety of ways, including as a supporter of the arts and Geneva Youth Soccer.

President of Ukraine Volodymyr Zelenskyy has demonstrated profound leadership in defense of freedom and democracy since Russia launched a full-scale invasion of Ukraine on Feb. 24.

Zelenskyy was elected the President of Ukraine in 2019. Before he was elected, he was best known for playing a television role as an ordinary schoolteacher accidentally catapulted into power. The show, "Servant of the People," ran for four years, making him a household name. He holds a law degree from Kyiv National Economic University.