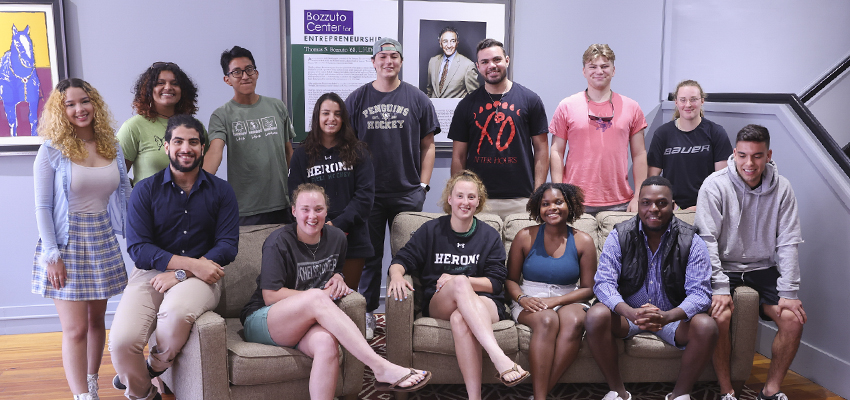 HWS News
17 June 2022 • Entrepreneurship Summer Sandbox 2022 Underway
The 14 students in this year's entrepreneurial accelerator program have begun generating business ideas, performing customer discovery and developing business models.
The HWS Summer Sandbox Startup Accelerator program is underway with instruction on topics ranging from financial statements and business models to distribution and customer discovery. Under the direction of Ed Bizari, the Centennial Center's Entrepreneurial Fellow, the immersive nine-week accelerator provides student entrepreneurs with a focused, hands-on experience for incubating startup ideas, developing entrepreneurial skills and understanding personal strengths.
The 14 students employed in this summer's program have begun to refine their startup ideas by conducting 100 direct customer discovery conversations in a search for viable and scalable business models. In the process, they learn the fundamental elements necessary to launch successful for-profit or non-profit startup ventures. The Summer Sandbox programming is highlighted by weekly speakers who meet the students, remotely and in-person, to offer their firsthand entrepreneurial perspectives as the students work to bring their ideas to fruition.
This year's speakers include HWS Board Chair Craig R. Stine '81, P'17, vice chairman, Global Financial Institutions Group at Barclays Investment Bank; Jim Cecere '91, founder and owner of FLX Goods & Vinifera; Meredith Eaton '98, CEO of Eaton Press and co-founder of Sparent, LLC; Mandy Friend, Team Leader at Keller Williams; Gina Perini '95, chair of the board of directors and CEO at Somos, Inc. & chair of the board of directors at XConnect; Mattie Mead '13, founder and CEO of Hempitecture Inc.; Michael Barlow '11, CEO of Fernish Inc.; and Charlie Hale '12, cofounder and head of product at Shred Labs, LLC. Charlie O'Donnell, founder and general partner of Brooklyn Bridge Ventures, will also host a pitching learning session.
Program Director Bizari taps into his 30+ years of corporate and startup business experience and his involvement with local startup venture fund, Launch NY, to both bring realism and depth to the Summer Sandbox experience.
Students in this year's cohort come from a variety of academic fields for multiple objectives.
Economics major Omar Kiwan '24 says he decided to sign up for the program when attending this year's Todd Feldman '89 and Family Pitch Contest. "I enjoyed watching people pitch their ideas and knew that I wanted to do that one day," he says. "Honestly the best part so far is picking an idea and improving it and working on it, and luckily for me my idea got picked so it's even more exciting."
Zerina Makhdoomi '22, who will begin a master's in social work degree at Tulane in the fall, says in addition to working as a social worker she intends to create a non-profit in the future. "So doing the Summer Sandbox internship is the perfect way to gain information and guidance through the process of creating a business," she says. "I really enjoy the guest speakers because they help us see what the world of business is and how to succeed in the competitive field. Craig Stine taught us that failure is inevitable but it's all about how you persevere and learn from your mistakes. I appreciate the speakers being honest about how hard it is to be a business owner but how worthwhile it is to finally succeeded; very inspiring!"
Writing and Rhetoric major Brianna Del Rosario '25 signed up for Summer Sandbox to gain insight into the business world. "I realized there is still so much I don't know about financials, and how I would go about starting my own business. I feel as if Summer Sandbox will help me realize if I truly want to enter the business/entrepreneurial field."
Roxanne Dyer '23 knows she wants to be an entrepreneur. "This is the foundation of what I plan to do with my future. Essentially, I am learning the tools necessary to create my dreams," she says. "The best part of the program is that the information is transferable to different aspects of life as well as to different projects. Simply put, Sandbox is an enrichment program that provides a unique and valuable experience."
Writing and Rhetoric major Sydney Foster '24 says there are several aspects of the class that will assist her in starting up a business: the Thursday morning coffee meetings with guest speakers has been "very informative and insightful. … I have enjoyed the customer discovery piece – interviewing people and exploring my product's potential customers."
Summer Sandbox is housed at the HWS Bozzuto Center for Entrepreneurship in downtown Geneva.