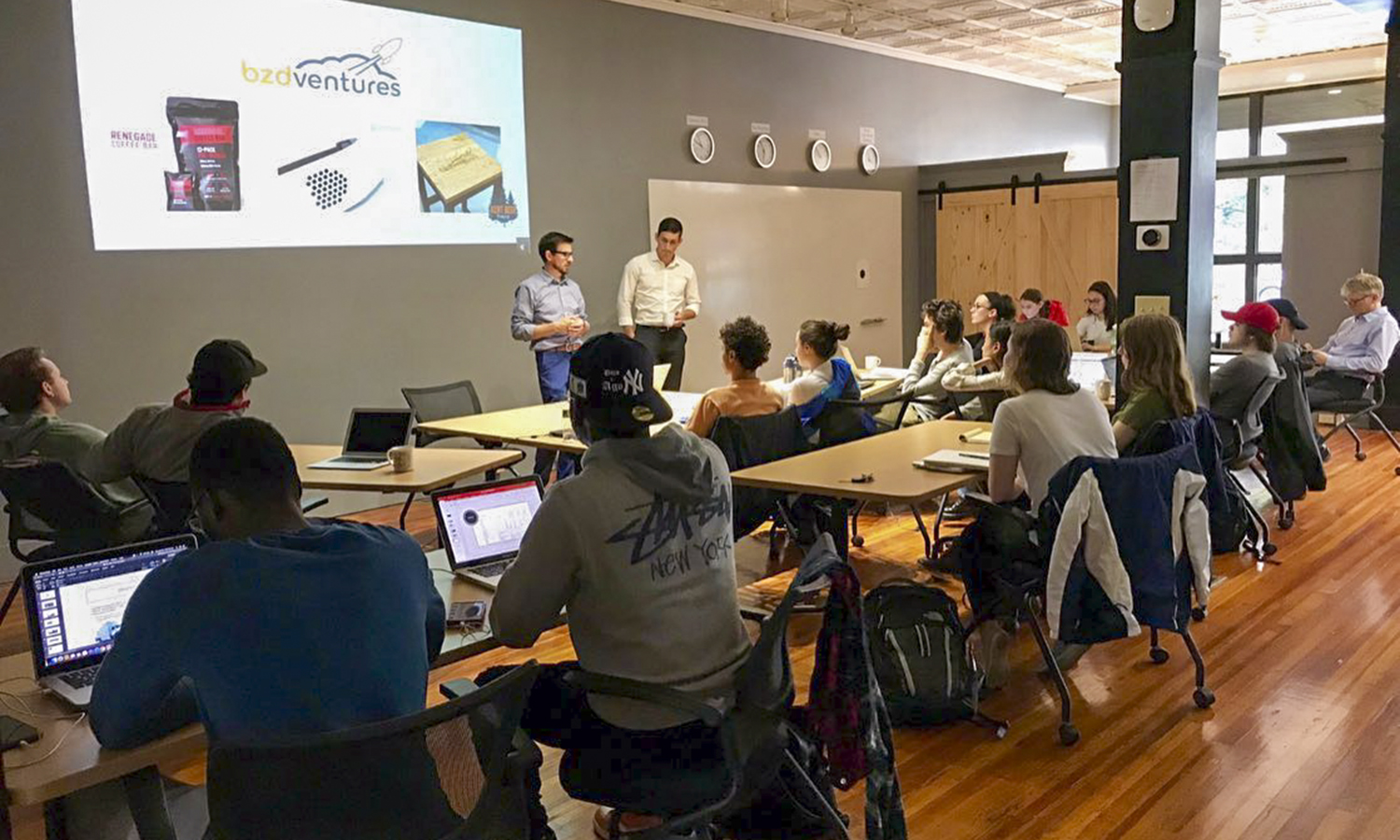 Summer Sandbox Accelerator
Overview
The HWS Summer Sandbox Idea Accelerator (Summer Sandbox) is a program designed to serve as a launching point for student entrepreneurs and startup founders. The program goal, with the assistance of staff, mentors, and subject matter experts, is to impart the fundamental skills for moving any for-profit or non-profit idea from early concept to a sustainable business model. Your own idea is not required; if you do not have an idea, you can be teamed with someone who does.
Program Description
Summer Sandbox is an immersive 9-week accelerator intended to provide student entrepreneurs with a focused, hands-on experience for incubating startup ideas.
New to HWS, this program will expose students to the real-world activities needed to refine ideas, identify viable and scalable business models, and launch new for-profit or non-profit startup ventures. It allows student teams to gain a first-hand perspective on entrepreneurship by proactively working on a startup venture while experiencing, first-hand, from the potential successes and failures inherent in the process.
Summer Sandbox will be housed at the Bozzuto Center for Entrepreneurship in downtown Geneva and will consist of weekly instructional programming, guest speakers, and comprehensive incubation services. The accelerator will provide the incubator tenants with a collaborative environment for the rapid advancement of product, service or social ideas.
The Entrepreneurial Leader
Inherent in all HWS Centennial Center programs is entrepreneurial leadership as a driver of innovation. Entrepreneurial leaders add value to ideas that transform communities, improve systems, and create products or services that change the way we interact with our world and with each other. Their impact can be intellectual, cultural, social or financial. They come from a wide variety of professional sectors and a range of academic disciplines. Your role as a leader and entrepreneur will be explored in this program.
Weekly Instructional Programming
Classroom sessions will focus on customer discovery and value creation as a way to impart entrepreneurial skills onto the students and significantly increase the chances of startup success. Program concepts to be covered over the 9 weeks will include:
Idea Refinement
Team Building
Customer Discovery
Value Creation
Market Definition and Segmentation
Business Model Generation
Minimum Viable Products & Prototypes
Financials
Pitching Your Idea
Class-time will be conducted on Tuesdays, Wednesdays, and Thursdays, and Mondays and Fridays will be dedicated to group work and mentoring on your project. The expectation is that Summer Sandbox emulates the activities involved with starting a company and that attendees will dedicate 5 full days per week to the experience.
Guest speakers and subject matter experts will assist in delivering critical content and mentoring you through your experience. Entrepreneurs-in-Residence and HWS AlumConnect mentors will be available to assist with questions, guidance, and business model development.
Incubation Services
As a participant in the program, you will receive the necessary elements to support entrepreneurs and startup teams in helping move them from an idea to a viable business model. Services available to all accelerator members will include:
Weekly Entrepreneur-in-Residence office hours to review progress and programming elements
Mentoring/coaching from alumni and the local business community
Access to domain experts and service providers
Weekly guest speakers to expand on current discussion topics
Office space in the HWS incubator
Internet
Printing
Demo Day
At the end of the 9-week program, Summer Sandbox Demo Day will give each team the opportunity to pitch their business or non-profit ideas to a small group of potential investors, community stakeholders and regional entrepreneurs.
2020 Summer Sandbox Pitch Night Video:
2023 Program Details
HWS students wishing to participate will be required to fill out a Summer Sandbox online application.
Those HWS students accepted into the program will receive a 32.5hr/week salary for the duration of the 9-week summer accelerator program.
Program Duration: TBD
Monday - Startup Work Time
Tuesday - Lecture/Coaching/Work Sessions 10 a.m.-3 p.m.
Wednesday - Lecture/Coaching/Work Sessions 10 a.m.-3 p.m.
Thursday - Lecture/Coaching/Work Sessions 10 a.m.-3 p.m.
Friday - Startup Work Time
Summer Sandbox Interest Meeting: Thursday, February 9, 2023 at 6 p.m. on Zoom
Applications Due: Online applications due by March 6, 2023 at noon
NOTE: The Summer Sandbox program will follow HWS guidance on COVID-19 safety measures. We are currently expecting to conduct Summer Sandbox in person at the Bozzuto Center for Entrepreneurship. COVID-19 policy set for by HWS at the start of the program will dictate this decision.
Syllabus
HWS Summer Accelerator is a 9-week program implementing an additive module approach. Weeks will be structured with three days of classroom learning and guest speakers, and two days of independent work time. The expectation is that Summer Sandbox emulates the activities involved with starting a company and that attendees will dedicate 5 full days per week to the experience.
Please note that the syllabus items below are tentative and subject to change.
Week 1 – Idea & Team Development
Guest Speaker Topic: Refining Ideas
Week 2 – Customer Discovery
Guest Speaker Topic: Conducting Customer Interviews
Week 3 – Market Segmentation
Guest Speaker Topic: Sizing and Understanding Your Market Segments
Week 4 – Value Proposition Development
Guest Speaker Topic: Identifying and Building Customer Value
Week 5 – Developing a Minimum Viable Product
Guest Speaker Topic: The Role of, and how to learn from, your MVP
Week 6 – Financials, Business Models and Pricing
Guest Speaker Topic: Pricing Models for New Businesses
Week 7 – Sales & Marketing
Guest Speaker Topic: Developing a Marketing and Sales Plan on a Startup Budget
Week 8 – Storytelling and Final Pitches
Guest Speaker Topic: The Key Elements of Pitching and Storytelling your Idea