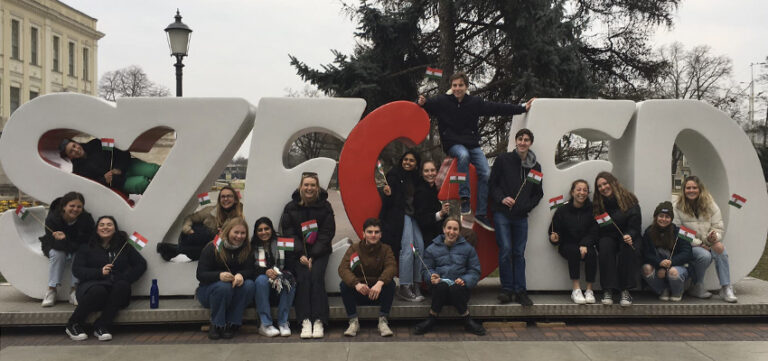 HWS News
20 May 2022

HWS Celebrates 10 Gilman International Scholars

Eight Hobart and William Smith students are among the recipients of the U.S. Department of State's 2022 Benjamin A. Gilman International Scholarships. Two students who deferred a previous Gilman award due to the pandemic will receive support to study abroad with this year's cohort.

"This will make for our largest group of Gilman recipients, encompassing a wide range of students in different academic areas participating in a variety of programs," says Dean of Global Education Tom D'Agostino.

"I am so proud of our students for working so hard to make their study abroad plans a reality," says Programs Operations Manager of the HWS Center for Global Education Amy Teel. "On top of their coursework and jobs, these students found time to write essays, develop a 'follow-on' project and meet Gilman's requirements. It's wonderful to see their efforts rewarded."

Sponsored by the U.S. Department of State, the highly competitive national grant program provides up to $5,000 for students to study or intern abroad. Those applying for funding through the Gilman International Scholar program must complete a competitive application process involving essays and a proposal for a project upon returning to the U.S.

This year's recipients Brianna Del Rosario '25 and Julissa Ramirez '23 will travel to Italy; Mark Thomas '23 and Michael Thomas '23 to Japan; Winter Fagerberg '24 to Sweden; Samuel Calderon '23 to Chile; Eden LaRonde '24 to Ireland; and Eliyah Roberts '23 to Indonesia.

Previously named Gilman Scholars Litzy Bautista '23 and Fatou Diokhane '23 will respectively travel to Chile and South Africa.

In 2021, the Gilman program recognized Hobart and William Smith among the top producing institutions of the past 20 years. The recognition is part of the 20th anniversary celebration of the Gilman Program and its partnership with the U.S. higher education community to make study abroad more accessible to outstanding and diverse American students who otherwise may not have the funding for an international academic experience. During the past two decades, dozens of HWS students have earned the Gilman Scholarship.