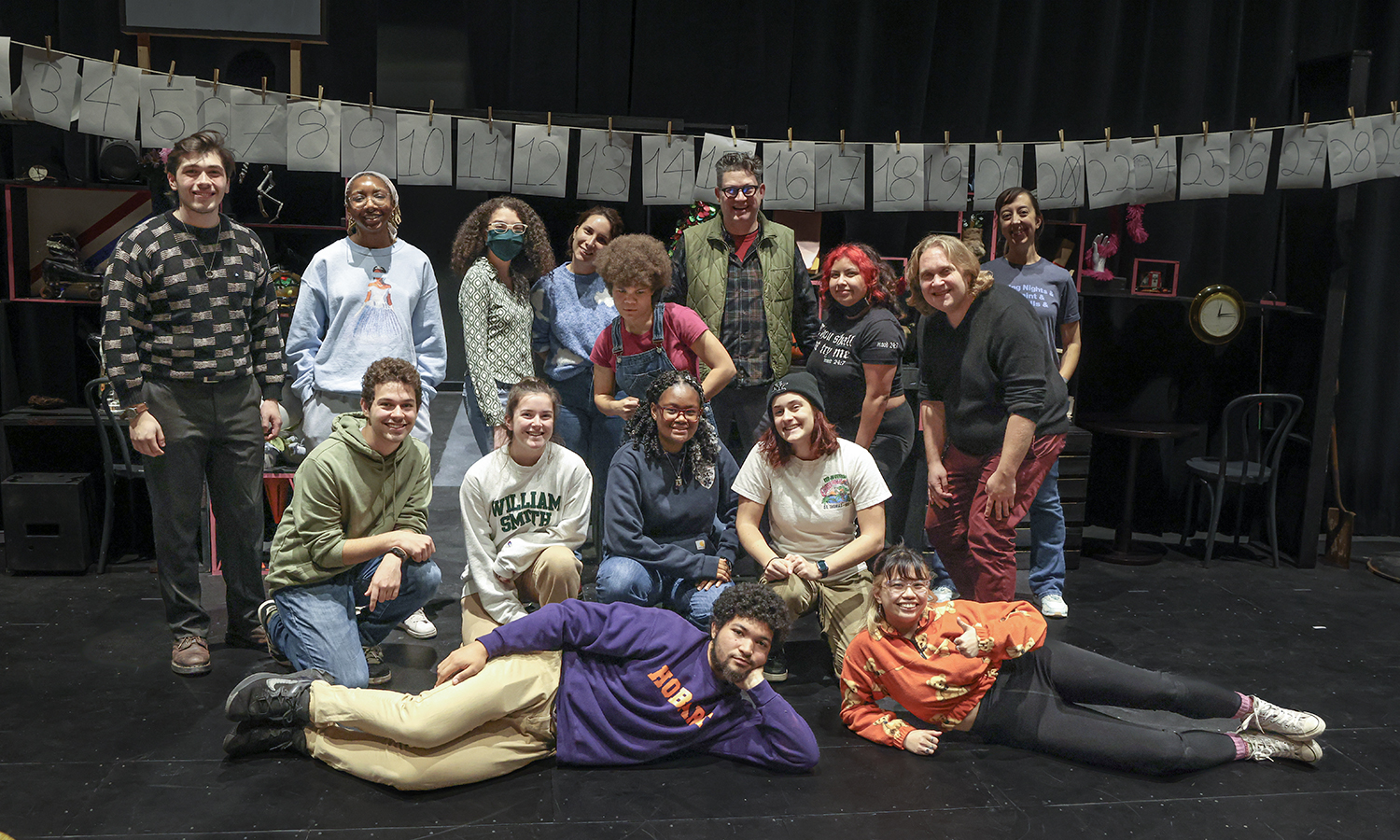 HWS News
26 October 2022

Expect the Unexpected By Colin Spencer '19

HWS Theatre will open the 2022-23 season on Nov. 3 with Too Much Light Makes the Baby Go Blind (30 Plays in 60 Minutes) by Greg Allen.
Too Much Light Makes the Baby Go Blind is a race against time as an ensemble of actors try to beat the clock and perform 30 plays in 60 minutes (or less). Some are funny, some are poignant, some are just plain bizarre and NONE of them are suitable for children! Who decides the order of these plays? The audience! Greeted by a clothesline of numbers, the audience will determine the order of the plays through a series of interactive events, playfully blurring the lines between audience and performers. Buckle up for hilarious, awkward, and sometimes downright uncomfortable audience participation.
Directed by Associate Professor of Theatre Chris Woodworth, HWS Theatre will present Too Much Light at 7:30 p.m. on Nov. 3 and Nov. 4 and 2 p.m. and 7:30 p.m. on Nov. 5 in McDonald Theatre in the Gearan Center for the Performing Arts. Woodworth encourages attendees to consider returning for multiple performances. "Every single performance will be different!" she says. "At the end of each night, we'll roll the dice to see how many plays stay and how many are replaced. This is one show you'll want to see more than once because it's a completely different ballgame each time! Be prepared to join in the fun!"
"People should expect the unexpected!" concurs cast member Gabriela Nieves '23. "This show has a wild design and that's what makes it so fun. Not even the actors know the exact order that the plays will be in, so we have to go with the flow and hope audience members will enjoy doing the same."
Too Much Light is the "most exciting and wacky set that I've ever helped build," says Delaney Cassidy '26, an assistant stage manager. "There's so much excitement and joking around I think the audience will be engaged for the whole hour." In addition to working as an Assistant Stage Manager, Delaney is currently enrolled in the Stagecraft class, taught by HWS Theatre Resident Designer and Technical Director Ed Hallborg. The set has been designed and built by Ed, Delaney and the other students in the class, which includes Johanna Grejda, Ed Hallborg, Brenna Holland, Elvis Njomo, Joseph Tate and Karen Wu. While Stagecraft students often assist with scenic construction, this production marks one of the first times the class has collaborated on design.
Organizers advise that the production contains cursing, references to violence, graphic descriptions, sexual content, loud noises, bright lights, screaming and more hilarity, confusion and awkwardness than you have likely ever experienced in one sitting.
The show's cast members are: Anthony Bray '23, August Deimel (community artist), Isabel Huelgas '25, A. King '25, Gianluca LoPorto '25, Aaron McClintock '25, Gabriella Nieves '23, Eliyah Roberts '24, Christina Roc '24, Syed Muhammad Abbas Jafri '24, Kate Villinski '25 and Slater Weiss '26.
The production team includes: Stage Manager Derrielle Faulkner '25; Assistant Stage Managers Hailey Adams '24, Delaney Cassidy '26, Lauren Davidson '26; Scenic, Prop and Lighting Designer/Technical Director Ed Hallborg; Sound and Projection Designer Kelly Walker; and Costume Designer Katharine Tarkulich.
Tickets for Too Much Light are free (although donations will be accepted). Tickets can be reserved through the HWS Theatre Box Office. Online ticket reservations close two hours before each performance. Remaining tickets will be available at the Box Office, one hour before each performance. Please check in at the Box Office when you arrive in the Gearan Center. Doors open half an hour before each performance. Seating is General Admission…and unconventional. Arrive early if you want your best pick of seats! Too Much Light is produced by special arrangement with Playscripts, Inc. (www.playscripts.com).
In the photo above, the cast and director of "Too Much Light" are joined by Guest Artist Rob Neill, Co-Artistic Director of NY Neo-Futurists. Neill was in residence with HWS Theatre October 19-21.