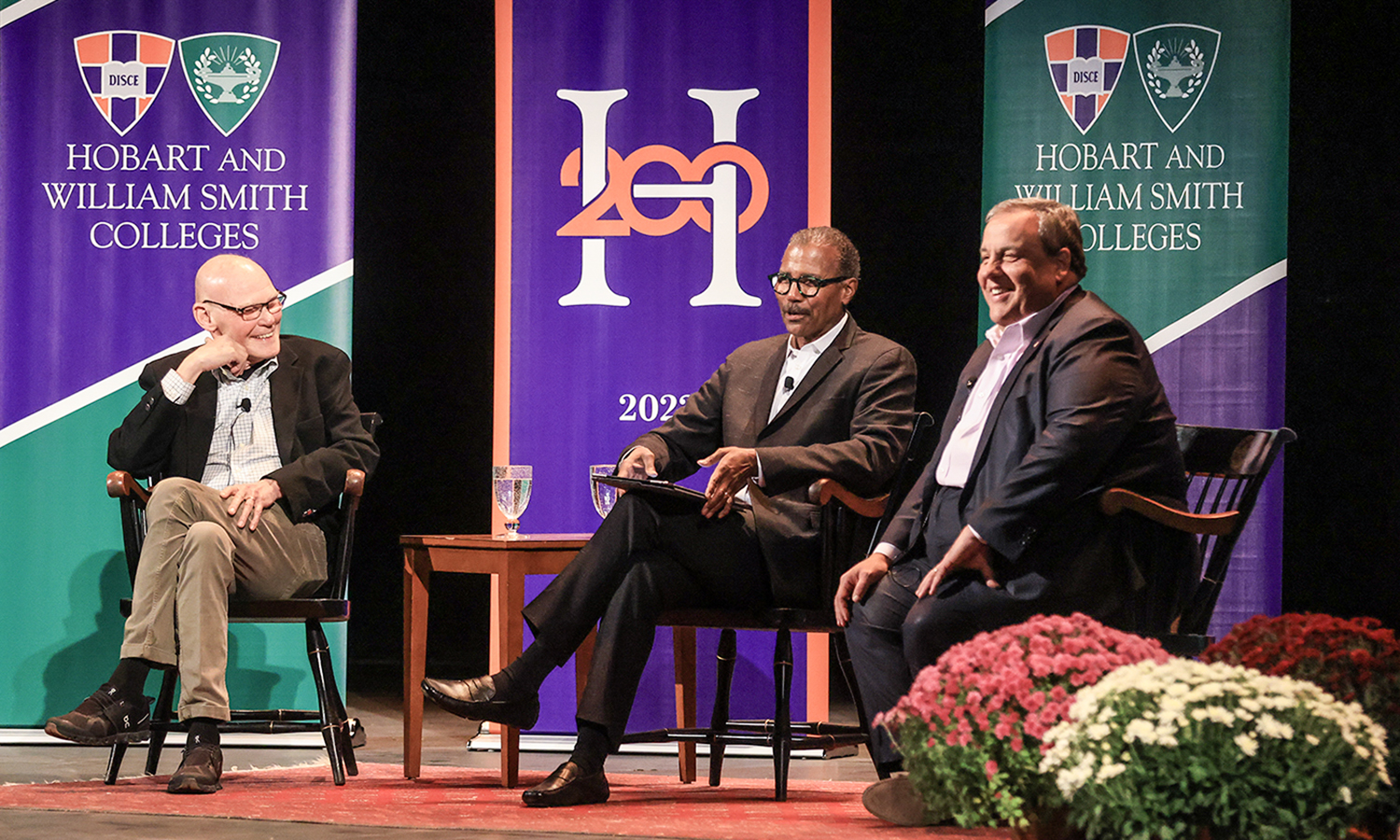 HWS News
26 October 2022 • Alums Christie and Carville Talk Politics By Andrew Wickenden '09
During the Bicentennial weekend's Stern Family Forum, two political veterans shared their insights on the 2022 midterms, the issues animating voters, and strategies for effective campaigns, governance and political cooperation.
As part of the celebration of Hobart College's Bicentennial, the Stern Family Forum's fall event brought former New Jersey Governor Chris Christie and political commentator and strategist James Carville LL.D. '13, P'17 to Geneva for an evening of candid and colorful conversation about politics and the country's future.
Moderated by Emmy Award-winning 60 Minutes Correspondent and HWS Trustee Bill Whitaker '73, L.H.D.'97, the panel discussion on Saturday, Oct. 22 was the second event in a new series generously funded by Honorary Trustee Herbert J. Stern '58, P'03, LL.D. '74 and Trustee Samuel A. Stern '03. The Stern Family Forum was created to support annual public discussions with notable guests who bring nuance to difficult, sometimes controversial subjects.
As Sam Stern said during the event's introduction, "Disagreement and differences of ideas aren't bad things when they're done with civility. Indeed, they…[fuel] the fire of the free mind…. Civilization advances when that growth occurs. Some ideas rise, some ideas fall and, even more importantly, new ideas are born."
Learn more about the Stern Forum and this semester's participants.
On stage at the Smith Opera House, President Mark D. Gearan introduced Christie and Carville who shared anecdotes from their storied careers in politics and analyzed pressing, complex issues, including money in politics, the impact of inflation, immigration and democracy globally.
"American democracy has been challenged since the day it started," Christie said. "I'm not pessimistic about democracy, and I'm not pessimistic about America's future role in the world.… We still live in the best neighborhood in the world…. We still have most of the advantages that we had hearkening back to 2000. The question is…are we smart enough to exploit those advantages and the disadvantages of our adversaries, or aren't we?"
"You have to adjust to the world you live in, not the world we used to live in," Carville said, noting the importance of recognizing and adapting to new realities. "We don't run the world the way we used to…. We're not going to be able to go back… It's the way it is, it's the nature of politics."
Christie emphasized the value of personal relationships in politics as a place for developing common ground and compromise. He was encouraged by the energy of young voters, encountering "more feedback on things that really matter to the future than I've seen before."
Translating that energy into concrete change takes work, Carville noted. "It's hard but everything is hard," he said, urging sustained political engagement.
"It's your country. You have something to say about the shape of its direction," he said. "There's two ways you can go through life. You can go through life making rain or getting rained on. And we got too many umbrellas in this country.… Go make some rain."
Before the conversation began, President Gearan introduced Kate Equinozzi '23 and Samari Brown '24, leaders of HWS Votes, the nonpartisan student organization working to increase voter turnout on campus.
"This election we have the goal of increasing our student voting rate by 40% and in August we launched our get out the vote initiative," Brown said. "We have the ability to make change on a local, state and federal scale."
"Our goal is to ensure that every student on this campus has the resources to register to vote, learn about their election, and cast their ballot," said Equinozzi, who is one of only 82 students in the nation selected for the ALL IN: Campus Democracy Challenge Honor Roll.