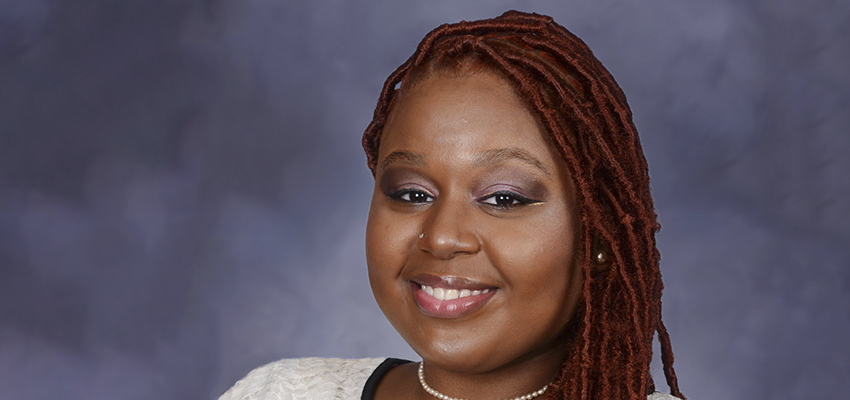 HWS News
20 June 2022 • Research Brathwaite '22 Presents Honors Research
A recent conference showcased the unsung expressions of Guyanese feminism that Kaitlyn Brathwaite '22 studied as part of her Honors project.
At the Latin American and Caribbean Area Studies undergraduate conference at Binghamton University, Kaitlyn Brathwaite '22 delivered a presentation based on her Honors thesis, "A Gold Earring-ed Ear to Guyana: The Unheard Voices of Guyanese Women Producing Feminism."
Brathwaite, a writing and rhetoric major with a minor in women's studies, researched how Guyanese women practice feminism in their daily lives, based on cultural customs and the evolution of the Caribbean in more mainstream spaces. Her primary sources were accounts of her family's lives, combined with research from queer scholars and theorists, "to understand how their narratives present feminism from the perspective of Guyanese immigrant women," she explains.
Her project proposes that "feminism in Guyana has been practiced for years unknowingly by the women. Through being the main provider in most homes, survivors of assault, their care for their communities and/or other traits associated with female Guyanese cultures, women in Guyana have always been feminists and do not need to be defined by Westernized movements to recognize their activism."
"Kaitlyn's presentation was very well received," says Associate Professor of Women's Studies Michelle Martin-Baron, Brathwaite's Honors advisor. "Her project had many intersections with those of her peers, but also elevated the conversation about feminism in Latin America and the Caribbean. Faculty members and students alike had many questions for Kaitlyn and were excited about the ways she traced feminism through her family's stories as diasporic Guyanese women."
"One purpose of my work," Brathwaite explains, "was to transform the dynamics between academic research and the experiences of marginalized groups. The two often clash because of systemically prejudiced traditions in education that invalidate non-white experiences.… The ability to work with a program that…introduces these voices into academic spaces with the purpose of reconstruction, while also maintaining the voices of those people over time, was everything I needed."
Martin-Baron adds: "Kaitlyn's work on Guyana is groundbreaking for many reasons, but among them is that there is only a very small body of literature and research on women and feminism in Guyana and its diaspora."
At the conference, Brathwaite was able to connect with other students who have spent significant time researching Latin America and the Caribbean, and could "see her work in this context and see herself as a peer to these students," Martin-Baron says. "Many of them came to regard her as an expert and she provided a number of students with suggested readings and ideas from her own studies. The networks students can develop at conferences like these are important and empowering."