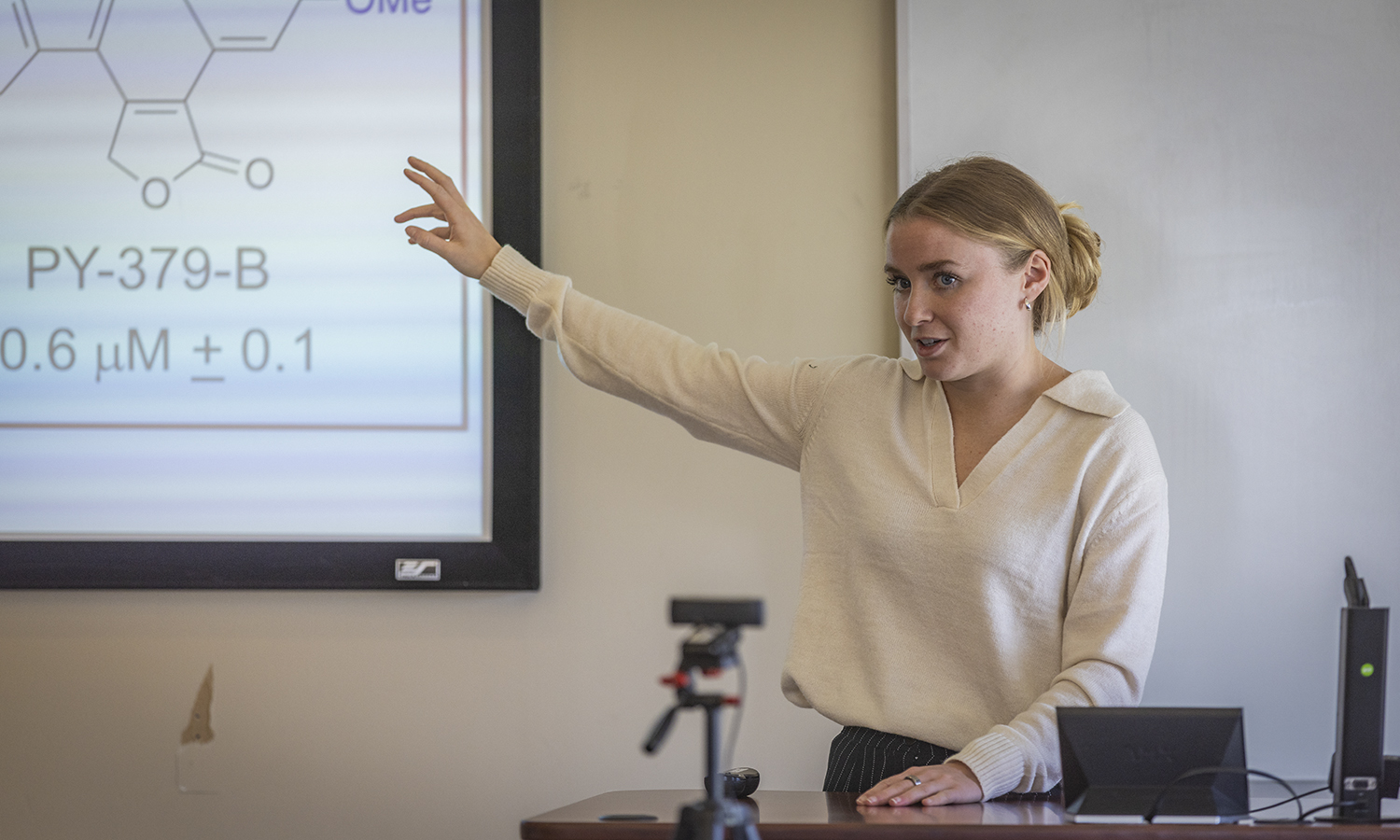 HWS News
9 November 2022 • Alums • Research Biomedical Research
Maegan Manning '22 recently began a two-year biomedical research position at the National Institutes of Health Clinical Center.
Earlier this year, the National Institutes of Health selected Maegan Manning '22 for a highly competitive Postbaccalaureate Intramural Research Training Award.
The award supports full-time research opportunities for recent college graduates who are planning to apply to graduate or professional school in medical or related fields. Recipients spend one to two years working side-by-side with some of the leading scientists in the world, in an environment devoted exclusively to biomedical research.
Manning, who earned a B.S. in biology, minored in chemistry and religious studies and was a center midfielder for the Heron soccer team, is working in a lab specializing in translational research involving patients infected with HIV.
"Patients enrolled in our protocol give blood samples to us so we can do a variety of experiments with them," she says. "Currently I am working on an individual project to try to understand immunological differences in the way two distinct patient groups suppress the virus."
Manning explains that "translational research bridges the gap between clinical research and basic research, with the hope that our research in the lab using patient samples will lead to certain discoveries or understandings of the HIV virus. The hope is that our data can then be used in one form or another to improve the health outcomes of our patients."
"I was very grateful for the opportunity to receive this award," says Manning. "The opportunity presented me with an exciting new experience where I knew I'd grow in many ways."
While at HWS, Manning worked in Professor of Biology Patricia Mowery's lab from June 2021 to May 2022, testing small molecule inhibitors that were synthesized in Professor of Chemistry Erin Pelkey's lab.
Manning tested the inhibitors "against a lymphoma cancer cell line in order to assess the cytotoxicity the compounds had on cancer cells," she explains. "In doing so we were able to gain more information on the confirmation and structure of compounds that are most potent against lymphoma cells."
As a researcher in her lab, Mowery says, Manning "learned how to test compounds for their ability to kill cancer cells, how to grow and maintain cancer cells, and how to teach others these skills. She would then look at the data and determine how changes in the compound structure impacted the potency of the molecules."
Manning presented her work at the international American Society of Biochemistry and Molecular Biology meeting in Philadelphia in April and gave a presentation at HWS' Senior Symposium.
As for the future, she plans to apply to medical school. "As of now I'm interested in dermatology and pediatrics," she says, "but I'm open to learning and exploring all specialties."