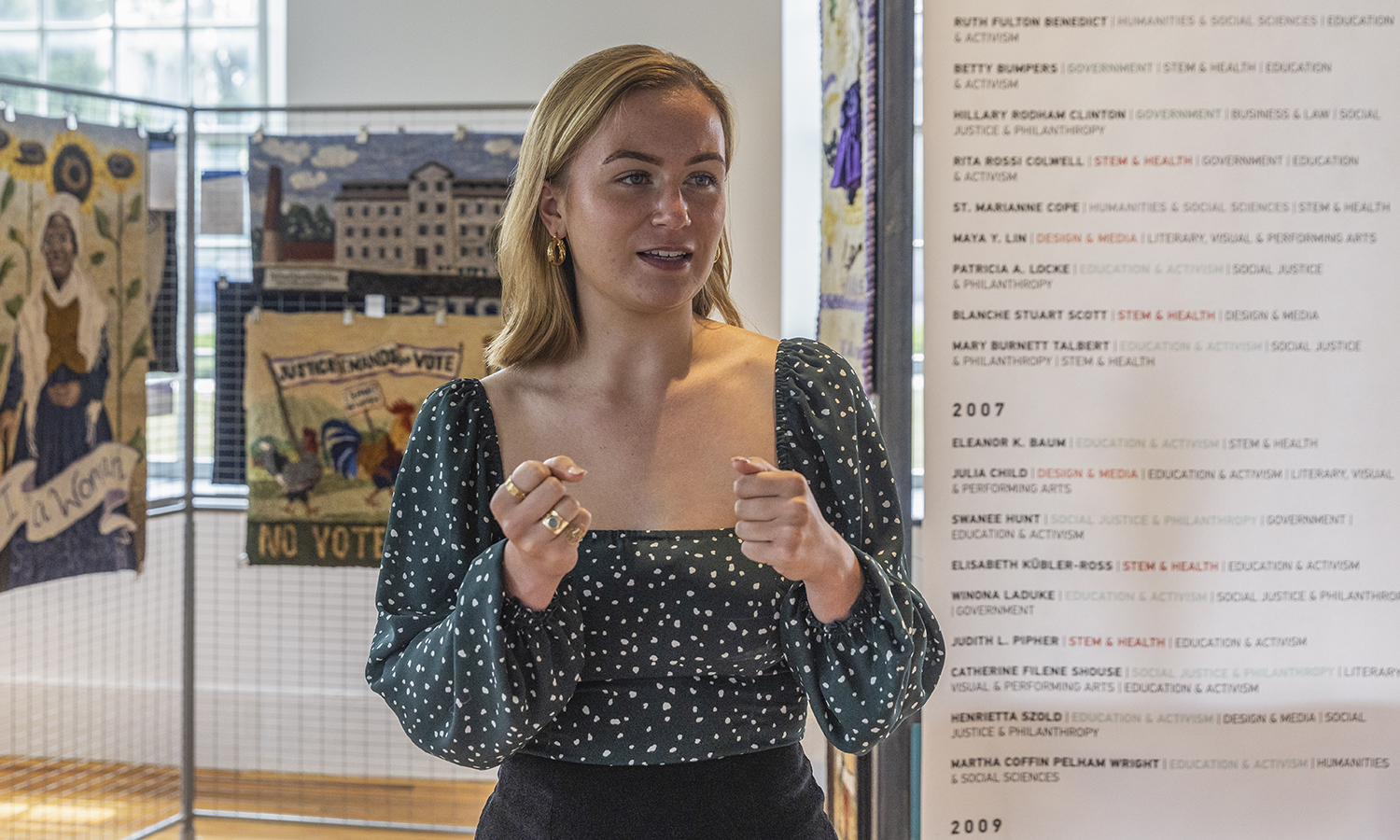 HWS News
16 September 2022

Earley '23 Completes Internship with National Women's Hall of Fame By Annette Stephens '24

This summer, Lauren Earley '23 found both a mission that mattered to her and an opportunity to further her academic pursuits through an internship with the National Women's Hall of Fame.

Over the summer, Lauren Earley '23 completed a marketing and communications internship with the National Women's Hall of Fame, an exciting time to hold the position as the Hall began to prepare for the 2022 Induction Ceremony held this month. While the internship correlated with her Media and Society major, Earley was drawn to the opportunity because of the Hall's foundations and its work to highlight women's stories.

"I chose this internship because the mission of the Hall means a lot to me. It is important to tell the stories of incredible women, both those who are well known and those who are not. It reaffirms their place in history when it is often overlooked and inspires the next generation of women and girls."

The National Women's Hall of Fame, founded in 1969, is the nation's oldest non-profit organization and museum dedicated to honoring and celebrating the achievements of distinguished American women. The museum and nonprofit are located in Seneca Falls, N.Y., the site of the first women's rights convention in 1848 and where Elizabeth Cady Stanton penned the Declaration of Sentiments that called for women's equality and suffrage.

Through her work with the Hall, Earley looked for experience and purpose. "I hoped to gain real work experience in marketing and communications, which is exactly what I did. I also wanted my efforts to go to an organization and mission that was meaningful to me."

On campus, Earley is completing a second major in French and minoring in entrepreneurial studies. Outside of the classroom, she is the Head O'Laughlin Ambassador in the Office of Admissions, a choreographer and dancer for Kinetic Dance Collective, a member of the Laurel Society, and has served as both a First Year Seminar Mentor and a Media and Society Teaching Assistant. Currently, Earley is studying abroad through the Center for Global Education in Aix-en-Provence, France where she is also interning in a ballet studio.

Later this month, the new class of inductees to the Hall will accept their honor at the Smith Opera House in Geneva, N.Y. Former Secretary of State and First Lady Hillary Rodham Clinton will serve as the honorary chair. Inductees include Octavia Butler, Rebecca Halstead, Joy Harjo, Emily Howland, Katherine Johnson and Indra Nooyi, Judy Chicago, Mia Hamm and Former First Lady Michelle Obama.

A longstanding connection between the National Women's Hall of Fame and HWS, Professor of Women's Studies Betty Bayer served as president of the board of directors in Seneca Falls, N.Y. from 2017 to 2019.