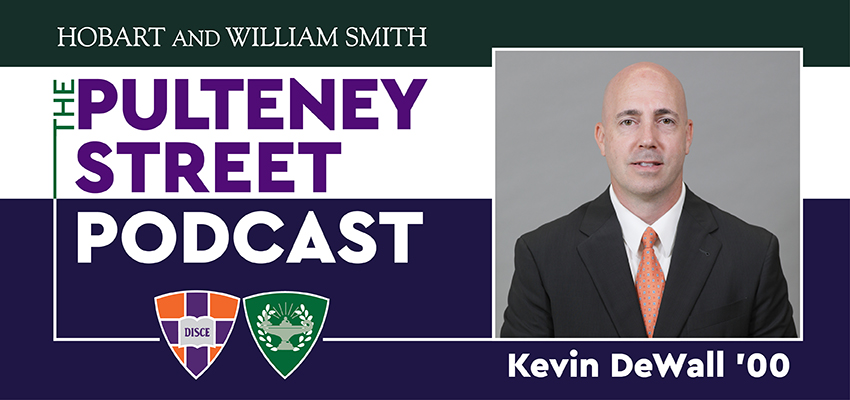 HWS News
14 September 2021 • Alums • Athletics Pulteney Street Podcast: Hobart Football
On the latest edition of the Pulteney Street Podcast, President Joyce P. Jacobsen kicks off a new academic year with Hobart Head Football Coach Kevin DeWall '00, discussing the confluence of academic and athletic success, coaching through a pandemic, and Super Bowl Champion Ali Marpet '15.
Head Football Coach Kevin DeWall '00 joins the Pulteney Street Podcast with President Joyce P. Jacobsen.
"It's more than X's and O's and winning football games," DeWall said. "For us, our staff is committed to their successes as students, their development as men and as citizens here on campus."
In 2018, DeWall was appointed the 24th head coach of Hobart football. He's the first alum to lead Hobart on the gridiron since Francis L. "Babe" Kraus '24 guided the program in 1942. DeWall's coaching resume includes 15 years as an assistant coach at Hobart, 12 as offensive coordinator, and three seasons at Endicott College before returning to Hobart.
DeWall received a bachelor's degree in biology at Hobart, earning Dean's List honors in each of his four years on campus, where he was also a member of the Orange Key and Druid honor societies. As a Statesman, DeWall was a defensive back in football and an attackman for the Division I Hobart lacrosse team. When he graduated, he held the program's Division I era record for career assists, helping the Statesmen earn two NCAA tournament bids and the 2000 Patriot League Championship. He was the 2000 Patriot League Men's Lacrosse Scholar-Athlete of the Year.
DeWall is originally from Waterloo, New York, and was inducted into the Waterloo Athletic Hall of Fame in 2008.
Coach DeWall is now in his third season as head coach of the Statesmen and he picked up his 15th Hobart win, 35-3 at Alfred to start the season, becoming the fastest Hobart coach to reach that plateau.
Podcast: Play in new window | Download
Subscribe: RSS