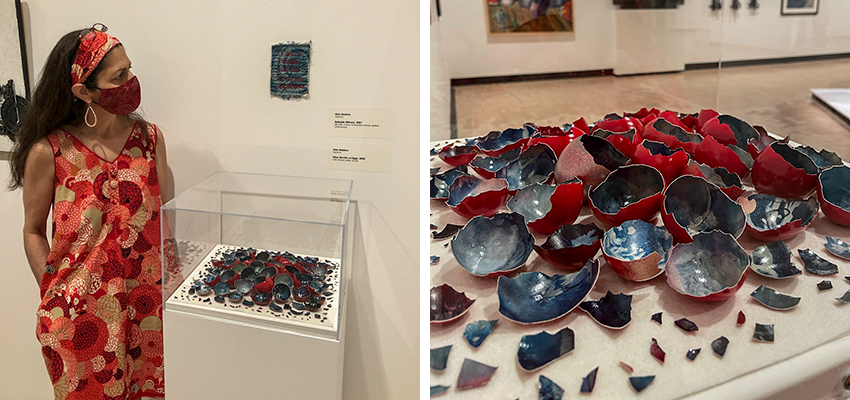 HWS News
21 September 2021 • Alums • Arts New Blueprints: "To Help People See"
University of Rochesters Memorial Art Gallery features works by Associate Professor of American Studies Kirin Makker and G. Peter Jemison L.H.D. 20.
Opening this month at the Memorial Art Gallery (MAG) in Rochester, N.Y., the 67th Rochester-Finger Lakes exhibit features work from Associate Professor of American Studies Kirin Makkers Blueprint Series as well as a solo show by G. Peter Jemison L.H.D. 20.
The Blueprint Series is a way to protest illegibility, insist on active presence, and physically record lives that, because of race and ability, are often rendered socially invisible, Makker explains. Applied to textiles and eggshells, her cyanotype works evoke the everyday, the below, the other, the queer, the unbelonging. Instead of blueprinting the hand of the architect and institutional space, these works capture moments of the invisible subject engaged in an act of fleeting but meditative self-documentation. The juried exhibition, which runs until Sunday, Oct. 17, is a biennial showcase of emerging and established artists from a 27-county region of western and central New York State.
To see more of Makkers work and read her artist statement for Blueprint Series, go to https://linktr.ee/kirinmakker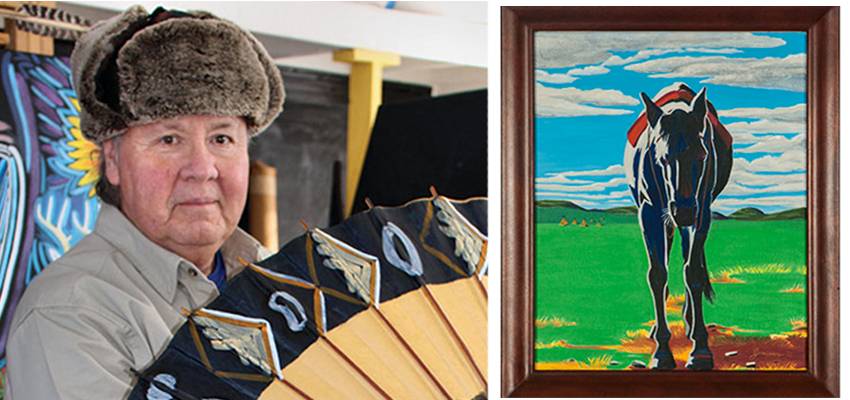 Meanwhile, a solo show, To Help People See: The Art of G. Peter Jemison, is on exhibit in another area of the MAG through Sunday, Nov. 7. An artist, activist and Historic Site Manager of Ganondagan State Historic Site, Jemison is a member of the Heron Clan of the Seneca Nation and a leading authority on Haudenosaunee (Iroquois) history. He was awarded an honorary doctorate from HWS in 2020.
Learn more about the exhibits.
At HWS, Makker teaches drawing as a tool for storytelling and a seminar in critical space theory and practice. She holds a Ph.D. in regional planning, an M.Arch. and an M.A. in English. Trained as an architect and scholar, she works both as an artist and writer, and has presented, exhibited, and published her work nationally and internationally. With her recent project, The Womb Chair Speaks, Makker and interns Abbey Frederick 20 and E. Ainsley Rhodes 19 reimagined Eero Saarinens classic Womb Chair, an icon of midcentury modern design. This fall Makker will publish an article about the Womb Chair Speaks in the interdisciplinary journal Feminist Studies. She was named among the rising stars on the cusp of becoming household names in Who is Making Asian American Pacific Islander History in 2021: The GMA Inspiration List. Shes currently revising an article on the same project for Art Journal, this one co-authored with her former students Frederick and Rhodes. To see what shes working on, what her students are making, Seneca Lake sunrises, and the occasional photo of her cat, follow her on Instagram @kirinmakker
A classically trained painter, Jemison works in a range of media paint, printmaking, lithography, woodcuts and film exploring political and social subjects as well as his own relationship with the natural world. His work appears in museum collections internationally, including at the British Museum, Museum of Mankind in London, England, Whitney Museum of American Art, New York, N.Y., and the Institute of American Indian Arts Museum in Santa Fe, N.M. As the historic site manager of the 569-acre Ganondagan State Historic Site in Victor, N.Y., the original site of a 17th-century Seneca town, Jemison oversees a wide range of resources and programs that tell the story of Haudenosaunee contributions to agriculture, art, culture and government. A lifelong advocate for Native American rights, Jemison has served as a consultant to the Smithsonian Institutes Native American Museum Training Program and to the National Endowment for the Arts. He serves on the board of trustees for the National Museum of the American Indian. Jemison studied at the University of Siena in Siena, Italy, and earned a bachelors in art education from Buffalo State College.