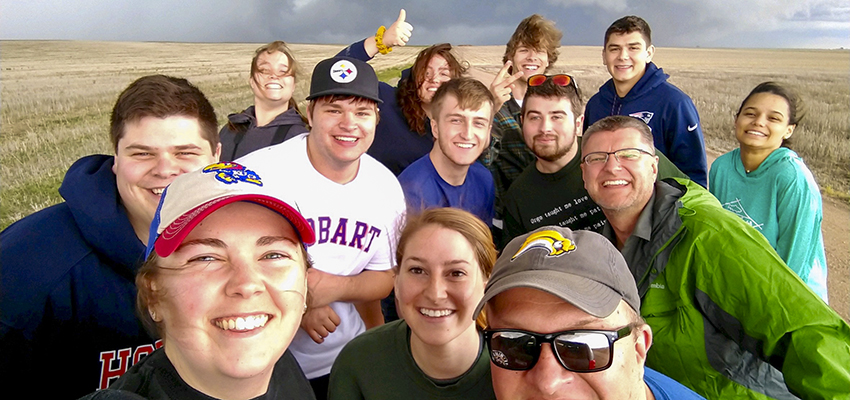 HWS News
30 September 2021 • Alums McMillan '21 Chases the Wind
Tracking tornados in the field as an HWS undergrad prepared Patrick McMillan '21 for his graduate studies in meteorology at Ohio University.
"I would be that kid watching the Weather Channel looking at hurricane tracks and blizzards," says Patrick McMillan '21. It was his coursework and research experience at Hobart and William Smith, however, that solidified his passion for atmospheric sciences.
HWS are one of only a handful of small liberal arts colleges with a concentration in atmospheric sciences, and the Maymester field course, "Storm Chasing," sealed the deal for McMillan. With Associate Professor of Geoscience Nick Metz and Professor of Geoscience Neil Laird, McMillan and his classmates spent 12 days in "tornado alley," crisscrossing the Midwest and Plains states, tracking severe thunderstorms and nearly a dozen tornadoes.
As an incoming graduate student at Ohio University, McMillan will build on this academic foundation, studying "the strength of tornadoes and their vortexes as they travel across complex terrain."
Meanwhile, between this spring's Commencement and the beginning of his graduate program this fall, McMillan spent the summer aboard a 26-foot pontoon boat on Lake George, Oneida Lake and Seneca Lake, gathering data that will ultimately inform the siting and construction of water-based windfarms. Working with scientists from the Atmospheric Sciences Research Center (ASRC) at SUNY Albany, McMillan developed technical and analytical skills he cultivated as a geoscience major at HWS.
With ASRC researchers Drs. Jeffry Freedman and Scott Miller and lab technician Jason Covert, McMillan helped monitor the data provided by highly sensitive instruments, including gas analyzers that measure carbon dioxide and water vapor concentrations, and a sonic anemometer that measures fluctuations in wind momentum. The readings were then compared to those produced by similar instrumentation arrayed on an onshore tower, which provided a baseline measurement.
"This is only phase one of three planned phases," McMillan explains. The second phase entails deploying a test buoy, which the researchers hope will be able to correct its own readings using the programming developed from phase one. "The end goal is to get [the instrumentation] onto a permanent buoy," McMillan says. "They're looking to take measurements in Long Island Sound to get information for the development of a wind farm." As the goal is to provide a reliable data-gathering method to pave the way for many such sea-based farms, the implications of McMillan's work with the early testing phase will have a long life.
As for what's after his graduate work, McMillan says he would love to become a National Weather Service forecaster — not the broadcasters on TV, he clarifies, but the scientists who work behind the scenes and, among other responsibilities, issue life-saving warnings in the face of severe weather.
In the photo, Patrick McMillan '21 (center, blue shirt) stands among fellow students and faculty during Geoscience 299 meteorology field course in Sterling, Colorado in 2019.