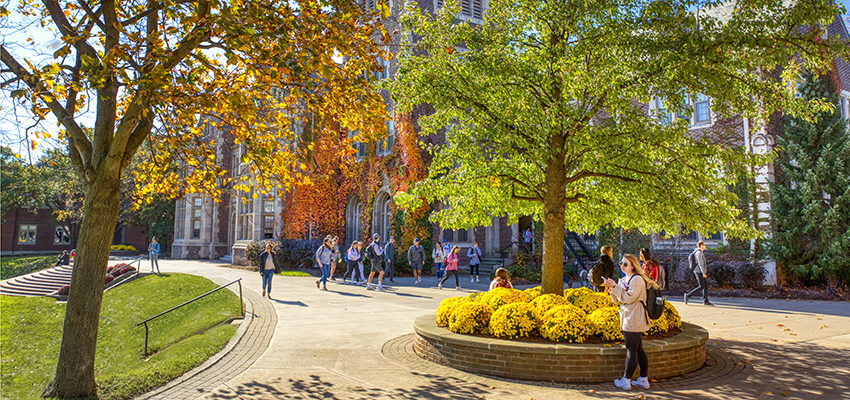 HWS News
11 November 2020 • Alums HWS Launches LGBTQIA+ Alum Network
This fall, Hobart and William Smith Colleges are launching a new initiative to connect graduates across class years and regions who identify among the LGBTQIA+ community.
The LGBTQIA+ Alumni Network (The Network), a joint committee of the Hobart Alumni Association and the William Smith Alumnae Association, "will be an active and vibrant organization of alums and friends that will work toward improving the visibility and quality of life of LGBTQIA+ students and alums of the Colleges," explain the group's co-chairs Joshua Leach '01 and Rachel Hadley '13.
"The Network is a vital resource that strengthens the Colleges' alum support system and the exchange of ideas, experiences and opportunities between generations of alums and students," says Director of Alumni and Alumnae Relations Chevy DeVaney '95, P'21, P'23. "We saw a chance to engage graduates in planning for the Colleges' future on an institutional and individual level and we are grateful for the leadership of Josh and Rachel in making the Network a reality."
In addition to planning regional networking events and special on-campus engagements, The Network has plans to:
Sponsor educational activities;
Provide information on activities and events of interest to the on campus LGBTQIA+ community;
Provide LGBTQIA+ related professional development guidance and networking opportunities;
Support the Colleges' fundraising initiatives to support the needs for LGBTQIA+ students;
In partnership with Career Services, provide mentoring and support programs for students;
Advocate for LGBTQIA+ issues to the Colleges' administration;
Support the LGBTQIA+ Resource Center on campus; and
Keep members informed of issues affecting the LGBTQIA+ community.
The Network is currently looking for alums to support these goals and programs. To be added to the Network's mailing list or to offer thoughts and feedback regarding these initiatives, email thenetwork@hws.edu.