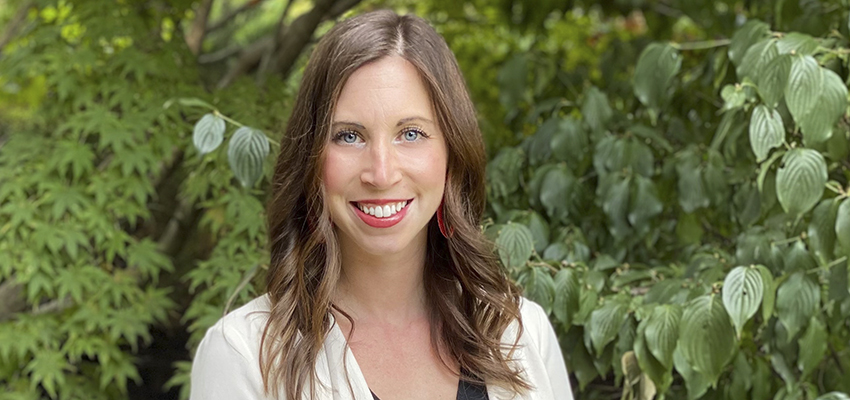 HWS News
23 November 2021 • Alums On the Frontline of PTSD Studies
Stephanie Wells '10 is exploring new ways to treat PTSD, understand why patients drop out of treatment, and how to increase engagement in PTSD treatment.
Stephanie Wells '10 is on the cutting edge of posttraumatic stress disorder (PTSD) research, she says, thanks in no small measure to the HWS Department of Psychological Science that prepared her for a demanding doctoral program, a prominent research position in a Veterans Administration lab, and private practice.
A research psychologist in the Traumatic Stress and Health Research Laboratory at Durham (N.C.) Veterans Administration Health Center, Wells says she chose HWS because "I wanted to go to a liberal arts school and liked the flexibility of the curriculum and interdisciplinary approach that was encouraged through majoring and minoring."
A psychology major with minors in child advocacy and public policy, Wells went on to earn master's and doctoral degrees in clinical psychology in 2019 at San Diego State University/University of California, San Diego Joint Doctoral Program in Clinical Psychology. She credits her clinical psychology and developmental psychology courses at HWS for providing "a strong foundation for my doctoral courses.
"I was incredibly fortunate to have done a few independent studies with Dr. Jamie Bodenlos and Dr. Julie Kingery, where I was exposed to research design, principles of data collection, analysis and manuscript and poster presentation preparation. Each of these skills was vital during my Ph.D. studies," says Wells, who credits Bodenlos for providing "some of my first experience working on peer-reviewed research publications, which helped me prepare for grad school."
At HWS, she also held two summer internships, one in the Child Trauma Research Project at the University of California, San Francisco, funded through an HWS scholarship, and another in the Family Research Laboratory at the University of New Hampshire. She participated in Big Brothers Big Sisters, Hugs Across America, and was recognized with the Engaged Student Scholar Award and Presidential Civic Leadership Award.
In retrospect, she says, Bodenlos and Kingery were instrumental in helping her land a three-year research assistant position in the Women's Health Sciences Division of the National Center for Posttraumatic Stress Disorder at VA Boston Healthcare Systems.
In the fourth year of her studies in Southern California, she received the prestigious Frank W. Putnam Teaching Research Scholar Award from the International Society for Traumatic Stress Studies for her investigation into veteran treatment preference. That line of research continues today via her investigation of alternative ways to deliver PTSD treatments, including home-based telehealth, as a research psychologist at the Durham VA Health Center.
Her lab works with both adult civilian and veteran populations, says Wells, who provides psychotherapy for patients with PTSD and other disorders, helps manage randomized clinical trials (RCTs), writes research grants, and publishes scientific manuscripts in peer-reviewed journals.
Wells and her colleagues conduct RCTs to test various interventions to examine how efficacious they are or how to better deliver them to improve outcomes or engagement.
"I am examining how to increase engagement in evidenced-based PTSD treatments and why veterans prematurely drop out of treatment," she says.
According to Wells, veterans state several reasons for dropping out, including logistical barriers, such as parking and transportation; lack of buy-in to the treatment rationales; concerns that the treatments are not helping or making symptoms worse; competing responsibilities, such as school, work, and parenting; difficulty coping with emotions that arise during treatment; and physical health problems.
"Given that there are lots of factors, I am interested in trying to change how we deliver PTSD treatment to increase engagement rather than just targeting interventions at the individual to increase engagement," she explained.
She also works in a local private practice through Project Yes, PLLC, where she sees patients with PTSD, anxiety disorders, obsessive compulsive spectrum disorders, mood disorders, insomnia, and emotional regulation difficulties.