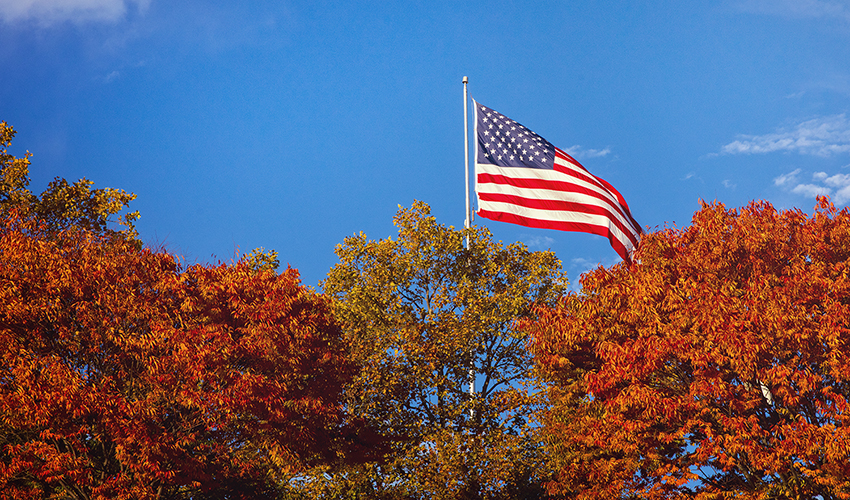 HWS News
5 November 2021 • Alums HWS Hosts Veterans Day Conversation
Two Veterans Day discussions pay tribute to U.S. Armed Forces.
On Veterans Day, several members of the HWS Alum Veterans Committee will host a discussion to recognize and honor those who have served in the U.S. Armed Forces. The discussion will be held on Zoom at 3 p.m. on Thursday, Nov. 11.
Panelists include Ret. Lt. Col. John Norvell '66, P'99, P'02, who recently co-authored a book about his service flying a F-4 Phantom II jet during the Vietnam War; James Albright '66, who served in the U.S. Air Force as pilot and staff officer from 1966 – 1974; Ret. Lt. Col. Hunter R. Rawlings IV '94, who received the Bronze Star Medal from the U.S. Department of Defense for combat actions performed in Iraq, and who was the battalion commander for 3rd battalion 5th Marines, and the warfighting department head for Marine Corps University; and Dr. Allyson Shirtz Howe '94, P'25, who served 20 years in the U.S. Air Force, including eight years active duty.
Click here to register in advance.
On Sunday, Nov. 14, at 2 p.m., Norvell will also participate in a conversation with the broader Finger Lakes community to discuss his book Fighter 'Gator – Fighter Builder, along with co-author and aviation enthusiast David Garbe. The book will be officially released on Veterans Day.
Norvell and Garbe will lead a discussion about the book in the Parish Hall of St. Peter's Church, 149 Genesee St., Geneva. The event is free and open to the public. Masks are required.
Fighter 'Gator – Fighter Builder is an account of Norvell's quest to fly and Garbe's work to restore the shell of F-4D 0720. The work first focuses on how Norvell got to flight training and was selected to be a backseater in the F-4, and his time in combat in Thailand and F-4 flying over Alaska.
At St. Peter's. Norvell will read from the book and show combat movies he took from the backseat of the Phantom during the Vietnam War. Garbe will discuss how he rebuilt a Phantom cockpit.
A decorated air combat veteran, Norvell served in the U.S. Air Force from 1966-1989, including flying on the final F-4 combat mission of the Vietnam War. He also served as assistant professor of history at the Air Force Academy.
Garbehas worked in video production for more than 30 years. He is an aviation enthusiast and particularly fond of the F-4 Phantom. His hobbies include photography and restoration projects. He has shown his F-4 at numerous air shows, including the Niagara, Rochester and the National Warplane Museum show in Geneseo.
Their book will be available at the Nov. 14 event for purchase, with part of the proceeds being donated to the St. Peter's Community Arts Academy Choir to help fund their 2022 tour in England.