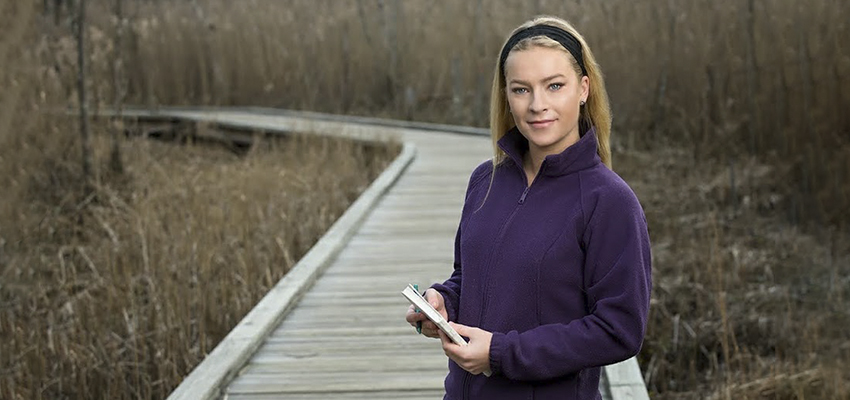 HWS News
17 June 2021

Wernoch '21 Working to Conserve the Chesapeake Bay

Rylee Wernoch '21 has secured a position at the Smithsonian Environmental Research Center through the Chesapeake Conservation Corps.

In a position hosted by the Chesapeake Conservation Corps, Rylee Wernoch '21 has joined a cohort of 30 recent college graduates who are working to conserve the Chesapeake Bay. Wernoch will work at the Smithsonian Environmental Research Center, an environmental research and education facility near the Western shore of the Chesapeake Bay. Through the position, which she secured through the help of the Salisbury Center for Career, Professional and Experiential Education, she will also participate in retreats and career development opportunities and complete a capstone project.

"I am working in the marine conservation field in the largest watershed in the United States," says Wernoch, who graduated in May with a bachelor of science in biology and environmental studies and who was a member of the Heron soccer team.

She credits the Colleges' interdisciplinary academic focus for her personal and professional growth that prepared her for the position. "My experiences in the classroom, on the field, in the lab, and in the community have synthesized to create an education that is not just found in textbooks but has been cultivated by a culture of interdisciplinary thinkers. This approach with learning happening both inside and outside of the classroom has given me the tools to work toward marine conservation and environmental justice, and doing so by building community," she says.

Wernoch discovered her passion for marine and aquatic systems and environmental justice through her coursework as well as during a semester abroad studying at the South African Institute for Aquatic Biodiversity. She also served as the Year of Water research intern at HWS' Finger Lakes Institute conveying the importance of Seneca Lake through the lenses of science, history and socioeconomics.

On campus, she was an intern at the Office of Sustainability and the Office of Admissions, a member of the William Smith soccer team, a chapter leader for the Colleges' chapter of the Public Leader Education Network, and a member of the Hai Timiai honor society. Wernoch also worked in the William Smith Dean's office and as a laboratory technician at HWS' Finger Lakes Institute.

"Throughout my time at HWS, I was continuously inspired by my professors, fellow HWS students, staff and alums who were always offering words of wisdom and support in any way that they could," says Wernoch.