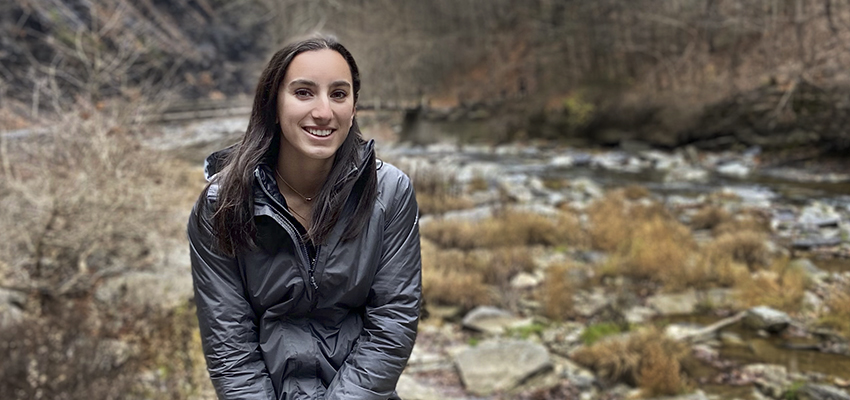 HWS News
30 June 2021 • STEM Wagner '21 Accepts Position with Liberty Mutual Insurance
Economics major and mathematics minor Peggy Wagner '21 accepted a position with Liberty Mutual Insurance. As an associate in the analyst development program, Wagner will use quantitative evidence to help guide her work. She previously held an internship with the company.
Wagner believes her participation in the Business Bridge Program at Dartmouth's Tuck School of Business helped her obtain the seat. She says Career Services made her aware of the program, encouraged her to apply and later connected her with HWS alum and Senior CX Specialist at Liberty Mutual Insurance, Bridget Brown '15.
"Networking with the help of Career Services was super helpful. I was able to connect with Bridget during my time interning with Liberty," Wagner explains.
At HWS, Wagner also found support from the Economics Department faculty while exploring her career interests. She's grateful to her adviser, Associate Professor of Economics H. Evren Damar, and to Economics Instructor Jennifer Tessendorf who always had an open-door policy. "I would often go to their offices to chat about what I wanted to do."
With an interest in data analysis, she also took "Data Camp for R & Python" with Professor of Geoscience Nan Crystal Arens, and later studied abroad in Brussels, Belgium where she worked as a research assistant at Vesalius College.
With guidance from Associate Professor of Economics Christina Houseworth, Wagner and classmate Katherine Vangaever '21, created the Society of Women in Economics during their senior year. The Society consisted of a four-part panel with faculty and alums including Lauren Kogelmann '18, a financial software associate consultant at Galatea Associates, Katherine Campbell '18, a data analytics developer at Mathematica, Amanda Carney Myott '14, a market design specialist at NYISO, Sandra Rivera '85, an associate director at the U.S. International Trade Commission, and President Joyce P. Jacobsen, an economist.
She says through the club they set a couple of goals. "We were always looking to get more women in economics and have conversations with them," Wagner says. "We wanted to break the stereotype of economics only being associated with finance. Economics affects everyone."
While the Society initially began with Wagner and Vangaever contacting alumna to participate in Zoom panels, it morphed into a conversational space that now has a following on Instagram at @hwsswe. At the end of their senior year, Wagner and Vangaever passed on Society leadership roles to three rising seniors. "We are excited to see where they take it," Wagner says.
Wagner also notes how supportive both the Economics Department and Career Services were of the Society's introduction on campus.
Wagner, who graduated summa cum laude and was elected to Phi Beta Kappa, served as a teaching fellow for the Economics Department on campus. Additionally, she was a member of the HWS ski team and Laurel Society.