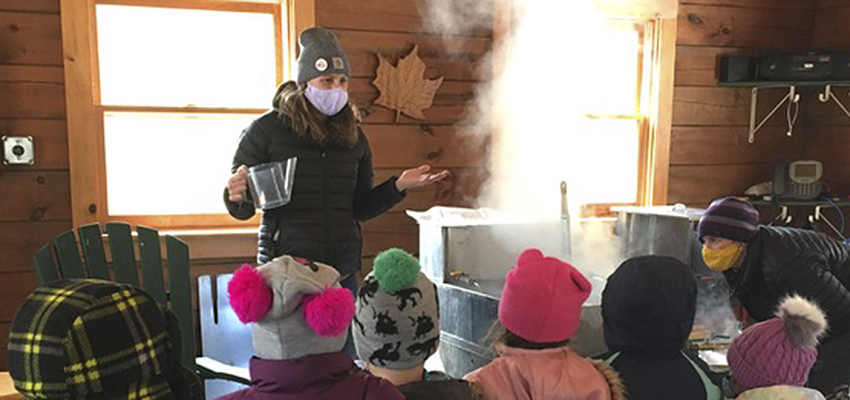 HWS News
22 June 2021

Moreau '20 Serves as Naturalist in Adirondacks Region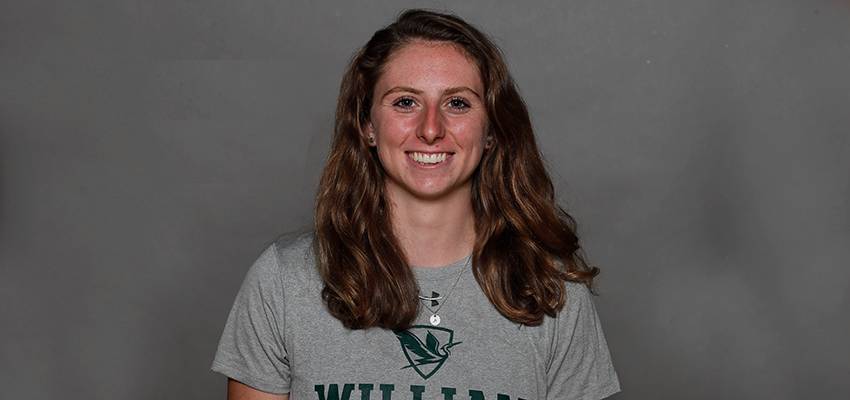 Environmental educator Anna Moreau '20 is the naturalist at Up Yonda Farm Environmental Education Center.
After graduating with her B.A. in environmental studies, Anna Moreau '20 landed a position as a naturalist at Up Yonda Farm Environmental Education Center in the Adirondacks Region. Moreau leveraged her experience coordinating the Pre-Orientation Adventure Program (POAP) and working at the Environmental Studies Summer Youth Institute (ESSYI) at the Colleges to prepare for the opportunity.
Moreau's role at the 73-acre farm and science center is education and outreach focused. "I lead and develop programs for the public and student groups, teaching them about all things environment and the natural world, especially as it pertains to the Adirondacks," Moreau says. In addition to creating thoughtful museum exhibitions and developing educational resources about the flora and fauna of the Adirondacks, she also maintains Up Yonda Farm's trail systems and guides snowshoe excursions focused on observing wildlife.
Moreau credits the guidance and support of Associate Director of the Salisbury Center for Career, Professional and Experiential Education Shayne Feinberg with helping her identify and land her "dream job." She says resources such as the department's "Interview Survival Guide," and preparatory work, including "50 Challenging Questions," built up Moreau's confidence going into her first round of interviews. After the coronavirus pandemic restricted in-person instruction on campus, Feinberg continued to prep Moreau for interviews via Zoom.
"The folks who hired me said they were impressed with my professionalism throughout the process, and with the thank you notes I wrote after my interview," she says.
Moreau also studied outdoor experiential learning during a summer abroad program to Carmarthen, Wales led by Hobart Assistant Dean David Mapstone '93, P'21 in conjunction with the University of Wales. Students explored the country's history, political issues and geography while they hiked, mountain biked, kayaked, rock climbed and camped in the natural environment.
Moreau always knew she wanted to have a meaningful career. At Up Yonda Farm, she says she has been able to make an impact on the environment by raising awareness about climate change and conservation. Additionally, she says she is thrilled she gets to enjoy the outdoors.
As a first-year at HWS, Moreau was placed in the Sustainable Living and Learning Community, where she studied the intersection of sustainability and consumption. As her coursework in environmental studies advanced, Moreau says her studies focused on climate action, and empowered her to pursue a career where she could affect change.
"One of the many great challenges we face today is climate change, and I believe I can make a positive difference by educating others about our environment and how we can all do our part to help," Moreau says.
Moreau hopes that future HWS graduates can find a way to pursue their passions within their careers. "To HWS students who are unsure about what career they should pursue, I would recommend using the HWS alum network and staying open minded. Don't pigeonhole yourself into one specific position, especially if you have a broad range of interests and skills."
In the photo above, taken in March 2021, Anna Moreau '20 talks with preschool students from Bolton Landing, N.Y., about how maple syrup is made.