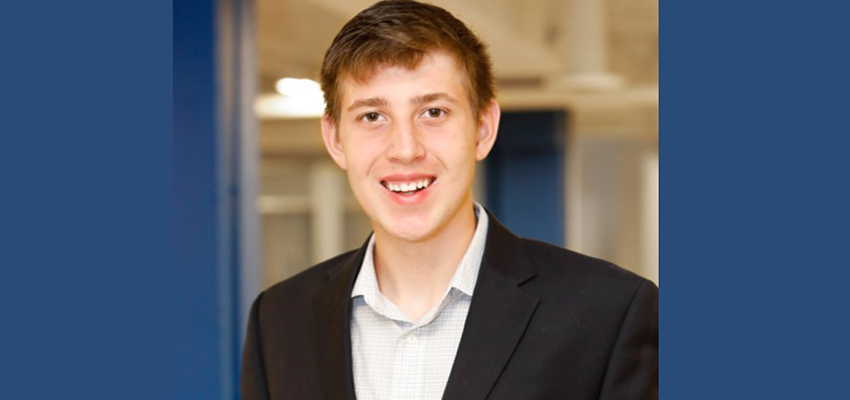 HWS News
3 June 2020 • STEM Konradi '24 Interns with Dallas Mavs, Competes in Euro Lax Championship
As an intern for the Dallas Mavericks in 2019, Alexander Konradi '24 gained professional experience in both information technology and community relations. While juggling his internship, Konradi competed in the inaugural European U20 Lacrosse Championships for the Latvian national team.
An iconic institution in the city of Dallas, Konradi says that like most people around him, he grew up a big fan of the Mavericks. In particular, he paid close attention to the career of the team's Latvian player Kristaps Porziņģis and many of the team's international players.
When his high school announced an internship opportunity with the team, Konradi says he jumped at the chance.
During his internship, Konradi managed livestream footage of the Mavericks and monitored the chat feature. He also had the opportunity to learn from the video editing staff and even edited two highlight reels of the team.
"There were more than a dozen other interns also working for the organization, and I was one of the youngest. It was important to me to work harder, to keep asking questions, and to take on as much extra stuff as I could," Konradi says. One of those extra tasks became working with the servers that provided internet to other Mark Cuban Companies. Konradi, who intends on double majoring in computer science and Russian area studies at the Colleges, was eager for the opportunity to gain insight into backend operations.
Konradi's internship culminated in a presentation for a Mavericks charity event designed by a group of interns and delivered to Chief Executive Officer Cynt Marshall and several department heads. "I am really proud to have worked for an organization that is so service orientated," Konradi says.
As a final perk, Konradi says one of the coolest moments of his life came when he had the opportunity to meet basketball legend Dirk Nowitzki.
In between opportunities with the Dallas Mavericks, Konradi also represented Latvia in the inaugural European U20 Lacrosse Championship held in Prague, Czech Republic. A dual citizen in Latvia and the United States, Konradi is a second-generation American with familial ties to the country through his grandfather. During the championship, the Latvian team took on Israel, Germany, England, Wales and Poland.
"It was frankly an incredible experience. It made me feel so proud to play for something bigger than myself or my high school. When they played the Latvian national anthem, it was an indescribable feeling," Konradi says.
During training with the Latvian team, Konradi stayed in the village of Drūva and developed enduring bonds with his teammates. "I was the only ethnic Russian player on the team, but they really welcomed me and even taught me some Latvian phrases," Konradi says. In many ways, Konradi reflects, the trip gave him both the opportunity to connect to his ancestry and to participate in forging new traditions, as lacrosse becomes an increasingly popular sport for Latvian youth.
An all-around athlete, Konradi is trading in his lacrosse experience for a seat on the Hobart Rowing team.