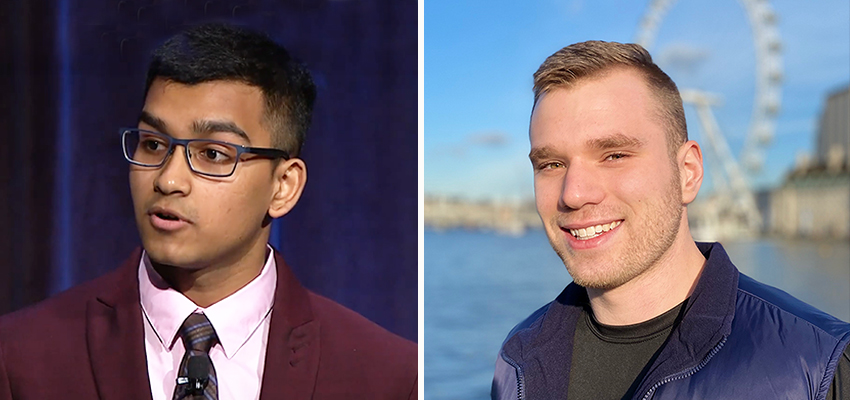 HWS News
25 June 2020

Biswas and Rudolph Secure Summer Internships with Ayco

This summer, Hrithik Biswas '23 and Zach Rudolph '21 have landed internships with Ayco, a Goldman Sachs Company.

Their internships are focused in the firms financial counseling and wealth management services departments. Over the course of the summer, they will become part of the company's efforts to develop client-tailored financial solutions.

Due to COVID-19, Biswas and Rudolph are working remotely. To create a rigorous professional development opportunity, Ayco hosts virtual town hall meetings specifically for interns to learn from and interact with executives. Additionally, interns have been matched with a mentor.

Biswas says he is grateful for the opportunity to launch a career in the financial services industry. "Financial literacy is crucial in everyday life," he says. "Growing up, I found that the importance of money management or financial education was not emphasized or taught." Biswas is interested in helping others find the connection between personal finance, financial stability and wellness.

To land an internship with Ayco, students completed a series of interviews. Rudolph says the Salisbury Center for Career, Professional and Experiential Education prepared him for the challenge through mock interviews. "The Career Services staff provides essential advice and guidance," Rudolph says.

Having landed the internship at Ayco as a rising sophomore, Biswas credits his first-year adviser Associate Professor of Environmental Studies Beth Kinne with encouraging him to pursue rigorous opportunities. "Professor Beth Kinne always says to me when I vent about not knowing what I want to do 'You dont know until you try; it is a journey, not a destination'."

On campus, Biswas is a staff writer for The Herald, a member of the South Asian Student Association and participated in the Koshare Dance Collectives 2020 concert. He is also a Centennial Scholar and Alger Adams Scholar. Rudolph is an economics major with a dual minor in international relations and political science. He is a member of the Hobart football team and participates in the Napier Leadership Club, Finance Club and Investment Club.