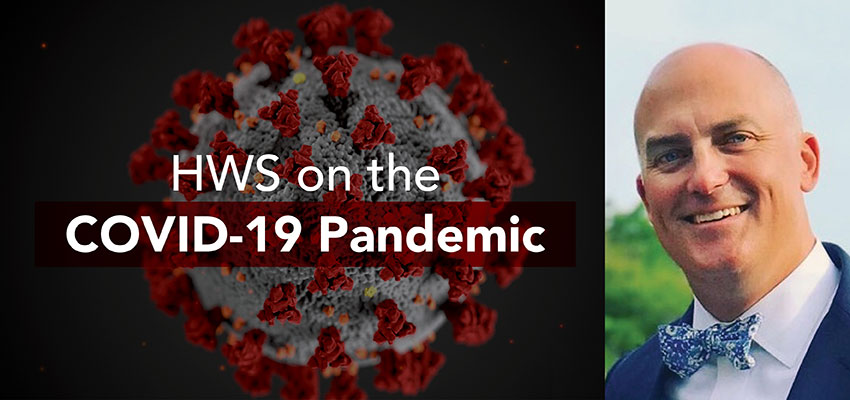 HWS News
20 April 2020 • Alums Merk '97 Provides Free Software for COVID-19 Research
When Dana Merk '97 heard about the COVID-19 High Performance Computing Consortium — created by the White House to provide access to the world's most powerful high-performance computing resources to support COVID-19 research — he knew Data Expedition, Inc. had a role to play in fighting the pandemic.
Data Expedition, where Merk serves as the vice president of business development, has created a proprietary and patented protocol called MTP™/IP that allows for the transfer of very large amounts of data using 100% of allocated and available bandwidth anywhere in the world.
"In essence, our software moves data faster, more intelligently and more reliably," Merk says. With the immense effort underway to find a vaccine and conduct clinical trials of therapeutic interventions for COVID-19, that's just what researchers need — so Data Expedition has made its software available for free to all those researching the virus.
"Whether it's a research hospital in Philadelphia or a private genomics company in Silicon Valley, they need data. If we can get that data to them more efficiently, we've done our part," says Merk.
A history major who served as president of Sigma Chi fraternity, Merk credits a semester abroad in Switzerland with former Hobart Dean and Professor Emeritus of Philosophy Eugen Baer P'95, P'97 with introducing him to "an explosion of liberal arts thinking that helped me focus on discovering my strengths" and Professor of Dance Donna Davenport, his First Year Seminar adviser, with helping him to "get out of my comfort zone," he says.
Data Expedition helps numerous industries move terabytes and petabytes of data — from a movie studio sending footage from remote filming locations back to Hollywood, to an oil and gas company sending data from well platforms in the ocean back to headquarters in Houston — including health care and life sciences. Helping COVID-19 researchers is a natural fit.
"We'll give them the software as long as they need it," says Merk, "until we've beaten COVID-19 back."