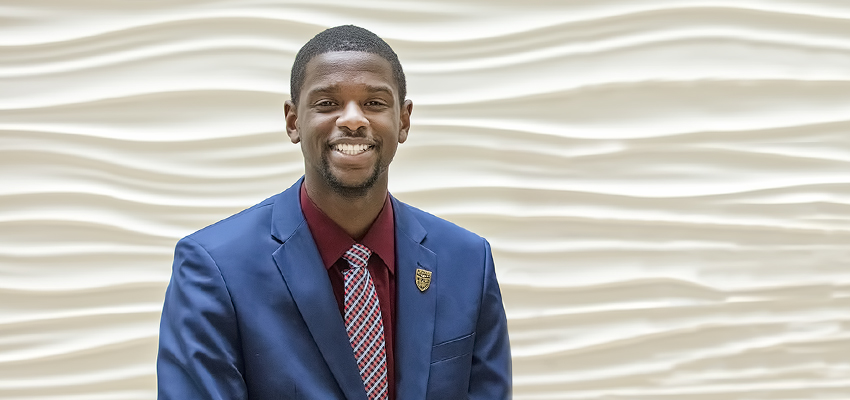 HWS News
24 April 2020

Fleurizard '20 to Join UnitedHealth Group

Philosophy and Africana Studies double major Edens Fleurizard '20 has accepted a position with UnitedHealth Group (UHG) as a Senior Healthcare Economics Analyst. He will join UHG's Hartford, Conn. team.

In his role, Fleurizard will provide analytical support for health plan performance reviews, analyze utilization patterns, identify cost drivers and lead department projects for UHG's national clients, such as Apple and Michelin.

Elected by his peers in his junior year to be a voting member of the Colleges' Board of Trustees, Fleurizard says the experience has been a "key part of my growth." As he developed the "acumen necessary to succeed in the business world," he says he learned what it means to operate the Colleges in a competitive market. Fleurizard intends to apply this understanding to his new role in the healthcare industry as he, "seeks to expand the reach of UnitedHealth Group while trying to find ways to both better our products and service while cutting the cost of care."

During his job search, Fleurizard received mentorship from HWS Board Member Michael E. Rawlins '80, P'16, principal user experience design architect at the Walt Disney Company, who also began his career in the healthcare industry. "Michael Rawlins really helped me navigate the terrain," says Fleurizard, adding that Rawlins also facilitated a connection with an executive at UHG's Hartford offices.

Last summer, Edens secured an internship with UHG through INROADS, a corporate diversity program that connects ethnically diverse high school and college students with organizations that are looking to increase and retain new hires.

As a philosophy major, Fleurizard says he has learned to pay attention to "granular details" and then extrapolate how they are significant to a bigger picture. "This experience is directly transferable to the data analysis I will be doing at UnitedHealth Group."

A unique part of his HWS experience, Fleurizard says, was the opportunity to take classes or work with every faculty member in the Philosophy Department, enabling him to study such topics as ethics, public policy and global justice.

Fleurizard is also a member of the Hobart basketball team. This spring, the team earned a spot in the sectional round of the NCAA Division III Men's Basketball Championship. Although the final four rounds were canceled due to COVID-19, the historic accomplishment marked the first time the team advanced to the Sweet 16 round in program history.

As a student-athlete, Fleurizard values team work and keeping calm under pressure. "Playing basketball, I understand that proper planning prevents poor performance, and that teamwork is essential for success. This has helped me work well in group settings where I am either a contributing role member or a leader. The ability to perform and execute under pressure will be key in providing actionable insights for our clients."

He is a member of the inaugural class of the Alpha Phi Alpha fraternity on campus.