Community Engagement
and Service Learning
ALTERNATIVE BREAKS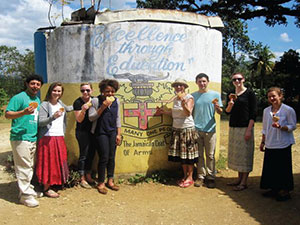 COMPASS HEADINGS is the Alternative Break Program of The Center for Community Engagement and Service Learning. Alternative Breaks are an opportunity for students to travel off campus (usually), do service work together, and to reflect more deeply on themselves and societal issues that face us. Being with a group of students focused on performing service and reflecting on that work can be one of the most meaningful experiences one can have. It can also simply be fun to go to a new place, get to know new people and work together to make a meaningful change for an individual or an area. All trips are substance free and participants are expected to abide by these rules.
Compass Headings trips come under the Civic Engagement area in the Compass model. They always have a reflective component, often with readings and at times with an associated Readers College or some other credit bearing opportunity. There are also at times opportunities for Civic Leadership by helping to organize and lead the trips as well as becoming involved on campus or on site with policy issues that are encountered on the trip. While traditionally occurring during Spring Break, some trips have occurred at other times.
Past International Trips
Since 2009, CCESL has offered international service learning trips to Nicaragua and Jamaica. Our students and staff have helped to build homes, work in schools, and have participated in cultural exchange. Working with a local community organization gives volunteers a chance to contribute their skills while absorbing the stories and strength of people working to build a better future for their community.
Domestic March Break Opportunities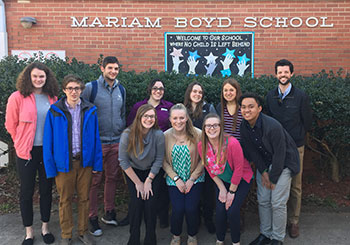 Mariam Boyd Elementary School, Warrenton, N.C.
Students spend the week working at this rural elementary school in a variety of capacities including one-on-one tutoring, group reading/math help and general classroom assistance duties. HWS students prepare crafts and activities for children to participate in during the after-school program run by the Norlina Methodist Church. The church also serves as the host site where meals are prepared and consumed and reflection activities occur. Cots are provided but please bring a sleeping bag and pillow. The group can expect to be warmly welcomed by the entire community and lasting friendships are established with the children and teachers. There may be a Readers College associated with this trip, which requires some readings associated with poverty, class and race, discussions before and during the trip and a short paper integrating the readings and trip upon return. The trip leaves on Saturday of Spring Break and returns the following Saturday.
Projected Cost: Projected cost of each trip is $150 which will cover food, transportation, and a small donation to our host sites.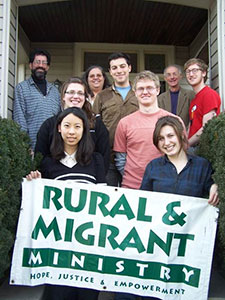 Lyons, NY: Rural & Migrant Ministry
(Educational emphasis - limited spots available)
Are you interested in immigration issues or the dynamics of food production? In this trip, students travel to Lyons, N.Y., and work with an organization called Rural & Migrant Ministry. RMM is a state-wide, non-profit organization that advocates for social change by educating students on the working conditions of migrant farm workers. Students get the chance to stand with workers from South and Central American countries (including Mexico, Jamaica and Haiti), and examine the various power and privilege dynamics between large agribusinesses and the rural workers. The trip leaves on the first Monday of spring break and returns on Friday. Meals and lodging provided on site.
Projected Cost: Projected cost of each trip is $150 which will cover food, transportation, and a small donation to our host sites.
Virginia: Pocahontas State Park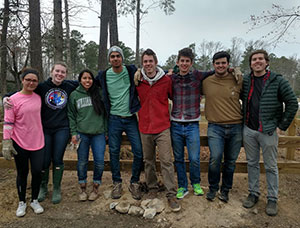 Spend the week at this beautiful state park outside of Richmond, Va. Past projects include clearing land for an educational nature trail, installing drainage pipes, building bridges and removing/re-building/replacing fishing piers. Students stay in a lodge (sleeping bags and mattresses on the floor) that has a large kitchen. Participants pair up to do dinners co-op style and nightly reflections are held after dinner each night. One day is devoted to sight-seeing in the area. If you like the outdoors, this is the trip for you. Trip leaves Saturday morning of spring break and returns the following Saturday.
Projected Cost: Projected cost of each trip is $150 which will cover food, transportation, and a small donation to our host sites.

DESIGN YOUR OWN ASB!
Are you going to be in the Boston, Washington, D.C. or NYC areas over break? That does not mean you can't have your own mini-ASB while you are there. For a few hours, a day, or the week, there are organizations where you can lend a hand. The following web sites will help you be civically engaged if you are headed to these major metropolitan areas over break:
Boston: We connect people with causes, and you'll find thousands of ways to help make a difference in your communities. Look for specific causes (like environmental) or ways to participate (like events).
Volunteer Fairfax
For more than 35 years, Volunteer Fairfax has been the heart of volunteering in Fairfax County, Virginia. With a personal touch, the Center matches the skills and interests of volunteers and donors to the needs of local nonprofit organizations, helping to build a better community through service. Through a variety of programs and services, Volunteer Fairfax strengthens the capacity of its nonprofit members and offers meaningful volunteer opportunities for local citizens.
VolunteerMatch is a leader in the nonprofit world dedicated to helping everyone find a great place to volunteer. The organization offers a variety of online services to support a community of nonprofit, volunteer and business leaders committed to civic engagement. This popular service welcomes millions of visitors a year and has become the preferred internet recruiting tool for more than 61,000 nonprofit organizations.
One Brick: Check out the events calendar for upcoming volunteer opportunities, and when you see something you're interested in joining, just RSVP online.
New York City:
NYCares: New York Cares was founded by a group of friends who wanted to take action against the serious social issues facing New York City. Their goal was to meet pressing community needs by mobilizing caring New Yorkers in volunteer service - and this continues to be the mission today.
Find an Opportunity - NYC Service: The Mayor's Volunteer Center and United Way New York City are proud to present VolunteerNYC.org to serve the dual purpose of providing meaningful volunteer opportunities for New Yorkers and providing nonprofit organizations in New York City the opportunity to post their volunteer needs and publicize the services provided by their organizations.