The Pulteney Street
Survey
One World, Infinite Opportunities
Beyond the classroom, students and faculty are putting into practice the knowledge, perspectives and insights of global studies. Alongside ever-evolving study abroad opportunities, campus events like the Anderton Forum for Global Engagement and programs such as Technos International Week cultivate an informed and engaged community of global citizens.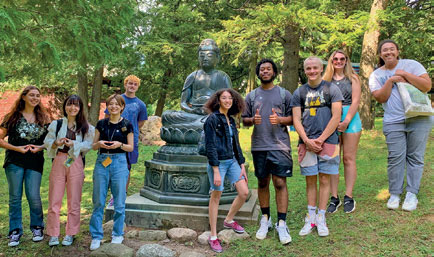 TECHNOS INTERNATIONAL WEEK
For more than 25 years, Technos International Week has been a core component of global education at HWS. Thanks to the generosity of the Tanaka family and the Tanaka Memorial Foundation, students and faculty have participated in an intensive annual language and cultural exchange summer program in Japan. In 1992, gifts from the Tanaka family and the Tanaka Memorial Foundation established the Tanaka Asian Studies Endowment and have since supported the Asian Studies Program and the Tanaka Lectureship in Japanese, as well as student internships and faculty research projects with an emphasis on Asia. This summer, Professor of Theatre H May is leading HWS students to Tokyo for Technos International Week. The partnership also brings students from Technos International College to the U.S. Above, HWS and Technos students visit Sonnenberg Gardens in Canandaigua.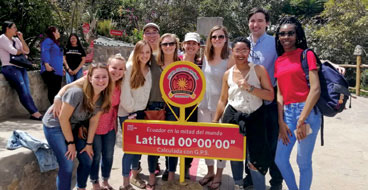 EXEMPLIFYING GLOBAL CITIZENSHIP
Each year, the Kinghorn Global Fellowship recognizes a faculty member who exemplifies global citizenship. As the 2022-23 fellow, Professor of Spanish and Hispanic Studies May Summer Farnsworth pursued the research, interdisciplinary collaborations and internationally oriented community engagement that characterizes her global scholarship. Pictured above with students during in the 2019 summer abroad program to Quito, Ecuador, Farnsworth has previously directed study abroad programs to the Dominican Republic, Chile and Ecuador, and in the fall will lead students to Sevilla, Spain.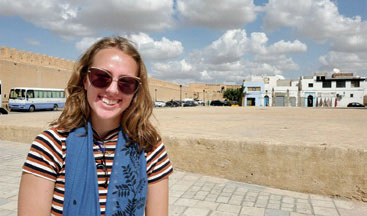 CULTURAL IMMERSION
International Relations and French and Francophone Studies double-major Johanna Golden '23 spent last fall in Tunisia, improving her French and Arabic and working on a project supporting female entrepreneurs. Through the Student International Initiatives Fund, which awards grants for study abroad projects, she also found an opportunity to practice her language skills while studying traditional Tunisian dance, which she says "immersed me into the culture here in a different and more profound way." Golden will return to North Africa this fall as a Peace Corps volunteer in Morocco.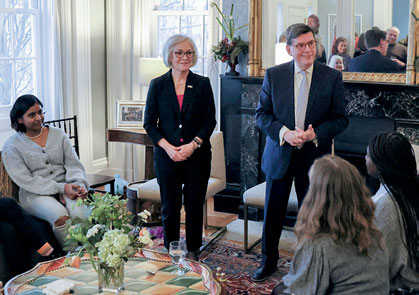 TALKING DIPLOMACY AT THE ANDERTON FORUM
During the inaugural Anderton Forum for Global Engagement, former U.S. Ambassador to Ukraine Marie Yovanovitch shared insights from her 33-year career in the U.S. Foreign Service and the lessons and values she learned from her immigrant parents, as well as key calculations around the war in Ukraine. "There's no question that the war in Ukraine is about Ukraine," she said, but it will continue to have far-reaching geopolitical impacts. Yovanovitch noted that if, for instance, the conflict is "not settled in a way that China understands that we mean business," China will "take the wrong lessons…. The bottom line is that it's better for the U.S. to stop Russia in Ukraine than to have to stop it later at a time not of our choosing and that may not be to our advantage."
Established in 2022 by former Trustee James F. Anderton IV '65, the annual forum brings renowned experts to campus to share their insights and experience while engaging with the HWS community on vital current affairs in international relations. The forum, which is overseen by the Institute for Global Studies faculty and the Office of the Provost, supports the global studies curriculum and the broader campus community's engagement in global events.