The Pulteney Street
Survey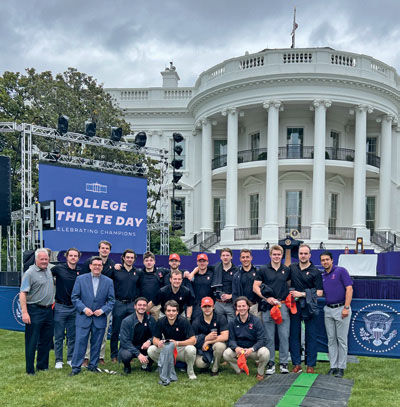 Cause for Celebration
After an eventful spring, summer has reached Geneva. Mary and I were thrilled to see so many alums, families and friends on campus just a few weeks ago to celebrate Commencement and Reunion. Indeed, it has been a year of celebrations with the Bicentennial Gala; the Hobart hockey team's historic national championship; the opening of the Adams Intercultural Center; multiple academic accolades for our graduating seniors including a Fulbright, Princeton-in-Asia, and five heading around the world for the Peace Corps; and still others embarking on new career paths, graduate programs and community service roles. And as I write this note to you, the Colleges are on track to record the second largest philanthropic year in our history with more than $35M in gifts and commitments.
This fall, we look forward to welcoming a new cohort of students to Hobart and William Smith, the largest incoming class in five years. The Classes of 2027 will arrive on campus to find a community ready to support and challenge them, with engaging academic opportunities such as our new major in Management and Entrepreneurship and the Institute for Global Studies, which serves as the home for nine internationally focused departments and programs.
As you will read in this issue, faculty members developed the Institute for Global Studies to provide a unified center for enhancing interdisciplinary opportunities while preparing students to thinking critically and act boldly in an increasingly interconnected world. This new academic umbrella harnesses so much of what we value and excel at as a community: innovative and collaborative coursework; clear connections between classroom learning, off-campus study and future careers; and global thinking that has profound, tangible local impacts. Likewise, the alums profiled in this issue exemplify the interdisciplinary leadership that is shaping today's world.
This issue also features the Statesmen's success on the ice, telling the story of their extraordinary 2022-23 season that culminated with the NCAA DIII National Championship. After the big win, the Boston Globe interviewed Head Coach Mark Taylor, who observed: "The experts will say it was an offensive game, a defensive game, but to me, it was a character game." There could be no better summation of this extraordinary season — one that saw teammates from Russia and Ukraine competing together and that brought us all to the White House for a wonderful celebration and recognition of this team's grit and determination. I am particularly grateful to former Trustee Hank Holden '63, P'84, P'89, GP'20 for his reflections on the early days of Hobart Hockey and the program's incredible trajectory over the past 60 years.
As we plan mindfully for the future of Hobart and William Smith, we do so buoyed by the character of our students, the ingenuity of our faculty, and the continued generosity of our alums, parents and friends.
Sincerely,
MARK D. GEARAN
President