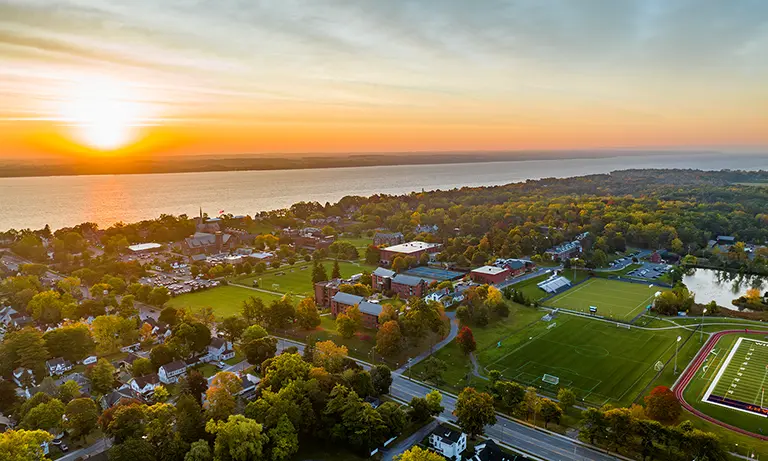 Graduate Admission
AMPLIFY YOUR UNDERGRADUATE DEGREE
Hobart and William Smith Colleges offer a diverse array of graduate degree programs designed to equip students with the knowledge, skills, and experiences needed for a successful career and a meaningful life. These graduate programs are tailor-made for those seeking to excel in higher education leadership, become inspiring educators, or take on the challenges of global management. We encourage you to explore the opportunities these programs provide for your personal and professional growth.
Our two-year Master of Arts in Higher Education Leadership will prepare you to take on the emerging challenges surrounding higher education. Compelling internships and graduate assistantships offer future practitioners immersion experiences and practice in a wide array of offices on the HWS campus and neighboring campuses.
The Masters of Arts in Teaching is a fifth year graduate program for students enrolled in the Teacher Education Program (TEP) at HWS. The program is designed to be completed in one academic year, during which TEP students continue their liberal arts studies and teacher certification preparation.
Through our one-year Master of Science in Management program, students develop the skills needed to design solutions and implement strategic plans of action that solve local and global challenges. Internships and experiential field trips are built-in to the curriculum, as are skills-based courses that provide a competitive edge in the marketplace. Many students also participate in the Graduate Community Assistant program, partnering with campus offices to enhance community building efforts while completing their degree.
Students have two options for degree completion: an innovative 3+1 model, where students earn both a bachelor's and a master's in just four years, at the cost of an undergraduate degree, or a traditional 4+1 option.
Our Advanced Certificate in Management creates a pathway for HWS graduates to enhance their career entry opportunities, and for professionals to advance in their career. Completed in one or two semesters, the experience builds on the value foundation of a liberal arts education and helps students develop skills, knowledge and insight in strategic management principles.
Complete a request for information form to let us know you are interested in an HWS graduate program(s) and be connected to the appropriate faculty.