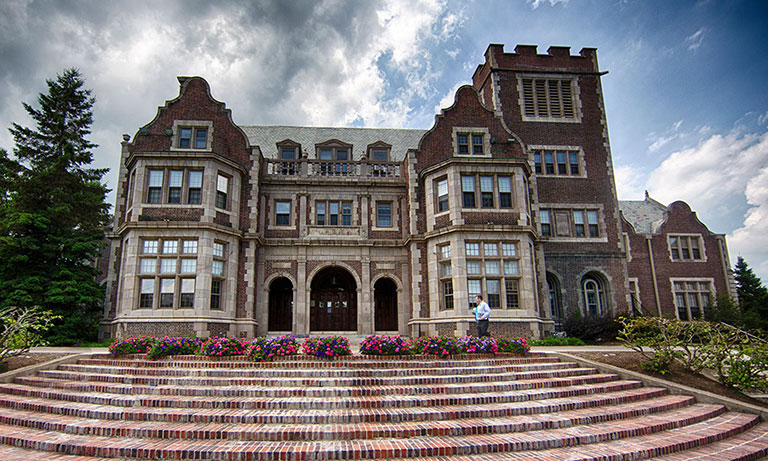 Office of Academic and Faculty Affairs
The Office of Academic and Faculty Affairs supports the academic mission and curriculum of the Colleges and upholds the stewardship of academic programs and support services. The Office also assists the faculty in their implementation of the curriculum, their scholarly and professional development, and their integral role in developing the culture and expectations of the Colleges through faculty governance. Our mission is to provide the resources and structure to provide a high quality educational experience for HWS students and to support faculty colleagues in their research and scholarship.
The office is run collaboratively by the Provost and Dean of Faculty, the Associate Provost for Curricular Initiatives and Development, and the Associate Provost for Faculty Affairs and Development, with the aid and assistance of the Academic and Faculty Coordinator and the Assistant to the Provost. The Office has direct supervision of academic support offices and centers. As a member of the President's Cabinet, the Provost works in consort with the other Vice Presidents, Deans, administrative staff and officers, and the faculty to support the academic mission of the Colleges.
With 60 majors and 75 minors directed by roughly 240 faculty members, over 96 percent with terminal degrees in their respective disciplines, the HWS faculty provides a quality and challenging educational experience for our students. Focused on a liberal arts curriculum for the 21st century, the faculty at HWS is among the best in the country in their dedication to the student body, to creating exciting and meaningful learning experiences, and to motivating and supporting our students in living lives of consequences and service to the community.
The curriculum challenges students to explore the hallmarks of a liberal arts education with requirements in quantitative reasoning, scientific inquiry, artistic processes, social differences, cultural and global awareness, and ethical judgment. It further hones students' development with innovative disciplinary and interdisciplinary programs of study through a major and minor (or two majors). In meeting their 32 course requirements, students are encouraged to explore our amazing study abroad experiences; to participate and engage with the local community in a variety of service-learning projects; and to work on projects around social justice, environmental stewardship, global citizenship, and entrepreneurial practices, to name but a few. The faculty and staff stand ready to work with students on these new adventures.
Reporting to the Office of Academic and Faculty Affairs, the following offices provide exemplary service and support to the academic and scholarly development of our students, our faculty, and the curriculum: