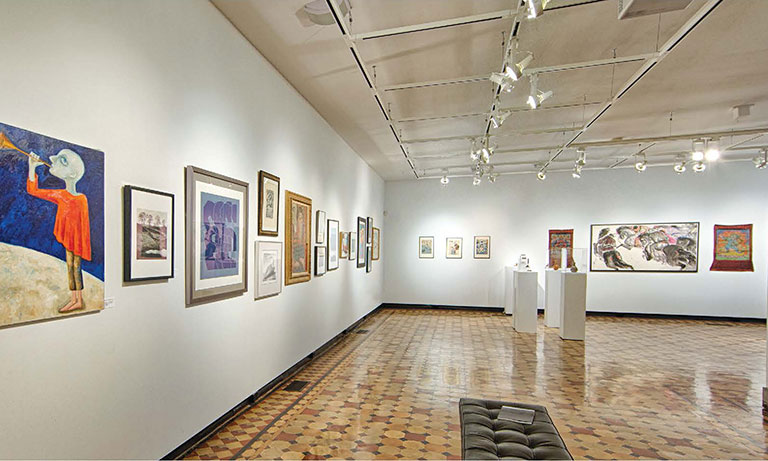 Davis Gallery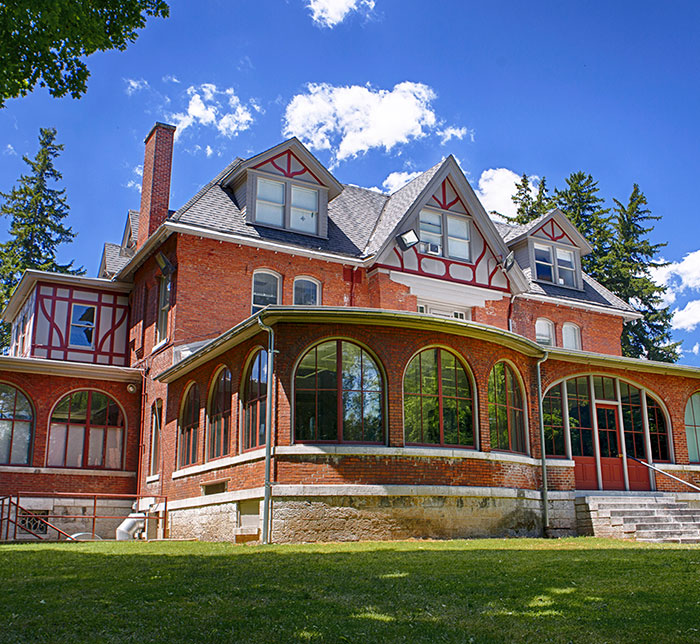 Hours
Monday-Friday: 9:30 a.m.-4:30 p.m.
Saturday: 1-3 p.m.
Or by appointment, call (315) 781-3487
For more information, please call (315) 781-3487 or email davisgallery@hws.edu.
davis gallery at houghton house
Named in recognition of the generosity of Clarence A. (Dave) Davis, Jr. '48, the Davis Gallery is an academic resource of Hobart and William Smith Colleges. The Davis Gallery at Houghton House is the exhibition space of the Department of Art and Architecture. The Gallery has six shows each year beginning with a faculty exhibition and ending the year with a student exhibition. In between, a variety of artists and architects are invited to show their work and an exhibition from the Collections of Hobart and William Smith Colleges is staged. The mission of the Gallery is to exhibit, and make accessible works of art in support of the educational goals of the Colleges and for the benefit of the community at large. The Davis Gallery is primarily a space to immerse Hobart and William Smith College students in visual culture by providing an environment for studying the role of art and architecture in shaping, embodying and interpreting cultures.
2023-2024 Exhibitions
FACULTY EXHIBITION: AUB, BOGIN, CHIN, D'ANGELO, PIERSOL, RUTH, & YI
August 31-September 30, 2023 | Davis Gallery
The HWS Department of Art and Architecture Faculty Exhibition presents the creative work of our very own artists and designers. The works on display explore a diverse array of artistic media, techniques, and conceptual concerns, and demonstrate our faculty's deep engagement with creative practice and contemporary issues in the worlds of art and design.
Participating faculty include Ted Aub, Mike Bogin, Christine Chin, Gabriella D'Angelo, Max Piersol, Nick Ruth, and Phillia Yi. As part of their capstone experience, students in Professor Ruth's Studio Art Senior Seminar will design and install the exhibition.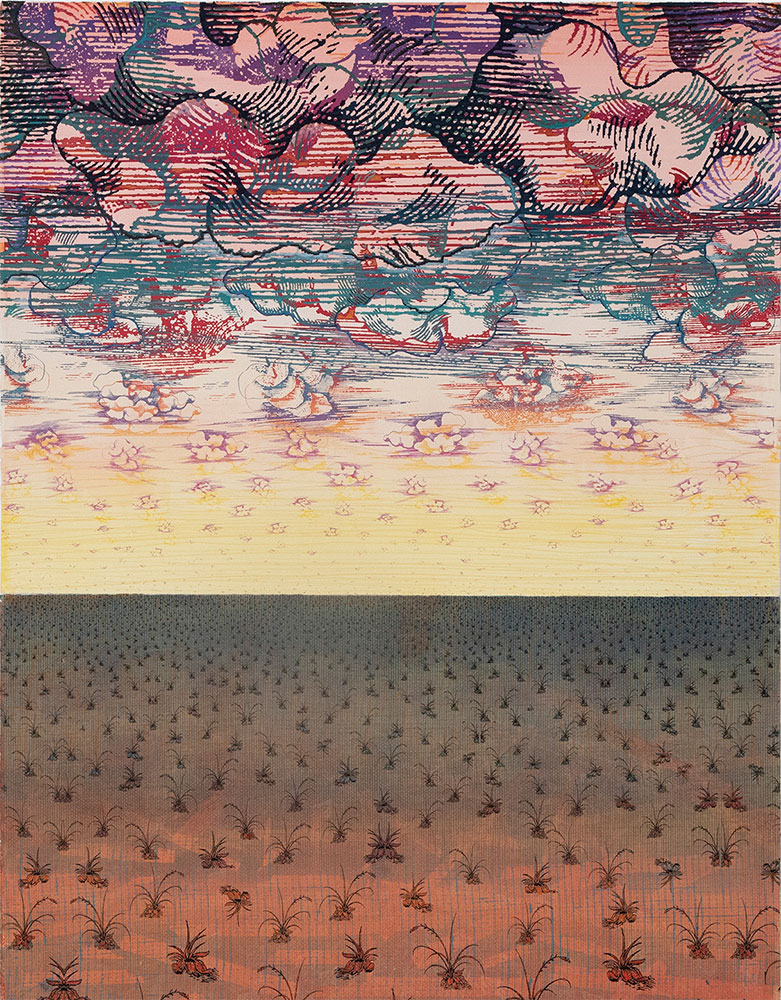 Image: Nicholas Ruth, This Place VIII, 2022, screenprint with colored pencil
LOOK BOTH WAYS: MULTI-DISCIPLINARY PRACTICE IN CONTEMPORARY ART
October 12-November 11, 2023 | Davis Gallery
Look Both Ways brings together the work of seven artists who use multiple media in their artistic practices. The exhibition examines how multi-disciplinary approaches allow these artists to explore and develop their ideas through ongoing experimentation with new materials and techniques. The work in the show ranges from personal to playful, from inner experience to social critique. What unifies the breadth of perspectives is each artist's commitment to invention as a path to expressive force.
Look Both Ways is organized by Professor Nick Ruth and students in his Studio Art Senior Seminar, who will design, write texts for, and install the exhibition.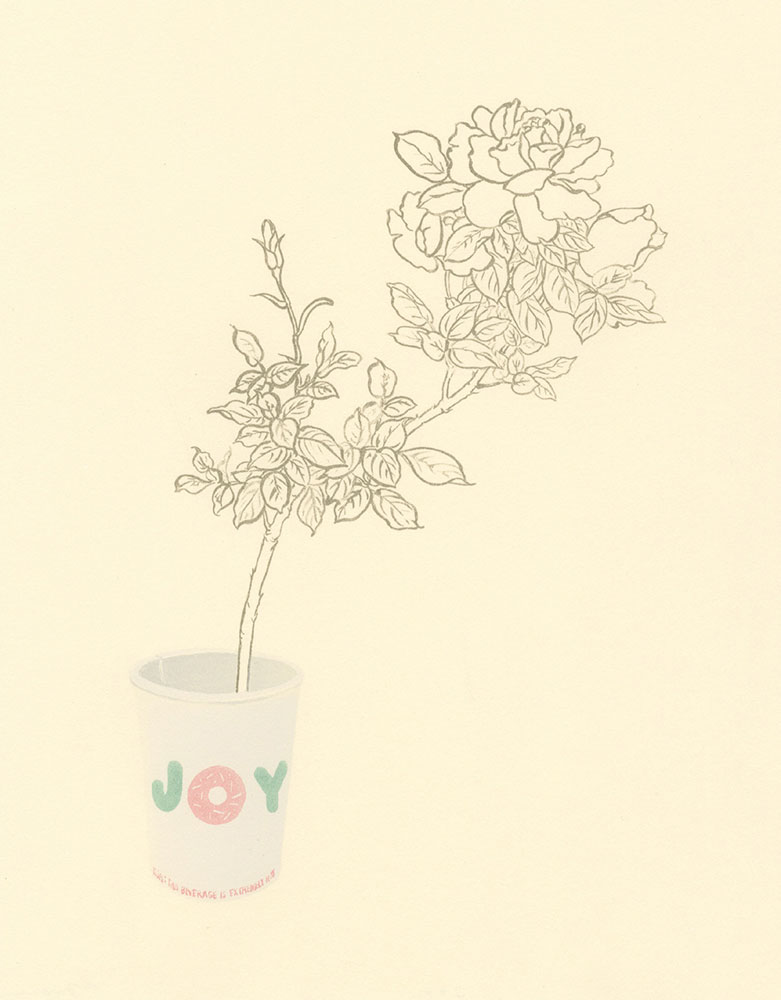 Image: Yoonmi Nam, Joy, 2015, lithograph
BRITTANY COBURN:
HARD TO SWALLOW
October 12-November 11, 2023 | Solarium Gallery
Brittany Coburn uses her art to explore the human condition, specifically different experiences with mental health. Hard to Swallow chronicles her own journey with and exposure to mental health in her day-to-day life. Her work encourages interaction and participation with the overall goal of generating conversation and combatting the stigma that surrounds mental health within our society. Ultimately, Coburn's goal is to use art as a catalyst for giving back to her community and to create a safe space for others to feel free and comfortable in facing and expressing themselves.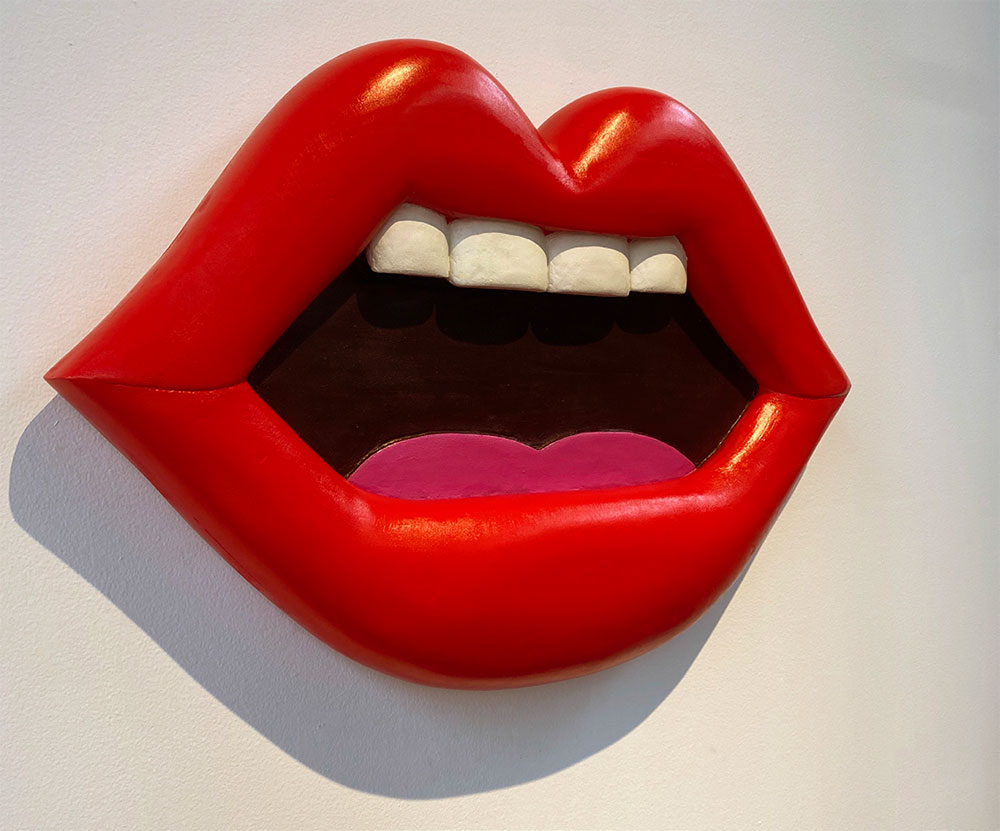 Image: Let's Talk About Mental Health, 2021, basswood with acrylic paint
JUAN MADRID:
CICATRIZ
November 16-December 15, 2023 | Davis Gallery
For nearly a decade, Juan Madrid has been making photographs and zines that disrupt what he describes as the "thorny" history of photography. As a student he studied this history, one that has long been dominated by white males. The contemporary practitioners who taught him often fit that demographic and were actively being written into the history of the medium. In finding his own voice as a BIPOC artist, Madrid observed the lack of diversity, questioned his place in the history, and sought to enter the contested spaces of the gallery and book.
This exhibition aims to insert Madrid's art into the trajectory of the photographic medium by displaying his work in direct conversation with photography books by celebrated white male photographers. By presenting the works in this way, visitors are invited to think critically about what authorities decided whose vision was valuable and valid in the historic photographic documentation of America.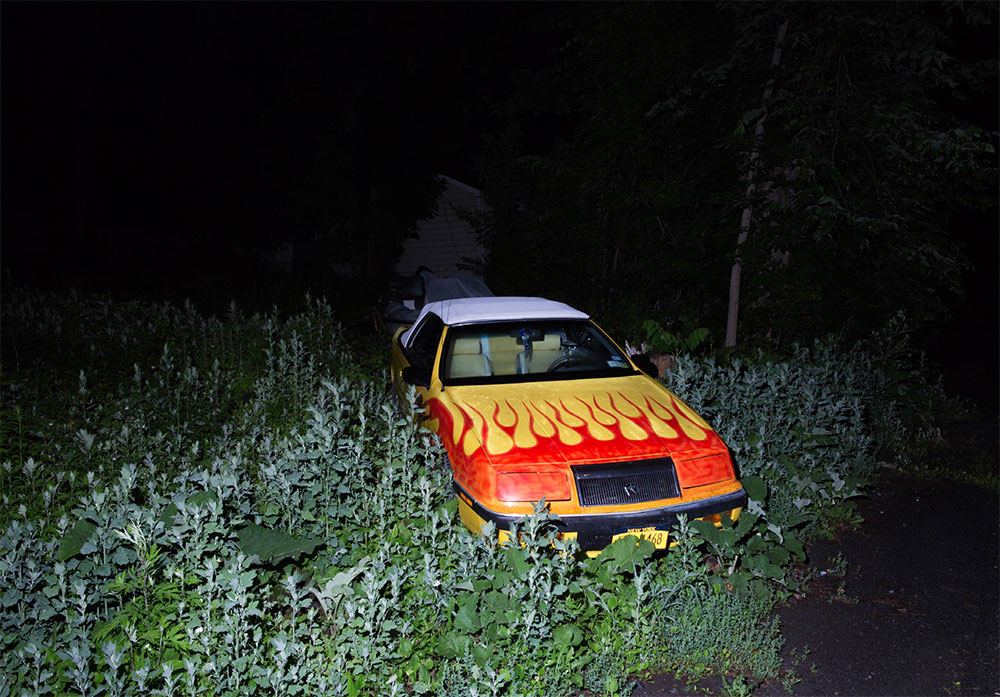 Image: Catskill, 2015
JOSH T. FRANCO: PERSPECTIVA (SEEING THROUGH STONE)
January 25-February 24, 2024 | Davis Gallery
"Perspectiva is a latin word which means 'seeing through.'" This line opens Erwin Panofsky's Perspective as Symbolic Form (1927), a formational text for art historians. Of course, much older than the discipline dedicated to its study is art itself. The oldest existing art is either made of stone or bound to stone surfaces. In this new body of work, Josh T Franco, an art historian, contemplates stone alongside the words and diagrams of his intellectual ancestor through drawing, installation, and performance.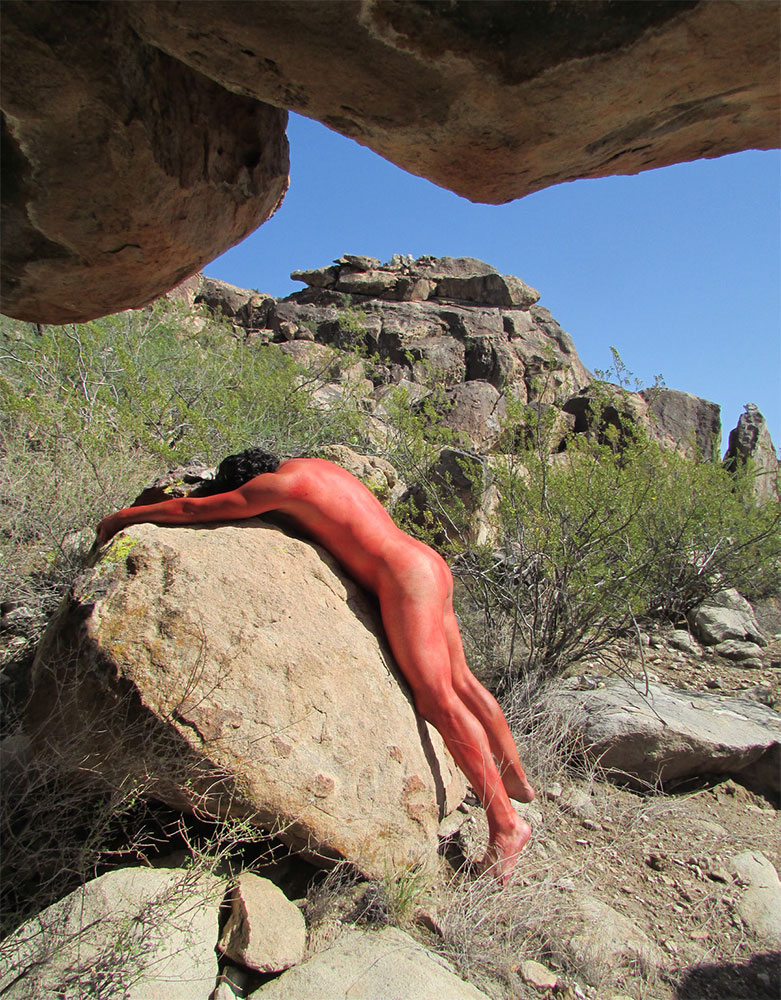 Image: Leaving Marks (still), 2020, photographed by Chad Turner
FRAMES OF HISTORY: SELECTIONS FROM THE GEORGE STEPHANOPOULOS COLLECTION
March 7-April 12, 2024 | Davis Gallery
From 2019 to 2022, news correspondent and photography collector George Stephanopoulos gifted approximately 2,000 photographs to the Hobart and William Smith Colleges' art collection. The donations consist largely of press prints that document important historical moments of the 20th century, including the Vietnam and Korean Wars, Presidential election campaigns, and the Civil Rights movement. Many historically significant figures are represented, such as Angela Davis, President John F. Kennedy, and Queen Elizabeth II. Through the inclusion of caption information, crop marks, and verso stamps, the photographs in Frames of History illustrate the processes of photographers, photo editors, and journalists in their roles at media outlets and demonstrate the importance of images in the circulation of news.
Frames of History includes a selection of photographs from the collection that are on view for the first time since their acquisition.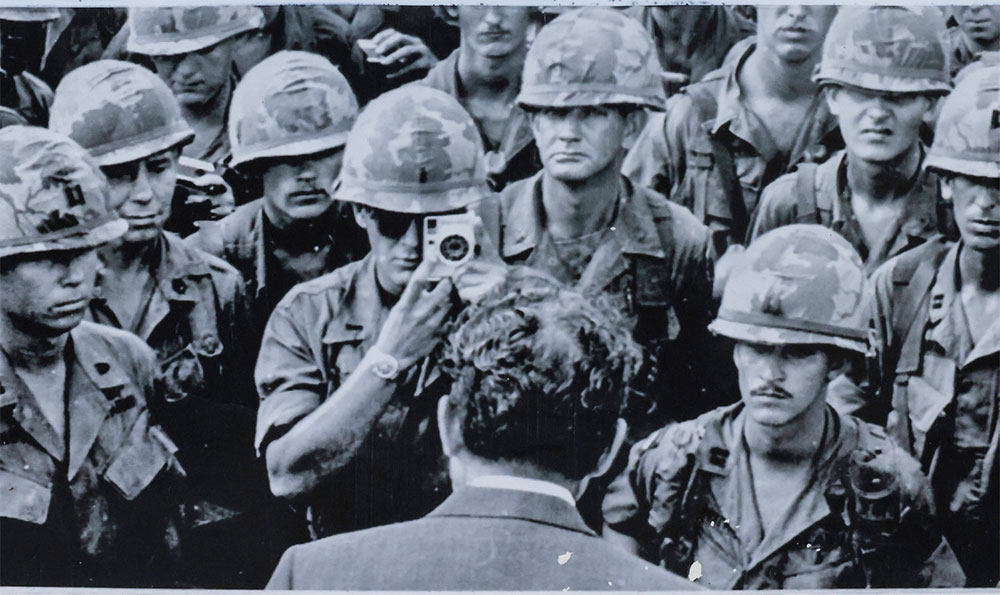 Image: Bob Daugherty, Eye On Nixon: a GI gets a close-up photo as President Nixon meets with troops of the 1st Infantry Division at Di An, 12 miles northeast of Saigon, on his eighth visit to South Vietnam and his first as president. During his stopover, Nixon also met with Nguyen Van Thieu, the South Vietnamese president, to discuss U.S. troop withdrawals and with senior military commanders to review tactics in the Vietnam War, July 30, 1969, gelatin silver print with applied pigment
IMAGES, WORDS, AND PEOPLE UNITED: THE POWER OF PROTEST IN SRI LANKA
March 7-April 12, 2024 | Solarium Gallery
Art has long played a vital role in communicating the power of people united for change. With the inventions of photography in the 19th century and the 20th century technology allowing for the transfer of wire photos, art was able to take on an increasingly central role as a catalyst for cultural and social transformations. Recently, with the rise of cell phone photography and social media, photographs and videos can be produced and reproduced en masse with instantaneous circulation around the globe. This development has impacted how various resistance movements have been documented and rallied support for their goals.
Images, Words, and People United: The Power of Protest in Sri Lanka brings together the art and voices of the Sri Lankan community who unified against the country's government to bring about vital change. The exhibition explores the role of art as a way of unifying and empowering the movement's members as well as communicating their broader message to the international community. This 2022 movement, which was largely overlooked by American news outlets, utilized social media to spread its message, organize, and rise up. The exhibition features the photographs and writings of HWS students Anjalee Wanduragala '25 and Sandeep Tissaaratchy '26 with additional works provided by their fellow protestors.
This exhibition and related programming are in collaboration with the Human Rights and Genocide Symposium.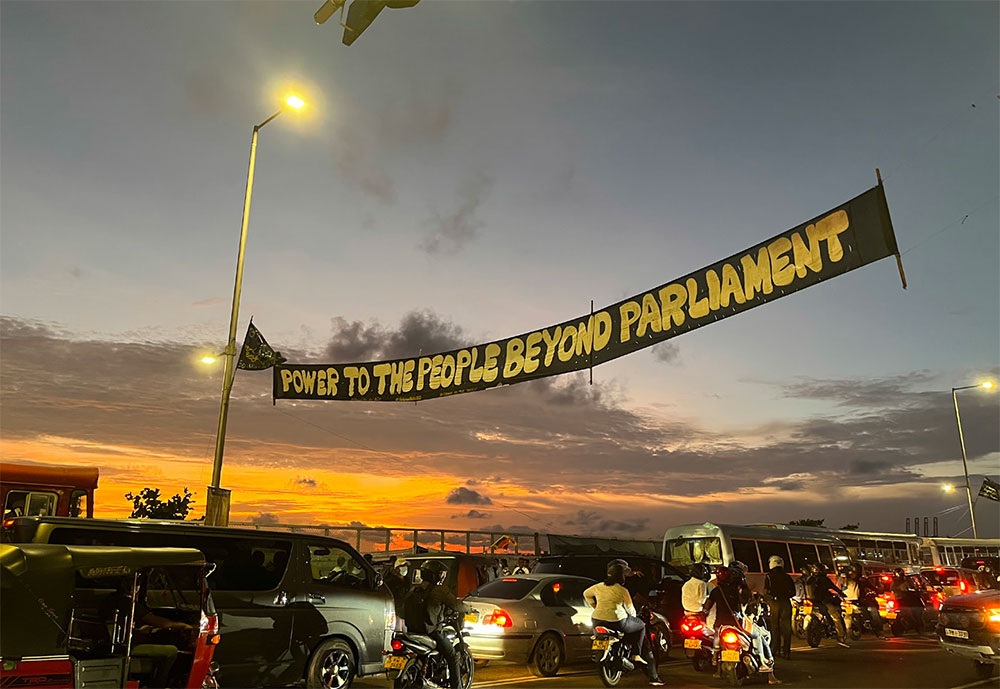 Image: Anjalee Wanduragala, Power to the People banner hung at Gota Go Gama (the protest site in Colombo, Sri Lanka), 2022
Student Exhibition
April 26-May 19, 2024 | Solarium and Davis Galleries
RECEPTION
Friday, April 26 | 5-7 p.m.