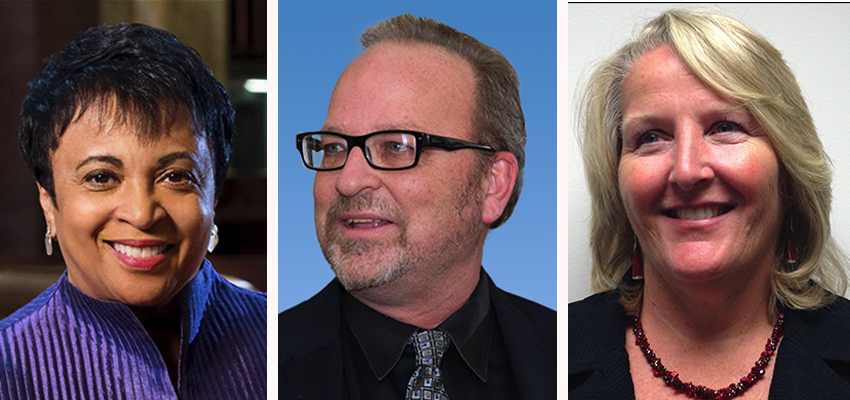 HWS News
20 May 2021 • Alums Honorary Degree Recipients Announced for Commencement 2021; HWS to Celebrate Two Commencements this Year
Hobart and William Smith Colleges will host two in-person Commencement ceremonies this spring, celebrating 2021 graduates as well as the Classes of 2020.
During in-person Commencement exercises for the Classes of 2021, Hobart and William Smith Colleges will recognize the achievements of graduating seniors and present three extraordinary public servants with the institution's highest honor.
On Sunday, May 16, HWS will award honorary doctorates to Librarian of Congress Carla Hayden, Director of Public Health for Ontario County Mary Beer, and Executive Director of the Boys & Girls Club of Geneva and the Geneva Community Center Chris Lavin '81.
Hayden, who will deliver the Commencement address, will also receive the Colleges' Elizabeth Blackwell Award for her groundbreaking accomplishments and dedication to an informed public.
On Sunday, June 6, Commencement ceremonies for the Classes of 2020 will occur, officially honoring last year's graduates following the upheavals of the pandemic.
During the celebration for the 2020 graduates, HWS will award honorary doctorates to The Most Rev. Bishop Michael B. Curry '75, Presiding Bishop and Primate of the Episcopal Church, who will deliver the Commencement address; Margaret "Peggy" Bokan Greenawalt '66, philanthropist and advocate for increased female leadership; and G. Peter Jemison, artist, activist and Historic Site Manager of Ganondagan State Historic Site.
About the 2021 Honorary Degree Recipients
Nominated by President Barack Obama, Carla Hayden was sworn in as the 14th Librarian of Congress on Sept. 14, 2016, becoming the first woman and the first African American to lead the national library.
She began her career with the Chicago Public Library, serving as a library associate and children's librarian from 1973 to 1979, when she became the library's young adult services coordinator. She served as library services coordinator for the Museum of Science and Industry in Chicago from 1982 to 1987, before joining the University of Pittsburgh faculty as an assistant professor for Library and Information Science from 1987 to 1991. From 1991 to 1993, she was deputy commissioner and chief librarian of the Chicago Public Library, and in 1993 became CEO of the Enoch Pratt Free Library in Baltimore, Maryland.
In 2010, Hayden was nominated by President Obama and confirmed by the Senate to be a member of the National Museum and Library Services Board. She was president of the American Library Association from 2003 to 2004. In 1995, she was the first African American to receive Library Journal's Librarian of the Year Award in recognition of her outreach services at the Pratt Library, which included an after-school center for Baltimore teens offering homework assistance and college and career counseling.
The author of A Frontier of Librarianship: Services for Children in Museums and editor of Venture into Cultures: A Resource Book of Multicultural Materials and Programs, Hayden earned a B.A. from Roosevelt University and an M.A. and Ph.D. from the Graduate Library School of the University of Chicago. She has received a number of honors, including the American Library Association's Joseph W. Lippincott Award, Ms. Magazine's Woman of the Year award, the Johns Hopkins University President's Medal and honorary degrees from six institutions of higher education.
Since 2008, Mary Beer has led Ontario County Public Health, managing disease prevention, health education promotion, and community health protection for more than 100,000 residents, including Genevans.
A registered nurse with more than 40 years of experience, her dedication and professionalism have never been more evident as she has directed the county's COVID-19 response, implementing safety guidelines, investigating and containing outbreaks, and overseeing public communications. She has ably led her team in performing contact tracing and enforcing quarantine and isolation protocols for nearly 5,000 positive cases of COVID-19. Working non-stop throughout the pandemic, Beer has marshalled and directed the resources of the county health department to ensure the safe and effective continuance of daily life in the region. In the face of an unprecedented global pandemic, she has brought a measured calm to our local response, delivering invaluable guidance to health care providers, businesses, school districts and the higher education sector.
During her career, Beer has been a tireless advocate for public health laws prohibiting smoking, including the use of e-cigarettes on county property — efforts that have reduced smoking rates countywide. She also has developed programs aimed at decreasing obesity, managing hypertension, preventing suicide and fighting the scourge of the opioid crisis.
Beer is past president of the S2AY Rural Health Network board of directors, a nonprofit that partners with the regional and local health departments in the Finger Lakes to improve the health and well-being of residents by promoting health equity. Beer also serves on a number of local boards and is an active hospice volunteer and dedicated Rotarian.
Beer, who has been associated with several hospitals in the Finger Lakes region as well as Blue Cross/Blue Shield, earned her bachelor's degree in nursing from Niagara University and master's degree in public health from Walden University.
Following a successful career in journalism and communications, Chris Lavin '81 returned to his hometown in 2015 to lead the Boys & Girls Club of Geneva and its Geneva Community Center. Under his leadership, the Center has expanded its scope to engage as much of the Geneva community as possible, from youth to senior citizens, through health programs, education, and arts and entertainment initiatives.
In partnership with the HWS Center for Community Engagement and Service Learning, Lavin oversaw the formation of the HWS Tutor Corps in 2017, which has connected hundreds of Geneva school children with HWS students who serve as tutors and mentors. Through these and other programs like it, he has changed the lives of countless children, offering them a safe and welcoming place to learn and play.
At the beginning of the COVID-19 crisis, Lavin switched his organization's focus from afterschool programming to making sure that Geneva's children have secure sources of food. Since March 2020, he and his team of volunteers have served thousands of hot meals to Geneva families hit hard by the economic realities of the pandemic. He has been indefatigable in this work, negotiating with farmers and local grocery stores, the Colleges and Sodexo, and even driving the food delivery van door-to-door to make sure children do not go hungry.
Prior to joining the Boys & Girls Club, Lavin served as director of communications and taught journalism at the La Jolla Country Day School, in La Jolla, Calif. Previously, he worked as a reporter and editor at the Finger Lakes Times, the Rochester Times-Union, the St. Petersburg Times and as a senior editor at the San Diego Union-Tribune.
As a native of Geneva, N.Y., and a Geneva Scholarship Associates award recipient, Lavin earned his B.A. in anthropology from Hobart College.