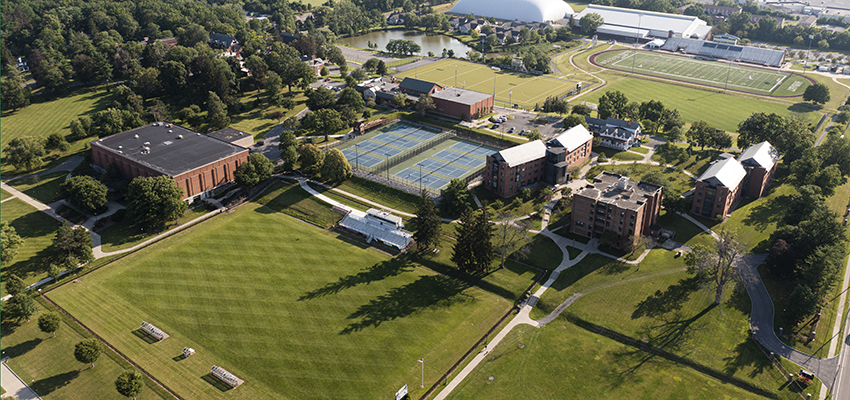 HWS News
3 September 2021 • Athletics Hobart and William Smith Adding 12 Sports
Hobart and William Smith Colleges have announced plans to add 12 new sports - six for men and six for women - over the next five years. They will join the Colleges' existing 23 sports to raise the total offerings to 35, providing students a greater variety of opportunities to participate in athletics at the varsity level. New sports include men's and women's Alpine skiing, baseball and softball, women's bowling, men's swimming and diving, men's and women's indoor and outdoor track and field and men's and women's volleyball. Additionally, HWS earlier announced the addition of a varsity esports team debuting this fall.
"Hobart and William Smith have a nearly 200 year history of engaging students at the highest levels as scholars and athletes," says President Joyce P. Jacobsen. "At a time when other colleges and universities are pulling back on sports or even dropping programs, we are doubling down on our commitment to athletics and the experiences our students have as athletes. These new and revived sports, and the coaches and students they will attract, will add to the vitality of our already thriving athletics program and to our campus community. I'm very much looking forward to cheering them all on in the years to come."
In total, the Colleges estimate that the number of student-athletes will expand from approximately 575 to about 750.

"This is an exciting time in Hobart and William Smith athletics history," says Associate Vice President and Director of Athletics and Recreation Deb Steward. "Our coaches have proven that they are outstanding recruiters of high-achieving student-athletes and we look forward to welcoming more quality student-athletes to our campus. We will also add coaches and staff to teach and lead this meaningful experience for our Statesmen and Herons."
The expansion will begin with the addition of six teams that will start play in the 2022-23 academic year. Hobart will welcome back Alpine skiing, baseball and swimming and diving. William Smith will add Alpine skiing, bowling and volleyball.

The Colleges will conduct a national search for head coaches this fall to begin recruiting student-athletes for the first season of competition for each sport.

In 2023-24, Hobart volleyball will begin competition. In 2024-25, Hobart and William Smith will begin competing in indoor and outdoor track and field. Bristol Field House will serve as the indoor practice facility, with an outdoor facility proposed for the future. The expansion plan will conclude with the addition of softball for the 2025-26 season with a feasibility study currently being conducted for the location of the field.

Once fully implemented, Hobart will offer 17 sports and William Smith will offer 18.

Hobart baseball competed as a varsity sport from 1860 through 1995. The Statesmen will compete in the Liberty League and will play their home games at historic McDonough Park in Geneva.

Hobart's swimming and diving team competed in Bristol Pool from 1966 through 1995. The Statesmen will compete in the Liberty League as well. Both the Hobart and William Smith swimming and diving teams will be led by current William Smith Head Swimming and Diving Coach R.C. Weston.

Hobart sponsored a varsity skiing team from 1937 to 1956. Over the past decade, the Hobart and William Smith club Alpine skiing teams have been very successful, collectively earned 11 national championship bids. Most recently, the Herons placed third at the 2020 USCSA nationals, the club's best-ever finish. The teams will practice and host competitions at Bristol Mountain Ski Resort in Canandaigua.

Volleyball was a William Smith varsity sport from 1962 through 1974. According to a 2018-19 study by the National Federation of State High School Associations, volleyball is second highest for sport participation for women in high school with 452,808 participants. In 2018-19, 99% of NCAA Division III institutions sponsored women's volleyball, and we are proud to bring this sport back, building on its current club sport status. The Herons will compete in the Liberty League and play their home matches in Bristol Gym.

William Smith will be the 50th bowling team in the NCAA's Northeast Region. The bowling team will practice and compete at Sunset Bowl in Waterloo. A winter sport with competition from October through March, the NCAA currently conducts a national collegiate championship for all divisions.

Hobart currently has 11 varsity teams: basketball, cross country, football, golf, hockey, lacrosse, rowing, sailing, soccer, squash and tennis. William Smith has 12 varsity teams: basketball, cross country, field hockey, golf, ice hockey, lacrosse, rowing, sailing, soccer, squash, swimming and diving and tennis.

Combined, Hobart and William Smith have won 23 team national championships and more than 100 conference championships. Statesmen and Herons have earned hundreds of All-America awards and thousands of all-conference awards. They have also earned countless academic honors, including 57 Academic All-America awards, the most select award for academic and athletic excellence. "The addition of these 12 varsity sports will build on the Colleges' rich history as they also make an already extraordinary program more impressive," says Steward.