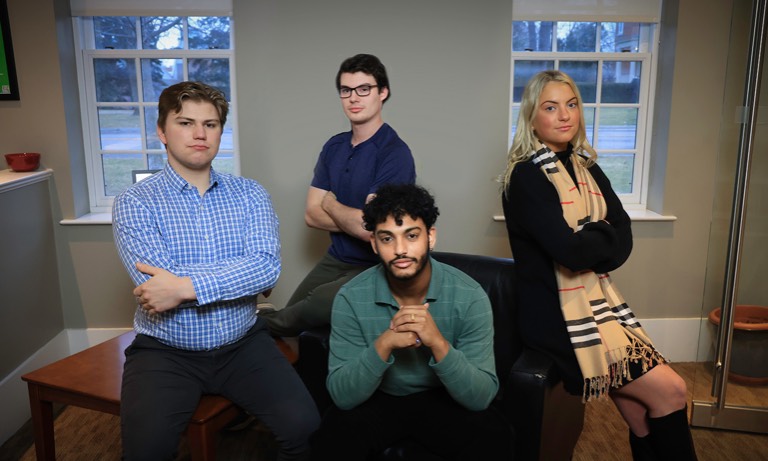 HWS News
10 February 2023 • Entrepreneurship Finalists Chosen for Pitch Competition
Startups address sustainability, transportation and dining.

Four finalists have been selected for the annual Todd Feldman '89 and Family Pitch Contest with business models ranging from rural transportation services to gourmet hot sauces. The contest will take place on Thursday, March 2 at 7 p.m. in the Vandervort Room.
Established in 2011, the entrepreneurial competition has students submit a business plan for a product or service. From this year's pool of more than 25 applicants, four students were chosen by our Pitch selection committee. The four finalists will pitch their plan to a panel of alum judges for the opportunity to win $10,000. Leading up to the final event, each student is partnered with an alum mentor to learn from their extensive experience, and refine and strengthen their plans.
The finalists are:
Water Watts
Connor Quinn '23, an Economics major
Water Watts uses running water and simple turbines inside pipes to generate energy to be rerouted to a storage battery for future use.

BLU
Hagen Morris '23, a Psychological Science major
BLU is a transportation service specially designed for individuals in remote towns and locations where larger ride hailing services and taxis do not exist.
FLX Flame
Christopher Bass '23, an Architectural Studies major
FLX Flame creates gourmet, limited-production hot sauces incorporating local Finger Lakes produce, and global ingredients to capture the unique flavors of international cuisines.
Geneva Kitchens, The Nite Cap
Zaheer Bowen '23, a Political Science major
Geneva Kitchens is a new "cloud kitchen" restaurant model that utilizes the already present cuisines and restaurant spaces for late-night availability.
"Once again, we have a competitive pool of finalists working non-stop to prepare their company pitches for the competition while also operating/building their businesses at the same time!" says Centennial Center Entrepreneurial Fellow Ed Bizari, who leads The Pitch. "It's energizing to see how much passion each of them has. It will be a tough decision for the judges on March 2nd to see which business is selected to receive the $10,000 prize."
Todd Feldman '89 and his family generously sponsor the prize money every year. Founder of The Feldman Co., Feldman has more than 30 years of experience developing and building businesses. Read more about Feldman's commitment to HWS here.
Top: From left: Christopher Bass '23, Connor Quinn '23, Zaheer Bowen '23 and Hagen Morris '23 are this year's finalists in the Todd Feldman '89 and Family Pitch Contest.