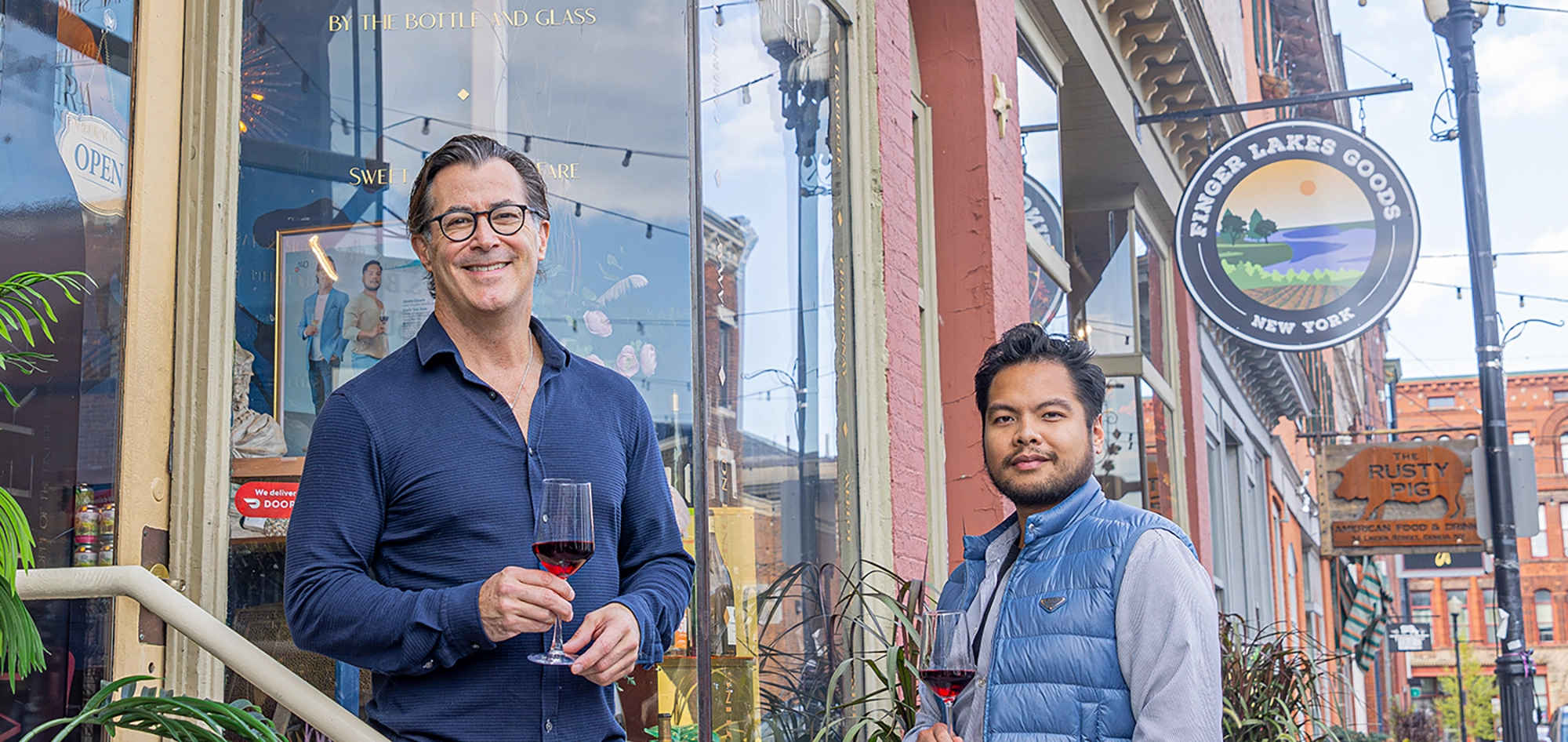 HWS News
26 October 2023 • Alums • Entrepreneurship Cecere '91 honored by Wine Enthusiast
Jim Cecere '91 has been named to Wine Enthusiast's 2023 Future 40 list.
Owner of Finger Lakes Goods and Vinifera, Jim Cecere '91 has been named to Wine Enthusiast's 2023 Future 40 list, alongside his creative director and partner Kevin San Jose.
"Wine Enthusiast's Future 40 recognizes tastemakers who inspire innovation and are bringing the drinks business into the future," writes Wine Enthusiast. This is the sixth year that the publication has created this list.
Cecere first opened Finger Lakes Goods in 2020, a general store that sells locally sourced goods, including coffee, honey and hot sauces. The following year, Cecere opened Vinifera, known for its dedication to Finger Lakes wines and its underground speakeasy, the only of its kind in the Finger Lakes region. Vinifera celebrates the Finger Lakes wine region, as well as distillers and crafter breweries, featuring over 60 different brands. Their online shop also exclusively features wine from the Finger Lakes, and is the only one that focuses exclusively on this region.
"These two are reshaping the perception of the Finger Lakes into a sophisticated, premium cool climate destination with the consistency and capacity to create high-quality wines," writes Wine Enthusiast.
On Saturday, Sept. 16, Cecere held a celebration and press conference at Vinifera's Linden Street location to honor the nomination.
Cecere earned a degree in American Studies from HWS. Prior to returning to Geneva, he held a successful finance career working for firms such as JP Morgan, BNY Mellon, Vanguard Group and Strategic Education. He holds an MBA from Duke University and earned a certificate in international business from New York University. Cecere is a member of the President's Leadership Council at HWS.
Wine Enthusiast is a national media group dedicated to the creation and delivery of wine lifestyle content and products. Its content includes print and digital mediums, such as catalogs and social media accounts.
For more information on Vinifera or Finger Lakes Goods, visit https://viniferanewyork.com
www.fingerlakeswineshop.com

Pictured above, Jim Cecere '91 and Kevin San Jose outside of their business on Linden Street in Geneva.