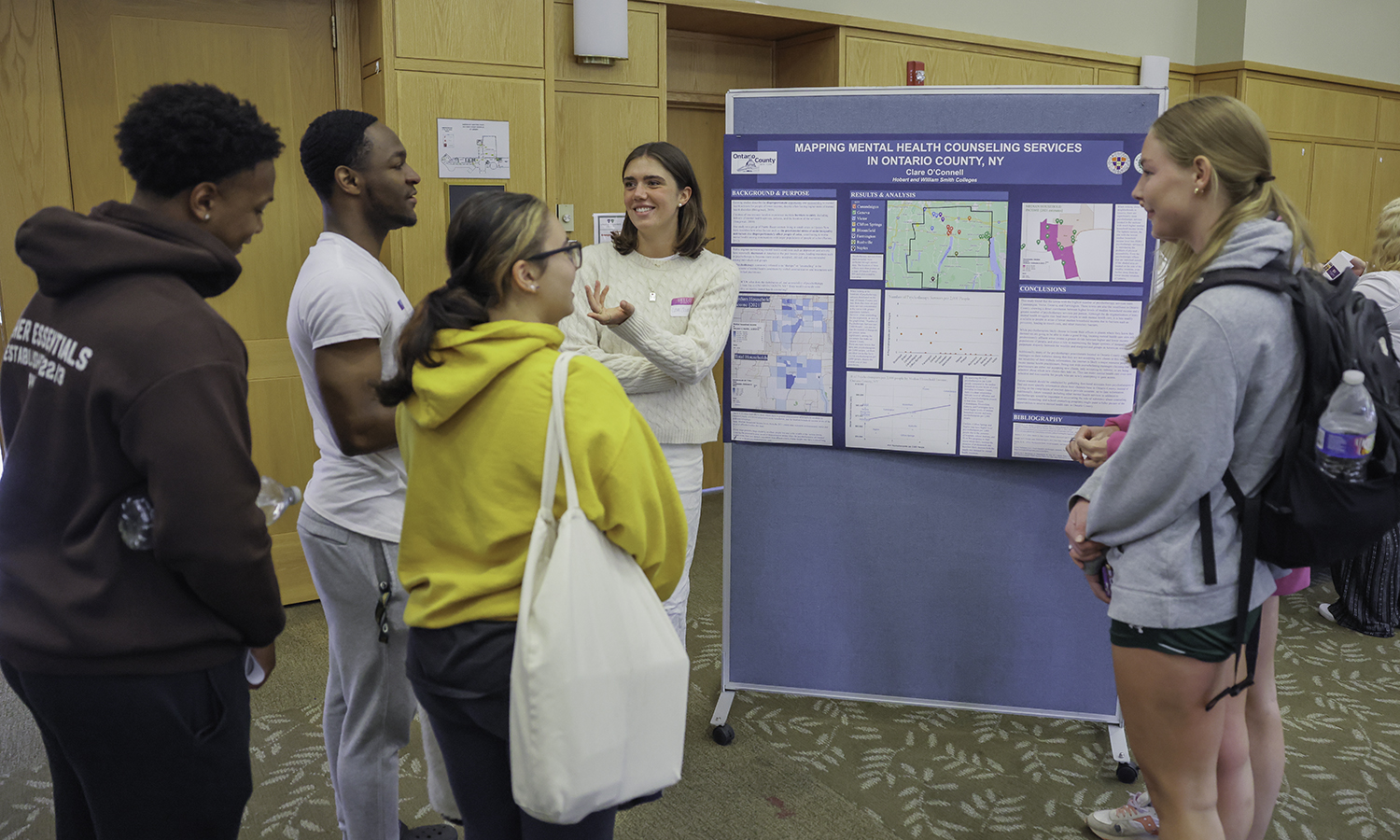 HWS News
1 June 2023

Community Engaged Scholarship Forum Celebrates 15th Anniversary

Hosted by CCESL, the 15th Annual Community Engaged Scholarship Forum honors individuals and local organizations.

The Center for Community Engagement and Service Learning (CCESL) hosted its annual Community Engaged Scholarship Forum to recognize students, faculty, alums and community partners. Through 17 poster presentations, students also showcased community-based research projects.
This year, Finger Lakes Daily News joined the forum to interview CCESL Director Katie Flowers, President Mark D. Gearan and several students for the "FLX Morning Podcast." Listen to the program here.
During the episode, Reporter Ted Baker interviewed Molly Dutton '23, who researched municipal strategies for managing VRBO and Airbnb rentals; Alexander Barnosky '23, who studied town-gown relations; and Madison Henry '23, who focused on bilingual education in the Geneva City School District.
View a full list of the 17 student presentations here.
Award presentations included a new honor titled "Sharing Your Spark for Service," created in commemoration of the 15th anniversary of the forum. The award honors a community member who sparks a dedication to service through inspirational community leadership. This year's recipient was West Street Elementary Teacher Marilu Segura '07. Segura is a member of the Geneva 2030 Bilingual Success Action team.
The "Compass Award for Outstanding Engaged Student Scholarship" was presented to Karina Connolly '23, who has served as a tutor with the HWS Tutor Corps and Children's Hours Schools, assisted with regional Girl Scouts programs, and co-led the Outdoor Recreation and Adventure Program (ORAP).
Community Engaged Scholarship Forum

"Her spirit is infectious, and she does an exceptional job of taking her knowledge and skills out into the world to help mold our future leaders," Flowers says. At HWS, Connolly completed the HWS Teacher Education Program and HWS Leads.
This year's "HWS Civically Engaged Faculty Award" was presented to Associate Professor of Theatre Chris Woodworth. Woodworth has built community partnerships with many organizations in the Geneva area, including Safe Harbors, Historic Geneva and the Smith Opera House.
In her nomination for Woodworth, Samari Brown '24 wrote, "Chris Woodworth did everything that she could to support me and make me feel welcomed on campus and taught me to find the truth in history and to dig a little deeper."
President Mark D. Gearan presented the "Community Partner of the Year Award" to the history museum Historic Geneva.
"Their impact is evident through an impressive list of collaborations which engage students in honing archival research skills, engaging in public discourse and demonstrating the ways in which local history intersects with broader national and international narratives, policies and publications," Gearan says.
View a list of previous winners of the Community Engaged Scholarship Forum here.
View the @hwsccesl coverage of the event on Instagram here.
Top: Clare O'Connell '23 presents her research on Mental Health Counseling Services in Ontario County during the Community Engaged Scholarship Forum.