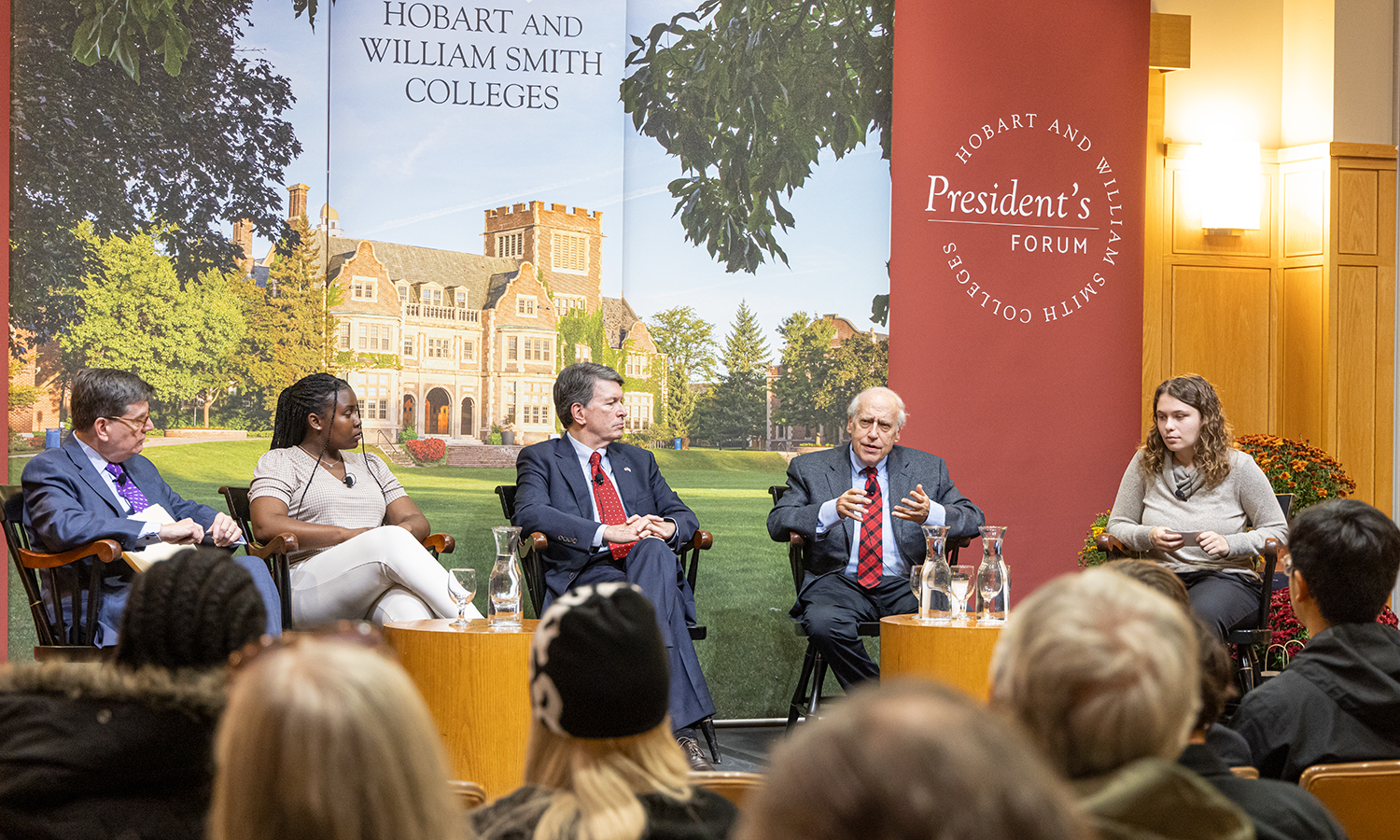 HWS News
20 October 2023 • Service President's Forum Bridges the Political Aisle By Colin Spencer '19
Reaching across the aisle, former Congressmen promote civic engagement and reflect on pressing topics.
During the first President's Forum event of the fall semester, former U.S. Rep. John J. Faso (R-NY) and former U.S. Rep. Dan Glickman (D-KS), who also served as Secretary of Agriculture, examined domestic and international politics and encouraged students to get involved. The former lawmakers visited campus as part of a partnership between HWS Votes and Congress to Campus, a program developed by former congressional representatives to connect with college students and advance civic interest and understanding.
In their conversation with President Mark D. Gearan and HWS Votes Co-Presidents Samari Brown '24 and Katelyn Oswalt '24, Faso and Glickman reflected on the terrorist attacks in Israel and the unfolding humanitarian crisis in Gaza, the absence of a Speaker of the House, challenges for rural communities and their own backgrounds in politics.
"I'm hopeful for the future of this country but things won't happen on their own," Glickman told the audience of HWS students, faculty, staff and community members. "This country requires vigilant people who want to make change, who want to do the right thing, take risks and show courage."
This theme was echoed in their reflections on the violence in Israel in Gaza (the "world is looking at how we respond," Faso said) and on the vacant Speaker of the House position, which "sends a terrible signal to the rest of the world," Faso noted.
Faso, who represented New York's 19th Congressional District from 2017 to 2019, was the Republican candidate for governor of New York in 2006. He previously served in the New York State Assembly, where he was the Republican minority leader from 1998 to 2002. Since leaving Congress, he has worked as a business consultant while maintaining a private law practice and regularly publishes opinion articles on topics of the day.
Glickman served 18 years in Congress representing Kansas's 4th Congressional District and went on to serve as the U.S. Secretary of Agriculture from 1995 to 2001. He is a senior counselor and chair of the international advisory board at APCO Worldwide, an advisory and advocacy communications consultancy. A distinguished fellow in Global Food and Agriculture at the Chicago Council on Global Affairs, Glickman is also an adjunct professor at Tufts University's Friedman School of Nutrition Science and Policy.
Where rural communities are concerned, Glickman emphasized the need for a diversification of the local economies and the need for widespread broadband internet connections. Faso noted the importance of recruiting and retaining workers and reforming the state's overtime working rules for farmers.
Faso advised students that "the best way…[to] get involved to prepare for their civic life is to apprise yourself of a variety of sources of information. Don't just rely on things you're comfortable with. Get out of your comfort zone. Go across a spectrum to get different viewpoints."
"You've got to take what your education gives you and realize you can change the world," said Glickman.
Throughout the conversation, both underscored the need to work together, despite differences of opinion. "Our system is based on compromise," said Faso. "Compromise is not a dirty word. That's the way you get things done."
HWS Votes is a nonpartisan group of student leaders devoted to voter registration and the continuous education of the Hobart and William Smith and Geneva communities. The group works to instill a sense of civic duty and foster participation in the democratic process. In 2020, HWS Votes partnered with Congress to Campus to enhance civic education by engaging students in dialogue with bipartisan teams of former members of Congress, Congressional staffers and U.S. diplomats.
Established in 2000 by President Gearan, the President's Forum Series brings a variety of speakers to campus to share their knowledge and ideas with students, faculty and staff, as well as with interested community members.