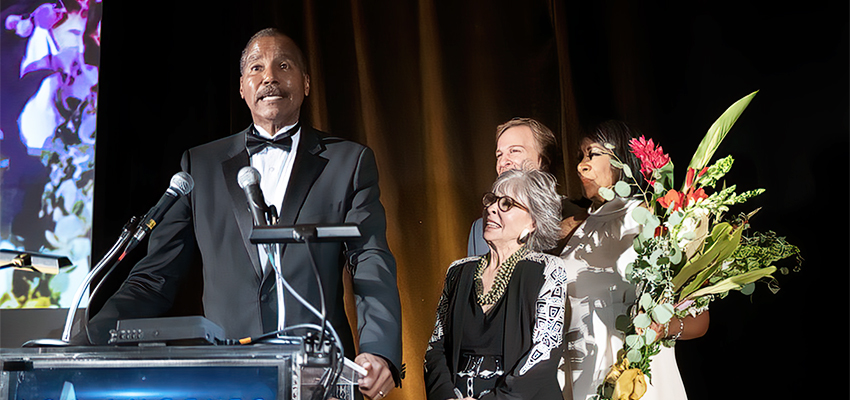 HWS News
18 July 2022 • Alums "I'm on the side of Truth:" Whitaker '73 Honored with L.A. Press Club's Lifetime Achievement Award
Whitaker, a renowned journalist and HWS Trustee, earned the Los Angeles Press Club's highest recognition this month, when actress Rita Moreno presented him with the Joseph M. Quinn Award for Lifetime Achievement.
During his acceptance speech, Whitaker noted how "the pillars of democracy — free speech, fair elections — are being shaken."
"These are strange times for journalists, for truth-tellers," he said. "It's not in our nature or our training to take sides. But I'll tell you, I'm on the side of truth. I'm on the side of facts and history and science. I'm on the side of the first amendment and our democracy."
Watch Whitaker's acceptance speech, or read excerpts here.
Whitaker graduated from Hobart College with a B.A. degree in American history. He went on to Boston University, where he earned a master's degree in African-American studies, and the graduate journalism program at the University of California, Berkeley. Before joining "60 Minutes" in 2014, he served as a CBS News correspondent for 30 years, covering virtually every major breaking news event during that time. He won his first Emmy in 1989; other recent honors include the 2021 Founders Award for Excellence in Journalism from the International Center for Journalists.
Whitaker, who has served on the HWS Board of Trustees for more than 15 years, has spoken on campus on a number of occasions, including the 1997 and 2008 Commencement ceremonies. He was awarded an honorary Doctorate of Humane Letters for his service to HWS in 1997. In 2020, he was named chair of HWS Board's committee on diversity, equity and inclusion.