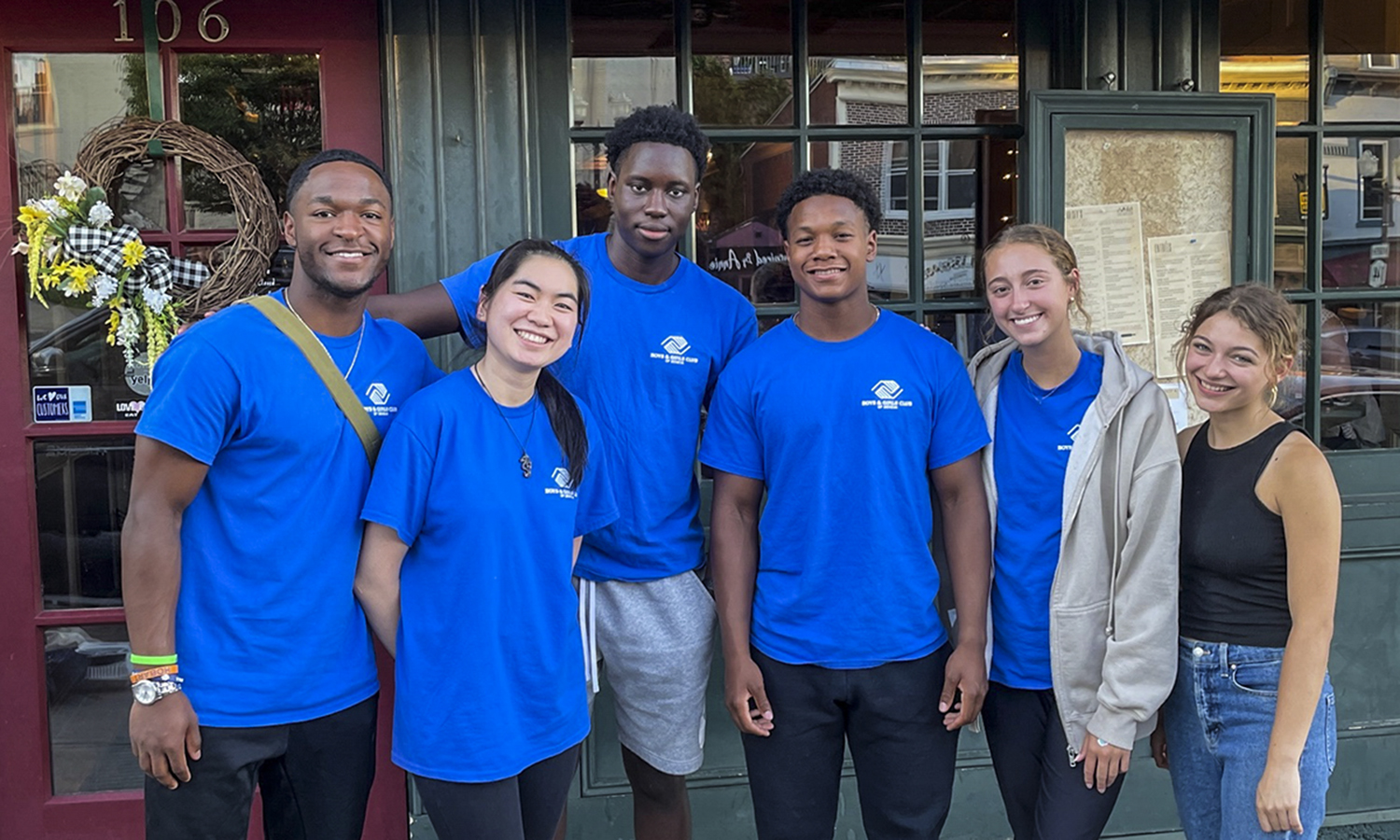 HWS News
HWS students provided more than 220 hours of work with Geneva community organizations with the support of Thomas J. Patchett '88, Trustee Dr. Marguerite S. Murphy and Dr. Brian Cooper.
This summer, six Hobart and William Smith students gained valuable real-world experience interning at Geneva community organizations during the 12th annual Summer of Service program. Since its inception in 2011, 87 interns have collectively contributed more than 14,000 hours of work through the program.
Director of the Center for Community Engagement and Service Learning (CCESL) Katie Flowers says the Summer of Service program allows students to become more integrated in the community and contribute to Geneva while gaining important skills and connections to assist them in future careers. The interns live together in campus housing and work approximately 220 hours over the summer months.
This year, student interns worked with Geneva 2030 and its Geneva College Bound Student Experience program as well as the Boys and Girls Club of Geneva and its Summer University Program.
With Geneva 2030, Isabella Renzi '25 gained experience in video production and event coordination by working with What's Next – College and Career Exploration for Geneva High School students. She also assisted in the planning and implementation of the summer Geneva College Bound Student Experience, "College for Me." In collaboration with community partners, she helped with logistics and programming for the week-long event. Additionally, Renzi worked as a social media and program development intern in CCESL, reviewing and updating the marketing and volunteer recruitment strategies to optimize the impact of outreach.
At the Boys and Girls Club, Grace Bott '23, Isiah Cotton '24, Amsata "AD" Diop '24, Emma Van Gordier '24 and Clyde Williams '24 were an integral part of operating the Summer University program for Geneva elementary and middle school aged students. From assisting in the classroom to leading afternoon programs and supervising Friday field trips, the interns gained hands-on experience working with children and engaging in the community.
Executive Director of the Geneva Community Center and Boys and Girls Club Chris Lavin '81, L.H.D.'20 says the Summer of Service interns are a big part of "our family each summer. We couldn't manage such a rich summer program for Geneva's kids without the HWS service interns," Lavin says.
As a cohort, the HWS students also read the personal development book Designing Your Life, donated by Eric Hall Anderson '59, and met to discuss concepts highlighted in the book to career exploration, including prototyping, networking and alignment of personal and professional priorities.
The summer experience culminated in an online capstone presentation to program donors, community partners and HWS community members.
Established by CCESL in partnership with the Salisbury Center for Career, Professional, and Experiential Education and local non-profit agencies, the Summer of Service program is generously funded through alumni and trustee donors Thomas J. Patchett '88, Trustee Dr. Marguerite S. Murphy and Dr. Brian Cooper.