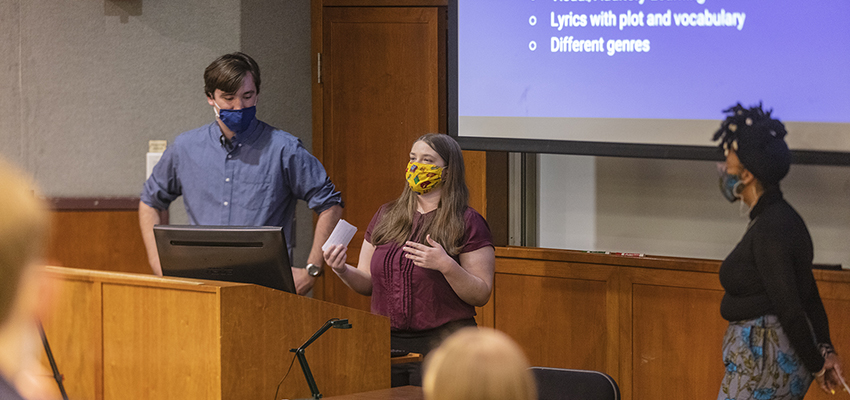 HWS News
1 April 2022 • Arts • Humanities • STEM Student Scholarship the Focus of Senior Symposium 2022
On April 15, seniors and graduate students will present their scholarship to the HWS community.
The Center for Teaching Learning will host the 13th annual Senior Symposium on April 15, a daylong conference where seniors and graduate students present their intellectual passions to the HWS community.
At this year's symposium, 123 students are slated to present their academic research, art and co-curricular explorations.
Based on thematic connections identified by the CTL, students will present their work in concurrent interdisciplinary panels. After each panel, HWS faculty will moderate a Q&A with the audience. The Q&A is designed to engage students in dialogue about how their scholarship intersects, creating space for academic cross-pollination.
"The Senior Symposium is a visible and tangible representation of the diversity and breadth of the work our students pursue, as well as an example of a community that collectively celebrates student achievement," Director of the CTL and Dean of Teaching, Learning, and Assessment Susan Pliner says. "This culmination of students' journeys is an opportunity for them to enrich the HWS community by engaging in interdisciplinary dialogues about their intellectual accomplishments."
This year's presenters are involved in scholarship across the sciences, social sciences, arts and humanities. Ten presenters are graduate students in the Colleges' Master of Arts in Teaching program who will present their theses on the successes and failures of dual-language immersion programs. Many presentations will engage with our local surroundings, from asset-based community development research in neighboring towns from Naples to Manchester, N.Y., to limnological studies of Cyanobacteria (HABs) in the Finger Lakes Watershed.
Learn more about the Senior Symposium here. A 2022 program will be released the week of April 4.