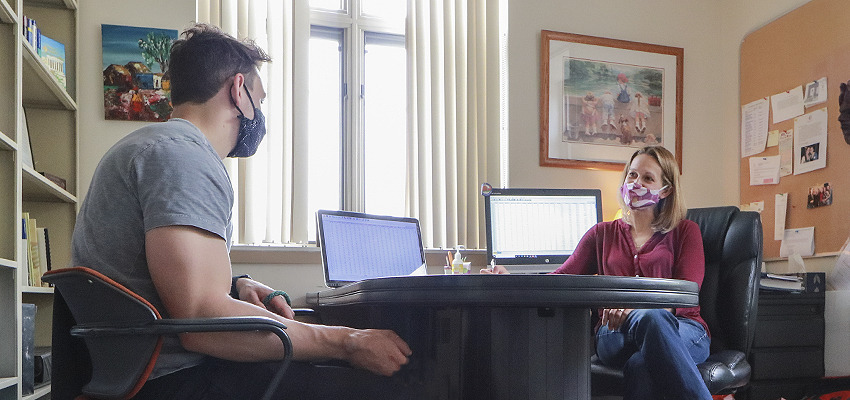 HWS News
1 February 2022 • Faculty • Research Stressed? Mindfulness Can Help, Says New HWS Research
New scholarship by faculty and student researchers examines stress, anxiety and the habit of replaying the past — and where mindfulness can help.
Mindfulness practices may be especially helpful to college students who are prone to rumination — repetitive thinking about the past — according to new research published by Professor of Psychological Science Julie Newman Kingery, Professor of Psychological Science Jamie Bodenlos and student researchers.
For more than a decade, Kingery and Bodenlos have been collaborating, with each other and with students, on research exploring mindfulness, defined as one's awareness or conscious presence in each moment. Their most recent work with students and alums reveals how the degree of mindfulness an individual displays in daily activities (dispositional mindfulness) reflects their mental wellbeing.
In "Dispositional mindfulness predicting psychological adjustment among college students: the role of rumination and gender," Kingery, Bodenlos and coauthors Travis Schneider '21, Mara Sindoni '18 and former HWS faculty member Jack Peltz assessed "rumination as a mediator of the relationship between dispositional mindfulness and depression, loneliness and anxiety, while considering gender as a moderator of these mediation models."
Published in Journal of American College Health, the study relied on data collected from 319 HWS students who completed an online survey assessing dispositional mindfulness (DM), anxiety, depression, loneliness, social support and rumination, as part of a larger study on mindfulness and psychological/physical health in college students.
The study's results have several implications, according to the team. For college mental health professionals, the findings indicate that the use of mindfulness-based interventions "may be particularly warranted for those [students] who score low in DM and high in rumination" at the pretreatment stage. Moreover, "it may be beneficial for prevention programs to focus on these factors that serve as potent antidotes to psychological distress."
At two virtual conferences this fall, Kingery, Bodenlos and members of their research teams detailed the potential for mindfulness practices to disrupt negative thinking patterns and prevent psychological distress.
"Cognitive distortions as a mediator of the relationship between dispositional mindfulness and psychological distress," authored by Schneider, Kingery, Bodenlos and Peltz, was presented at the annual meeting of the Association for Behavioral and Cognitive Therapies.
The paper concludes that the association between DM and cognitive distortions — negative or irrational thinking patterns — could serve as a key link in addressing mental health difficulties among college students, potentially leading to improved psychological and academic outcomes.
"Mindfulness, gratitude and resilience predicting psychological distress and well-being among college students during Covid-19" was presented at the Society for the Study of Emerging Adulthood conference. Schneider, Kingery, Bodenlos, Claire Joshi '21, Emma Kelly '21 and Molly Moore '22 were the co-authors.
The team concluded that DM was the strongest predictor of psychological distress, while gratitude was most strongly related to psychological well-being. The findings, they said, underscore the importance of helping students build resilience through mindfulness and gratitude practices.
The presentations were based on data collected at HWS during 2020 as part of Travis Schneider's Honors project.
Schneider is now a research assistant at the Syracuse Veterans Affairs Medical Center. Sindoni is currently a project coordinator for a study evaluating mindfulness interventions for veterans in primary care at the Syracuse VA center. Moore is a senior majoring in psychology, while Joshi and Kelly are currently in the MAT graduate program at HWS.
In the photo above, Professor of Psychological Science Julie Newman Kingery meets with Travis Schneider '21.