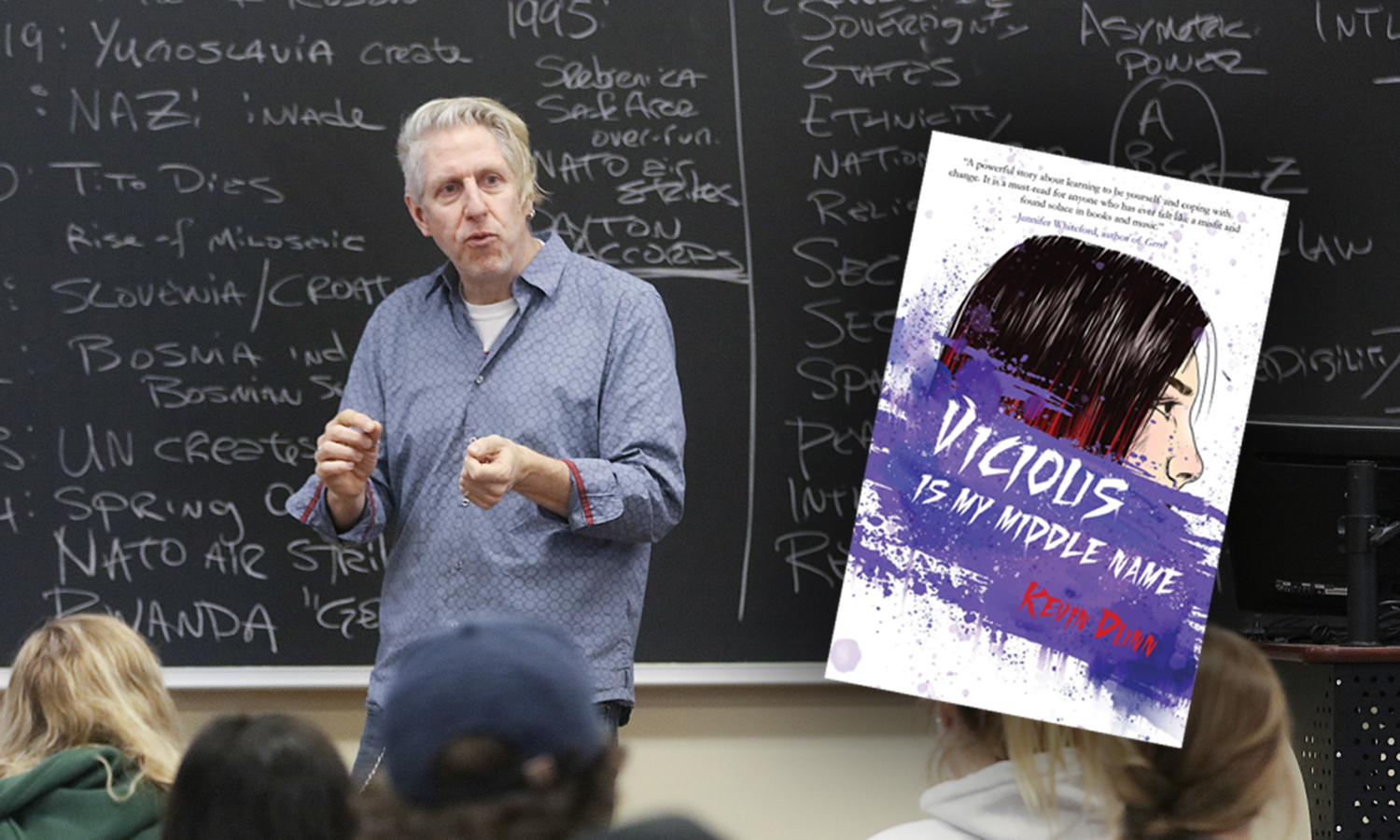 HWS News
Professor of International Relations Kevin Dunn's debut novel is "a must-read for anyone who has ever felt like a misfit and found solace in books and music."
Published in November, Vicious is My Middle Name, is Professor of International Relations Kevin Dunn's first novel for young adults. This coming-of-age story is about a teenage outcast punk rocker who finds her community after moving to the Appalachian Mountains.
From Fitzroy Books: "With a partially shaved head, purple Doc Marten boots, and the sinking realization that no one in a 50-mile radius has ever heard of her favorite all-female punk band Lite Brite, 13-year-old Sydney Vicious Talcott wants to be anywhere but her new home of Beaver Dam, N.C., especially when mean girl Bethany Winters treats her like the punchline to every joke. But just as life begins to seem more tolerable with her two new book-nerd friends and a growing appreciation for the beauty of the Appalachian Mountains, Sydney discovers that a shady corporation is planning to build an environmentally damaging asphalt plant right next to the school. Her attempts to work through the system to stop the plant's construction fail, so it's up to Sydney to fight the corporation and their political lackeys the only way she can, using the do-it-yourself tools she has learned from punk rock. But before she can triumph, Sydney, her family, and friends must endure bullying, harassment, immigration raids, and more."
Learn more about Vicious is My Middle Name.
"Kevin Dunn is a firm believer in the power of youth, and individuals banding together to improve their community. Vicious Is My Middle Name combines these two tenets in an accessible yet fierce paean to punk rock and the way that seemingly small actions can resonate far beyond intention," writes Michael T. Fournier, author of Swing State.
Jennifer Whiteford, author of Grrrl, calls Dunn's novel "a must-read for anyone who has ever felt like a misfit and found solace in books and music."
Booklist says: "Sydney makes for a terrific and inspiring protagonist, confident in many aspects but also open to expanding her worldview along the way, and music fans and budding activists will find much to learn and love here. A rousing affirmation of both personal and community power."
"Sydney's distinct, often humorous first-person voice (interspersed with inspirational art and letters from Lite Brite's lead singer) and her celebration of inclusive resistance make this a socially conscious read from Dunn," says Publisher's Weekly.
Kirkus Review: "Starting a punk-inspired movement to fight back against people with a vested interest in building the plant, Sydney learns that speaking up isn't easy or safe for everyone. She unites and educates the community through the power of music; the history of protest rooted in various musical genres is explored in an interesting way."