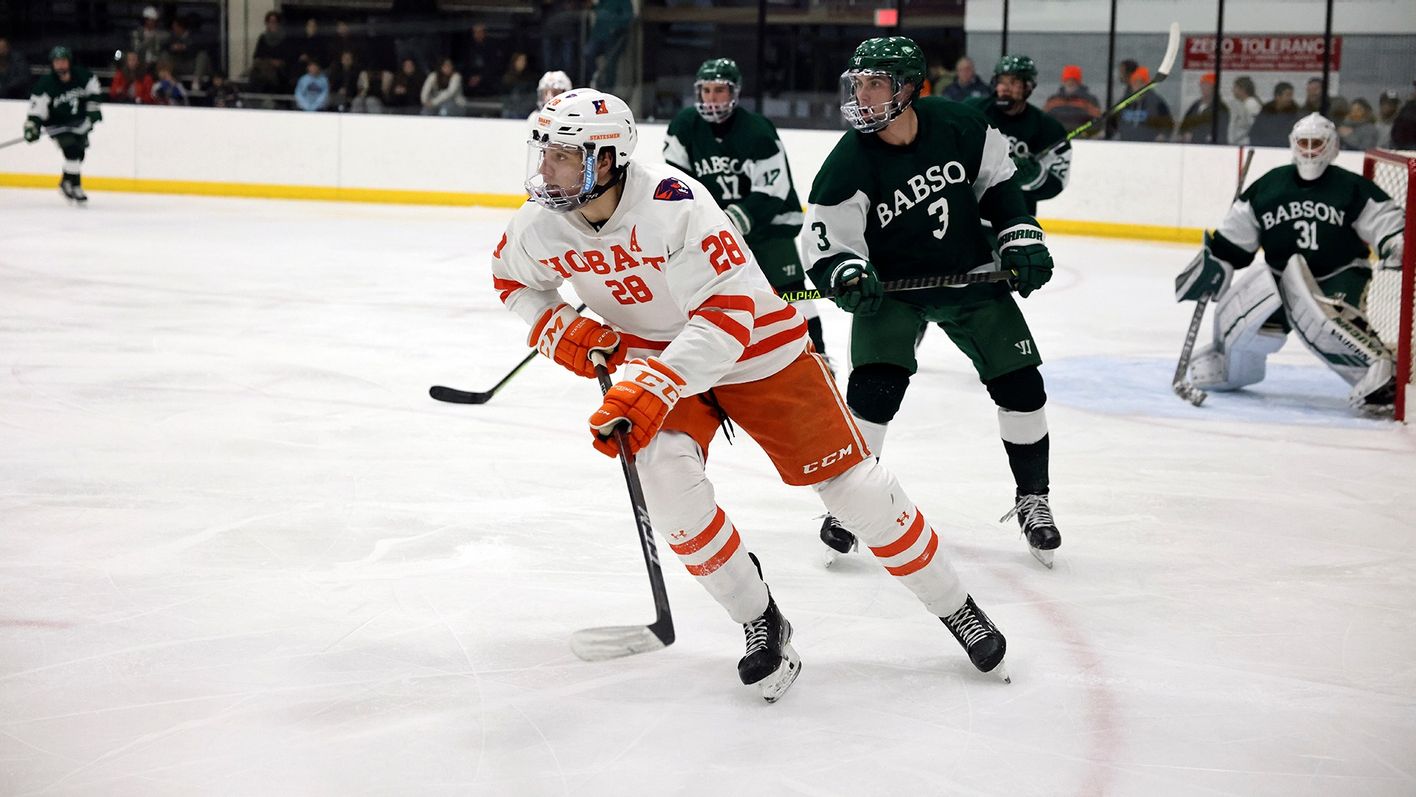 HWS News
29 November 2022 • Athletics Statesmen remain #1 in USCHO.com poll By Mackenzie Larsen '12
For the third straight week, the Hobart College hockey team claimed the top spot in the DCU/USCHO.com poll. In addition, the Statesmen received all 20 first place votes for the second consecutive poll.

Hobart is 8-0-0 to start the season. After taking Thanksgiving week off, the Statesmen will jump right back into conference play this weekend, Dec. 2-3 when it welcomes Castleton and Skidmore to The Cooler. Friday's game against the Spartans (3-6-0, 2-2-0) is set to begin at 7 p.m. Saturday's game against the Thoroughbreds (8-2-1, 2-1-) is set for 4 p.m. Skidmore is ranked 15th in the national poll.

Entering the week, Hobart is one of four unbeaten and untied teams in the country. The Statesmen rank third in the nation in scoring margin (+3.25 gpg) and scoring defense (1.12). Hobart is seventh in penalty killing percentage (.929) and eighth in scoring offense (4.38) and power-play percentage (.310).


Individually, Luke Aquaro leads the nation with five game-winning goals. Through just eight games, he has matched Hobart's season record set by Jonas Toupal '19 in 2017-18. Additionally, Aquaro is fourth in the nation in goals per game (1.00) and fifth in power-play goals. Jonah Alexander and Shane Shell are tied for seventh in the nation in assists per game (1.00). Alexander is 10th in points per game (1.50).

In goal, Damon Beaver is ranked No. 1 in the nation in save percentage (.971) and second in goal against average (0.75). Mavrick Goyer is 13th in GAA (1.50). They are two of 11 goalies who are unbeaten.