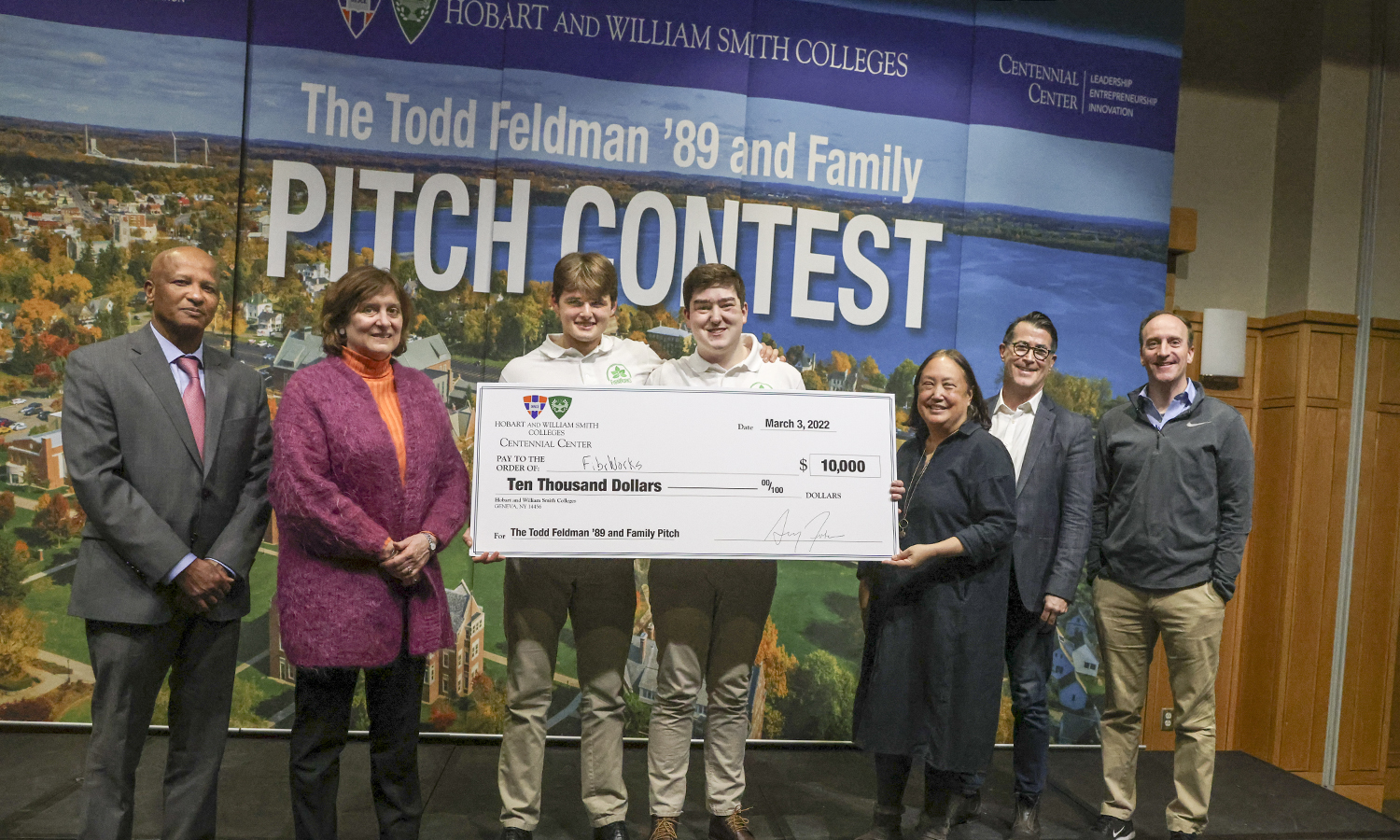 HWS NEWS
4 March 2022 • Entrepreneurship Pitch Winners Create Hemp Alternatives for a Sustainable Future
William Kline '23, Brendon Bennett '23 and Moritz Marchart '22 are the winners of The Todd Feldman '89 and Family Pitch Contest for their biomaterials company Fibrworks.

"We have to get rid of materials that harm our planet," William Kline '23 said during the 11th annual Todd Feldman '89 and Family Contest. With his partners Brendon Bennett '23 and Moritz Marchart '22, Fibrworks is in the process of developing a hemp-based composite that will replace plastics and other materials in the industrial landscaping industry, starting with the string trimmer used in weed whackers. For winning the Pitch competition against three other concepts, Fibrworks was presented with a $10,000 grant to make their idea a reality.
"Hemp is a high strength, low weight solution that can help institutions reach their environmental goals," Marchart explained. "It is lighter and more repairable than other materials. Because hemp is a renewable crop, our production will be carbon negative."

"And the product will be biodegradable at the end of its lifecycle," Kline added.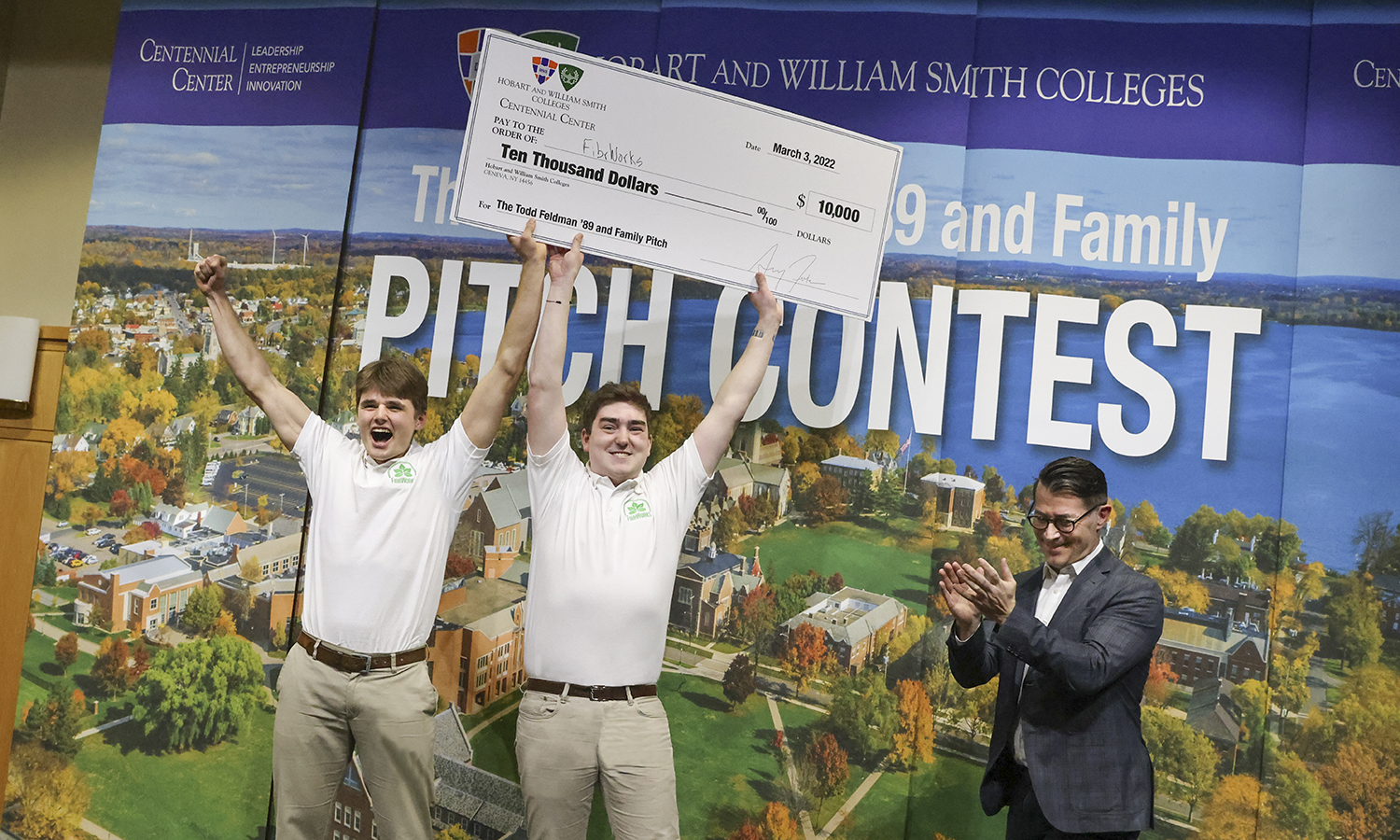 The Fibrworks team bring economics and environmental expertise to their business: Kline is an environmental studies major; Marchart is a double major in economics and Chinese and Mandarin studies; and Bennett is a double major in economics and political science currently studying abroad in South Korea.
Their alum advisor during the six-month development phase of the Pitch competition was Mattie Mead '13. Mead is the founder of Hempitecture, the leading U.S. manufacturer and distributor of HempWool thermal insulation and other nonwoven insulation products for multiple industries. In 2013, Mead was a finalist in the Pitch competition.
This year's judges included: James Atwater P'19, P'21, managing director in Investor Relations; Jim Cecere '91, founder and owner, FLX Goods & Vinifera; Andreanna Doering '84, financial services consultant; and Matthew K. Enstice '95, President & CEO of the BNMC.
"It was a hard decision," Cecere said when announcing the winner of the competition. "I can confidently look out at all of you and say each one of you is a winner. Each one of you has a viable product. I feel confident that you are representative of a bright future. To select our winner, we looked at what could get on the runway and take off the fastest."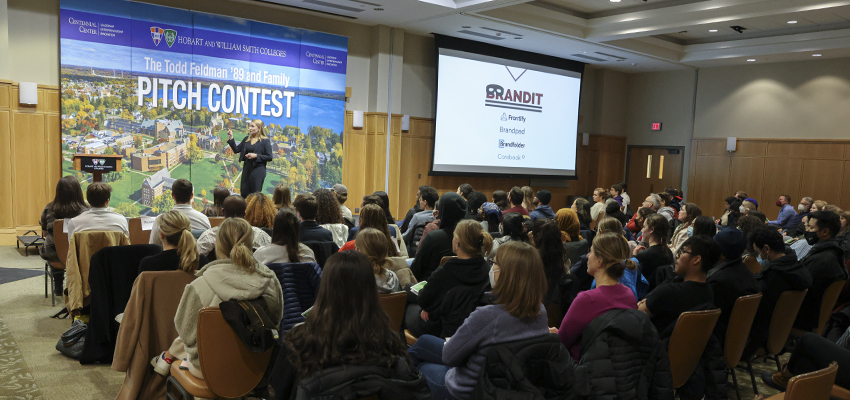 Atwater reflected on the passion and social consciousness behind the Fibrworks team and mission. "You could see the enthusiasm. You could see that they really believed in what they were doing. They are conscious about being socially responsible and the environment, so there was the aspect of, "We want to run a business, we want to make money, we want to be profitable, but we also want to improve society as a whole. That was very refreshing."
The other competitors included: Sreyan Kanungo '23, Reece Wilson '24 and John Maloney '24 who presented Utime; Katherine Ruggles '22 founder of Brandit; and Niima Sellah '23 and Malak Fadlou-Allah '24, creators of Beaute.
While the judges deliberated, Entrepreneurial Fellow Ed Bizari held a flash competition. Students had one minute to pitch an idea for a service or product for a $50 prize to the College Store. William Drake '23 won for his pitch for Dibs, a parking reservation system. The runner up was Cross Bianchi '22, for his idea for a hemp-based biofuel. Other contestants included Jaheim Pierre '25, exchange student Ethan Lyons and Lucas Amaral '23.
The Pitch is a Centennial Center for Leadership, Entrepreneurship and Innovation program.